Facing 37,000 sidewalk repairs and millions in injury payouts, S.D. wants property owners to assume liability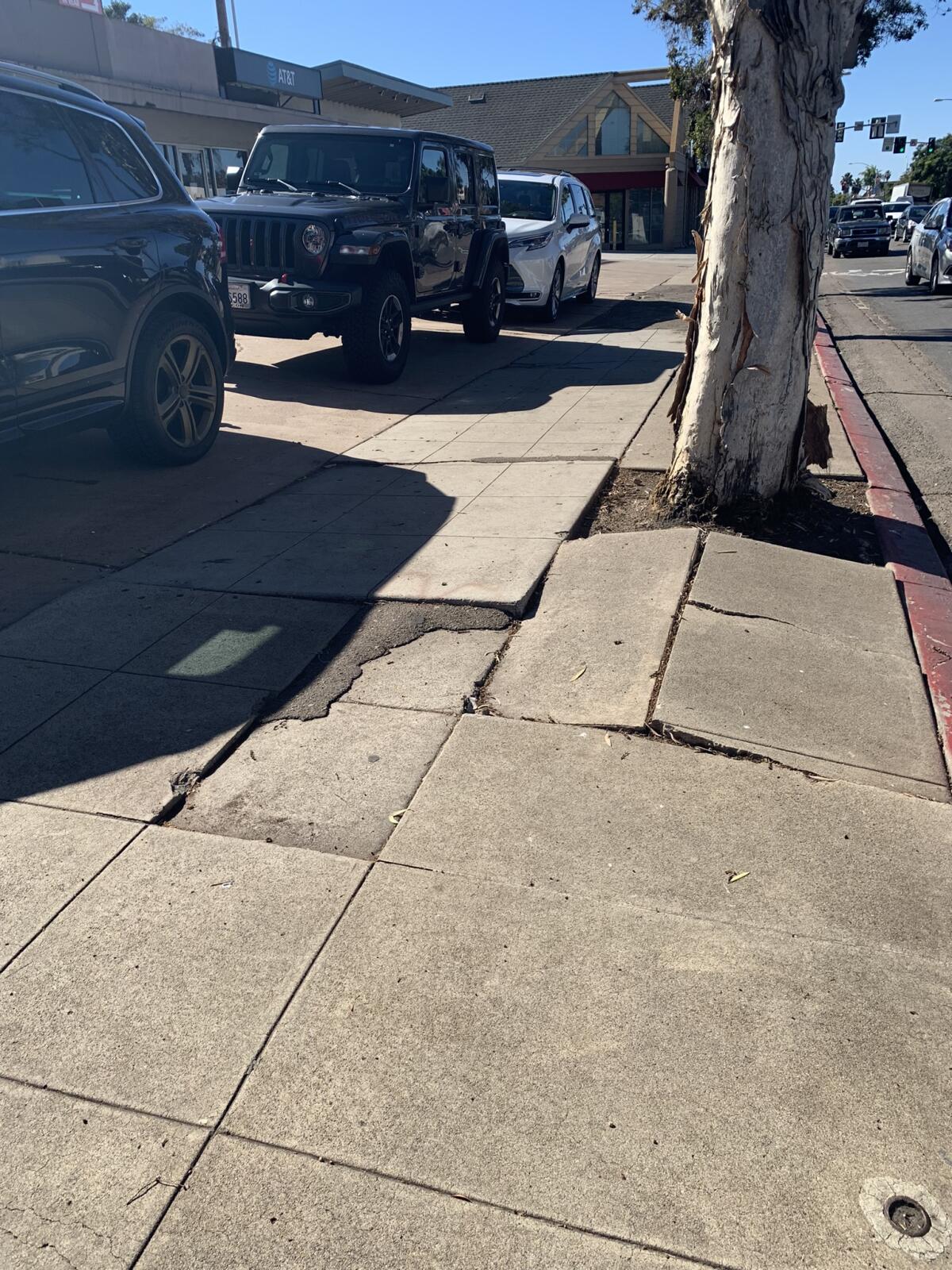 State law makes property owners responsible for fixing nearby sidewalks. City officials are proposing some carrots to get them to make those repairs — along with one giant stick.
A rash of crumbling sidewalks across San Diego — and millions of dollars in payouts to people injured on them — have prompted city officials to revisit the controversial issue of whether property owners must fix damaged nearby sidewalks.
Though residents may see sidewalks as the government's responsibility as much as roads, storm drains and other parts of the public right of way, state law has a special designation for sidewalks that makes adjacent property owners responsible for repairs.
City officials think that law could serve as a catalyst to get property owners to help San Diego address a backlog of 37,000 sidewalk repairs and an estimated $185 million gap in funding needed to fix them.
Get the La Jolla Light weekly in your inbox
News, features and sports about La Jolla, every Thursday for free
You may occasionally receive promotional content from the Del Mar Times.
But officials say it won't be easy to get thousands of property owners to start repairing damaged sidewalks voluntarily.
So they are proposing some carrots — a package of incentives, including cutting city permit fees for sidewalk repairs — along with one giant stick — a new city law that would go beyond state law to impose liability for sidewalk-related injuries on property owners.
The proposed city law — called a liability ordinance when cities such as Sacramento and San Jose approved similar legislation — would be a significant shift.
While state law says abutting property owners are responsible for sidewalk maintenance and may be assessed the cost of repairs, property owners may not actually be liable for any damages incurred by people injured by sidewalks, unless a city approves an ordinance addressing liability.
The key incentive proposed by the city would be slashing permit fees for fixing a sidewalk from $2,192 to roughly $100 and allowing property owners to self-certify that the repair was done correctly.
City officials also are proposing a new policy prohibiting property owners from selling until city inspectors determine that broken sidewalks are fixed, either by the seller or the buyer.
They also hope to streamline the sidewalk repair process by eliminating the need for property owners to hire contractors and negotiate prices.
Under a proposed citywide sidewalk contract, the city would pay one company to perform many thousands of repairs and then get reimbursed by individual property owners who would sign contracts in advance.
"We're never going to solve this problem just with city resources; we need to make sure that everyone is contributing," said Bethany Bezak, the city's transportation director. "It's a big transformational moment for how we handle infrastructure."
Some of the incentives are planned for this year, while others are expected to take longer, Bezak said.
Reducing the fees and allowing self-certifications would come first. Those changes would be combined with reviving a long-dormant policy of issuing notices of liability to property owners with particularly dangerous broken sidewalks.
City officials say there are roughly 5,000 broken sidewalks for which they would like to issue such notices immediately.
Bezak said that would alert property owners to the dangerous sidewalks and let many of them know for the first time that they are responsible for nearby sidewalks.
Lowering the fee would soften the impact of the bad news, Bezak said.
"It's very cost-prohibitive right now for homeowners to do the repairs, and we want homeowners to play their part," she said. "The system isn't really set up right now to encourage folks."
The property owner still would have to fund the actual repair, which can cost as much as $5,000.
"We're never going to solve this problem just with city resources; we need to make sure that everyone is contributing."
— Bethany Bezak, San Diego transportation director
Post-repair inspections remain important, but city officials propose allowing property owners to self-certify and have city inspectors spot-check a certain portion of those repairs.
The city likely would keep charging a fee of roughly $100 for the spot checks, Bezak said.
Bezak said the proposed liability ordinance is probably the most controversial element of the plans.
Thomas Leary, a local lawyer who has won large settlements against the city on behalf of people injured by sidewalks, said a liability ordinance would be a terrible move.
"The city would just be trying to pawn off responsibility on someone else — homeowners who don't even know they have an obligation," Leary said. "It's nonsense. It's a non-starter."
City Councilman Joe LaCava, whose District 1 includes La Jolla, said he can imagine the new law striking fear into many property owners, which he says doesn't seem right.
"That sidewalk in front of my house is not my sidewalk, it's the city's sidewalk and the city's curb and gutter and the city's street," LaCava told Bezak during a recent meeting of the council's infrastructure committee.
However, Section 5610 of the California Streets and Highways Code largely places the responsibility for sidewalk replacement and repair on the abutting property owner.
Liability is less clear. While Section 5610 says property owners are responsible for repairs, city officials say case law generally does not assign any related liability to property owners, unless they are directly responsible for sidewalk defects.
And state law does not say property owners are responsible for injuries.
San Diego officials say the city should consider following the lead of several other California cities and pass an ordinance imposing liability for sidewalk injuries on adjacent property owners.
"The city would just be trying to pawn off responsibility on someone else — homeowners who don't even know they have an obligation. It's nonsense."
— Lawyer Thomas Leary
In 1975, San Diego adopted its current policy, which says property owners are responsible for repairing normal sidewalk wear and deterioration as well as damage from private trees and private drainage structures.
The city takes responsibility when there is damage caused by parkway trees, grade subsidence, city-performed utility cuts and heat expansion.
A liability ordinance would put the city in a much stronger position regarding any possible injury payouts, officials say.
Some city officials have suggested that another solution could be shifting all costs to the city — and away from property owners — to simplify a confusing policy and avoid the inaction that often comes when owners can't afford repairs.
City Attorney Mara Elliott, however, issued a memo a few years ago saying that change likely would be a windfall — at taxpayer expense — for the insurance companies of property owners.
Some City Council members say drastic action makes sense with the city paying millions each year to settle lawsuits filed by people injured on damaged sidewalks.
"I'm really excited to see how much attention we're paying to sidewalks, because I know all of us are really tired of paying all the claims out for trip-and-falls, which are enormous," Councilwoman Marni von Wilpert said.
The city is facing steadily greater liability as more people ride bicycles on sidewalks, when even the smallest lip can cause a crash with significant injuries.
Another issue related to sidewalk liability arose in La Jolla last year and led to an effort by La Jolla community volunteers to reduce the liability that local maintenance assessment districts may face because of trip-and-fall incidents.
During a town hall meeting in La Jolla in March this year, LaCava said that rather than have local MADs be held responsible, "the city has decided to take responsibility for trip-and-falls on sidewalks" and that various city offices had agreed that when contracts are renewed this summer, "MADs are going to be shielded from any liability and the city will continue to bear the whole brunt of the liability."
New contract language will shield MADs from liability for trip-and-fall incidents on sidewalks, councilman says.
Enhance La Jolla, a nonprofit that administers the La Jolla MAD for The Village, sought the change after it was brought into two lawsuits against the city over trip-and-fall cases on La Jolla sidewalks, neither of which it felt it had liability.
The MAD has authority to enhance city-provided services, including landscape maintenance, street and sidewalk cleaning, litter and graffiti abatement and additional trash collection and occasionally privately funds and completes capital improvement projects in public spaces, such as trash can upgrades, bench installation and sign augmentation.
— La Jolla Light staff contributed to this report. ◆
Get the Del Mar Times in your inbox
Top stories from Carmel Valley, Del Mar and Solana Beach every Friday for free.
You may occasionally receive promotional content from the Del Mar Times.