Plan to curb gun violence in San Diego County stalls after split Board of Supervisors vote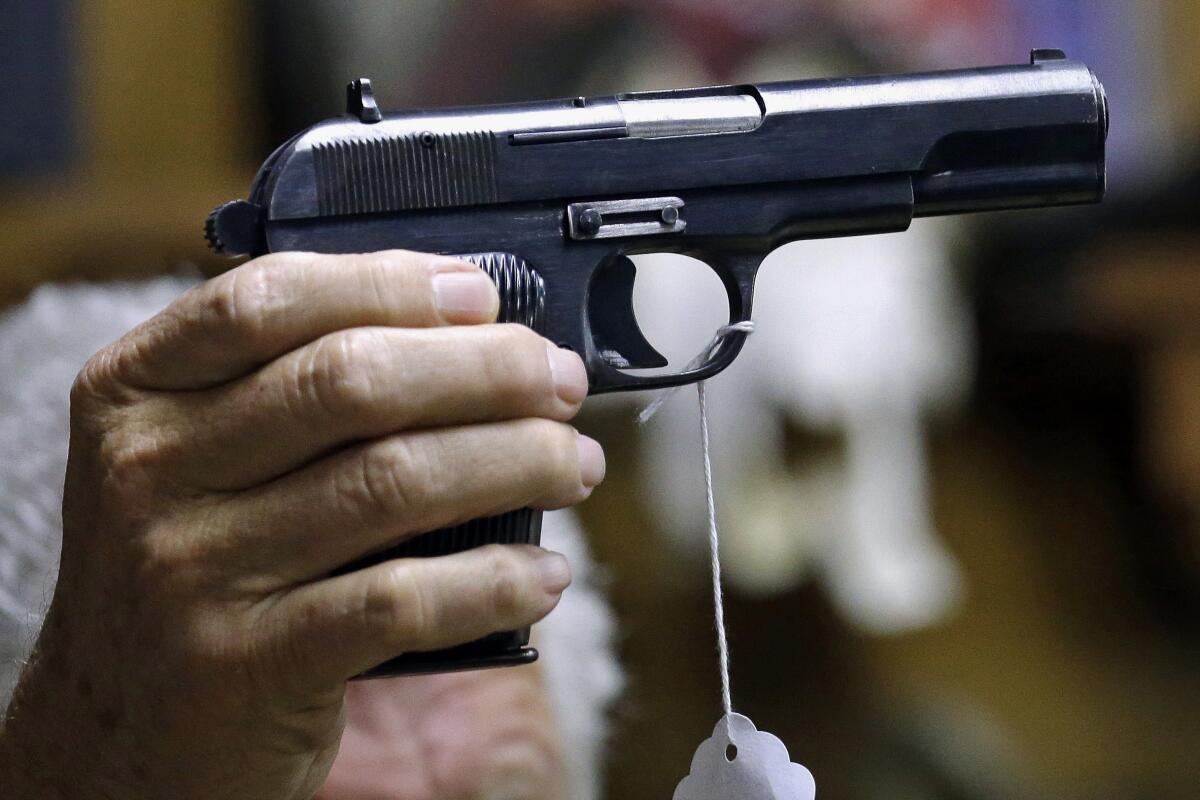 The plan, rejected in a 2-2 vote, was to move forward with recommendations included in a report that looked at gun violence across the county
In a split vote, the county Board of Supervisors on Tuesday, July 18, rejected recommendations intended to curb gun violence, including efforts to give away gun locks.
The recommended strategies were included in a board-commissioned report that was released a few weeks ago and took a close look at the prevalence of gun violence across the county, including suicides and homicides.
A plan to move forward with the recommendations failed in a 2-2 vote. Board of Supervisors Chair Nora Vargas and Supervisor Terra Lawson-Remer supported the motion; Supervisors Joel Anderson and Jim Desmond opposed it.
The vote came a day after a 3-year-old boy accidentally shot and killed his 1-year-old sister with a handgun that authorities said was left unsecured in a home in Fallbrook. It was also the 39th anniversary of the 1984 McDonald's massacre in San Ysidro, which left 21 people dead and 19 injured — and was the deadliest mass shooting by a lone gunman in U.S. history at the time.
Vargas and Lawson-Remer said the Fallbrook tragedy underscored the need for sensible solutions to gun violence. Lawson-Remer pointed to safe gun storage efforts. Desmond and Anderson said they want the county to focus on root causes of gun violence, such as mental health.
The board could revisit the matter in the future.
There was no tie breaker, because the District 4 seat remains vacant following the resignation of former Chair Nathan Fletcher, who a Metropolitan Transit System employee has accused of sexual misconduct. Fletcher has denied the allegations. Early voting is underway in the special election to replace him.
The Gun Violence Community Needs Assessment Final Report came after the board made a request in October 2021 for strategies to curb gun violence. The county contracted with Health Assessment and Research for Communities, known as HARC, which completed the report at a cost of $204,000.
As part of the work, HARC looked at data — sources included the county Medical Examiner's Office, Health and Human Services Agency and the Automated Regional Justice Information System — and collected input from community members.
According to the report, there were 1,310 shooting deaths in the county from 2017 through 2022. About 71 percent of the deaths were suicides and about 28 percent were homicides.
Gun use was the most common method to inflict fatal injury in both suicides and homicides in the county from 2017 through 2021, according to the report.
Among other findings, the report found that suicide rates were highest among White men over age 65 while homicide rates were highest among Black and Latino men ages 25 to 44.
The report included a wide range of both short-term and long-term strategies to curb gun violence.
In the current fiscal year, the plan, as presented to the board, was to focus on efforts to develop suicide prevention campaigns, give away free gun locks, seek grants to curb gun violence and create lines of communication among groups that work to prevent and interrupt gun violence. The plan called for efforts in the next fiscal year to educate the public about domestic violence, because guns are the most common weapon used in domestic violence deaths, and develop a standard suicide screening tool for health care providers, among other recommendations.
Vargas said the goal of the plan was not to restrict gun ownership but to instead prevent tragedies like the fatal shooting in Fallbrook.
"I am extremely disappointed in the outcomes of today's vote to bring comprehensive and sensible solutions to gun violence in our County," Vargas said in a statement after the vote. "We must take politics out of this issue and focus on creating healthier and safer communities."
Lawson-Remer said in a statement after the meeting that she was appalled that a day after the shooting in Fallbrook that the board "was unable to support even a simple educational campaign to promote safe storage and common sense gun safety."
She blamed gun lobbyists and the Republicans on the board, Desmond and Anderson.
"I will continue fighting to protect our children and communities from gun violence," Lawson-Remer said.
Desmond said he did not support the recommendations in large part because he believed they did not focus enough on mental health, which he sees as a root cause of gun violence, homelessness and other societal issues.
"I think a mental health-centered approach is necessary to combat these complex issues," Desmond said during the meeting. "I would like to keep the county focused on mental health and safe storage to save lives."
He pointed to an in-depth reporting project on mental health that was published in April in The San Diego Union-Tribune. According to the project, the rate at which adults were placed on 72-hour mental health holds nearly doubled over the last three decades. Among other findings, the Union-Tribune also found that mental health calls for service to law enforcement spiked by more than 120 percent since 2009.
Anderson issued a statement after the meeting that read: "Gun violence is abhorrent, and I think we should focus on addressing the root of the issues."
He noted the county's report found most gun deaths were suicides.
"This is why I have focused on investing in mental health, suicide prevention, law enforcement, and opportunities for people to improve their lives so that they don't turn to suicide and violence," Anderson said.
Several public speakers supported the recommendations. Among them was Elizabeth Muñoz, whose 18-year-old son was fatally shot by gang members in National City in 2015.
"It's so important for our children to live," she told the board. "It's not OK for lives to be taken. And yet it happens over and over (again)."
Other speakers opposed the recommendations. One of them was Michael Schwartz, executive director of the San Diego County Gun Owners PAC, who said the county already funds gun violence prevention efforts via mental health initiatives and law enforcement.
More information about the report can be found online at engage.sandiegocounty.gov/gvrp.
Get the Del Mar Times in your inbox
Top stories from Carmel Valley, Del Mar and Solana Beach every Friday for free.
You may occasionally receive promotional content from the Del Mar Times.