Smiles and salutes for retiring Navy dentist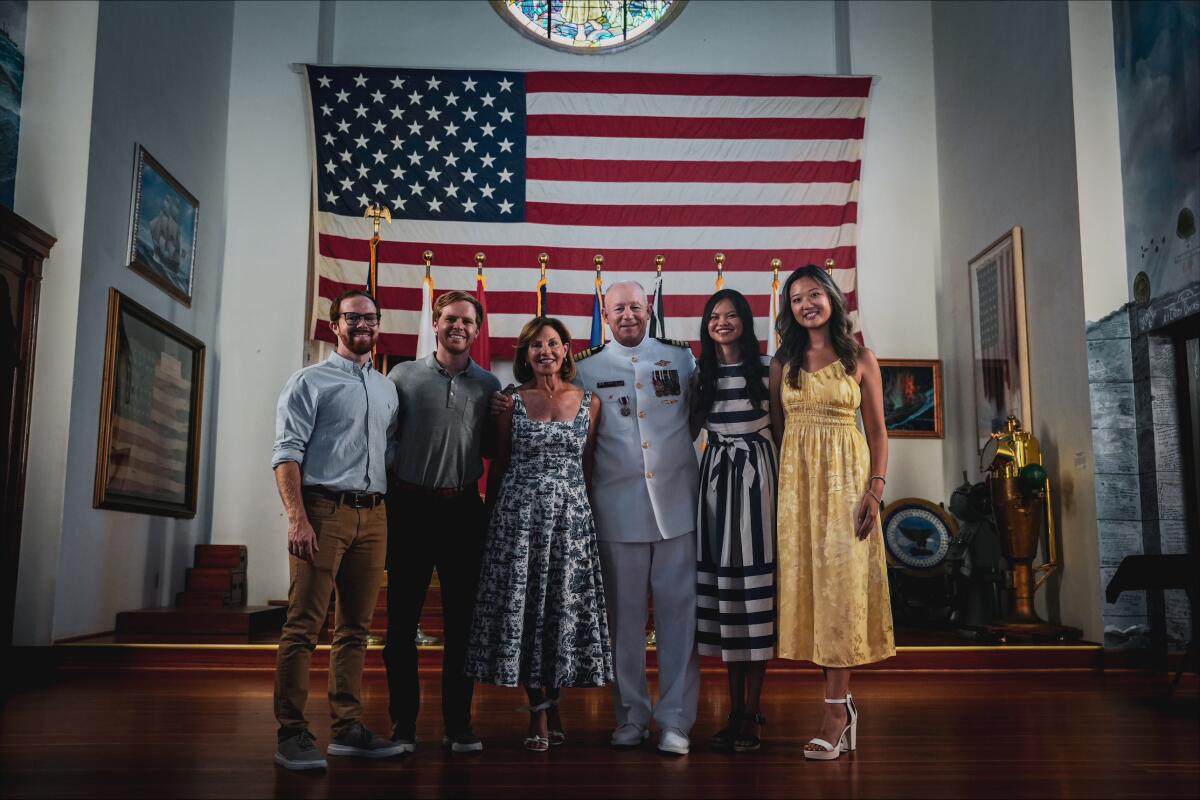 Capt. Timothy Tinker served 30 years in U.S. Navy Dental Corps
Carmel Valley's Captain Timothy Tinker has retired after 30 years of service in the U.S. Navy Dental Corps. The captain was saluted with a full military ceremony in the chapel at the Veterans Museum and Memorial Center in Balboa Park on July 21, with his proud family in attendance.
Tinker held many leadership roles within the Navy, earning a Meritorious Service Medal, performing countless oral surgeries (many, many wisdom teeth pulled) and, most importantly, serving as a mentor to young officers just setting out on their paths as dentists and in military service. Stationed at the Marine Corps Air Station at Miramar since 2010, Tinker also served abroad for four years in Iwakuni, Japan and as a dentist on a carrier ship.
"Taking care of the recruits was always special to me and taking care of all my officers," said Tinker, who has been a San Diego resident since 2007 when he received orders to report to the Naval Medical Center. "It's just nice to be able to take care of your people and help them."
Tinker graduated from the University of Louisville Dental School in 1993, signing up with a military recruiter in his senior year. There was no medical or military lineage in his immediate family but he liked healthcare and working with his hands: "I got into dental school and haven't looked back."
A Louisville native, his two daughters have now both ended up at dad's alma mater—Madeleine is a sophomore and Ellen will graduate from nursing school this December, 30 years after her dad did.
Ellen had been in school at George Washington University in Washington D.C. but was inspired by her father to switch gears and get into healthcare, something she wanted to explore when she was younger but got detoured by an interest in political science: "He's just been my number one fan through it all."
Tinker started his military career at Camp Lejeune, where he served in the second Dental Battalion camp. In 1995, he volunteered for a six-month deployment in the Mediterranean aboard a ship carrying Marine and Navy personnel. It was his first time out of the country and he got to see Spain, France, Malta, Greece and Italy, and saw patients six days a week on the ship that had four dental operatories.
"Basically it's like going to a dental office but it's a little different when the seas are kind of rough," said Tinker, who said there was only one day in the six months, sailing through the Strait of Gibraltar, when it was too choppy to see any patients.
While stationed in Iwakuni, Tinker made the rank of commander, in charge of a smaller base with about 3,000 patients with seven dentists. In command at the Marine Corps Recruit Depot (MCRD) in San Diego, Tinker had a staff of 125 people and cared for the 18,000 marine recruits who pushed through the base every year.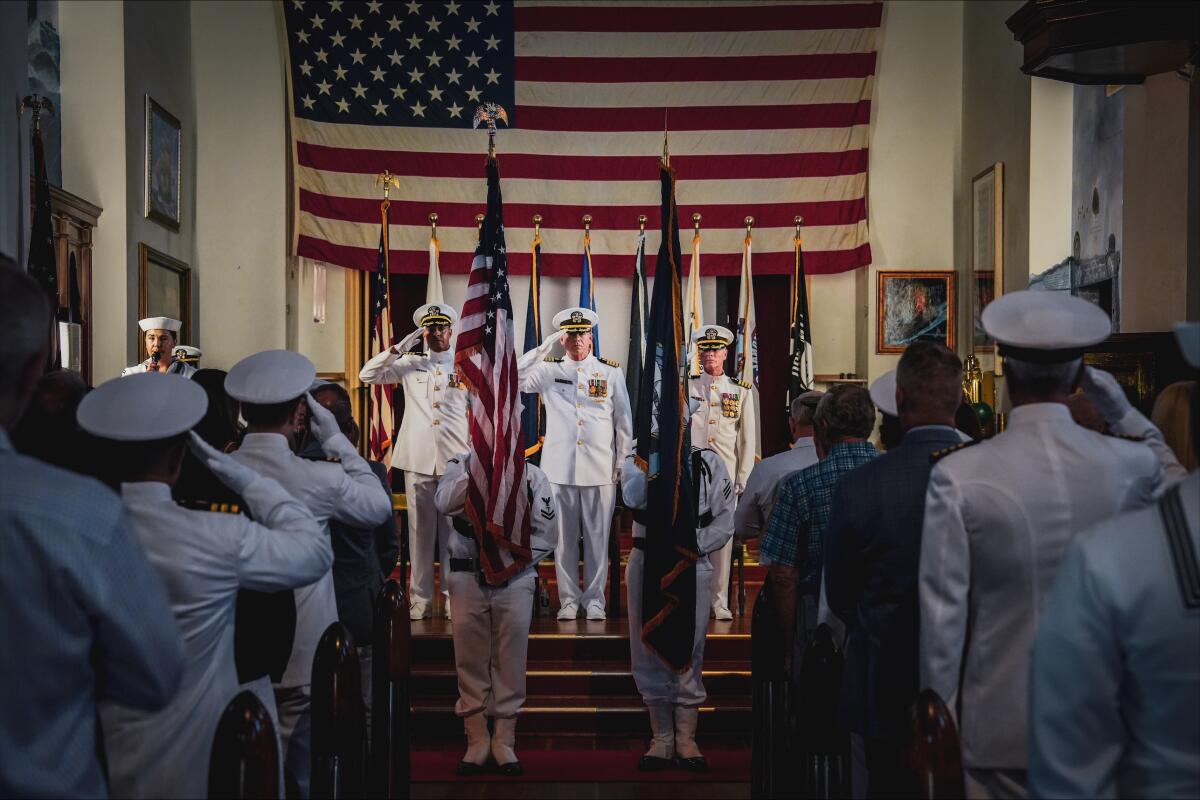 "The boot camp here takes everyone west of the Mississippi and only males until a year ago," said Tinker. "You'll see everyone from kids who went to the dentist every six months to kids who went once a year, to a kid who has never been to the dentist." In his role, he got a wide and varied view of oral health needs, taking care of them all.
He is most proud that every time he was put up for a promotion he earned it, including making captain at his 18-year service mark.
"I loved the majority of my career stationed with the Marines," Tinker said of the 23 years serving boot camps at MCRD, The Basic School Dental Clinic in Quantico and the Naval Dental Center at Great Lakes. "I was there on 9/11 and it was an honor to have the ability to take care of our most precious assets, our service members that deserve the care. The young kids who arrive scared and then 12 to 13 weeks later were shaped into young Marines, that was always nice to see. You know that what you're doing is worthwhile."
Tinker wore his full-dress white uniform for his retirement ceremony at Veterans Memorial, receiving awards and citations, and as is Navy tradition, he was "piped ashore" for the last time as his last official function in the military, his final departure. He gave a speech about his family and career and tried to hold it together during a speech by his daughter Ellen. At the ceremony, he surprised his family with special Navy shadow boxes that he had made for them.
Retirement is a big adjustment for Tinker—after rising at 5:45 a.m. for the last 30 years, he is letting himself sleep in a little more. The third day of his retirement he took a trip to Disneyland and he hopes that many more travel adventures are in the future with his wife Jennifer.
He is also interested in volunteering on a non-governmental organization's medical mission —they always need dentists to provide care for people in need. He hopes to make it a father-daughter service trip.
For now, he is enjoying his well-earned time to rest: "We'll see where each day takes me," he said.

Get the Del Mar Times in your inbox
Top stories from Carmel Valley, Del Mar and Solana Beach every Friday for free.
You may occasionally receive promotional content from the Del Mar Times.