Police department's Skate Jam rides again at PHR Pump Track
The community came together to ride with the cops at Skate Jam '23 at the Pacific Highlands Ranch Pump Track on Sept. 16. A drizzle of rain couldn't stop people from enjoying the day on wheels of all kinds.
This was the San Diego Police Department Northwestern's fourth annual event, the first being held in 2019 at the Carmel Valley Skatepark. After missing the pandemic year, in 2021 Sgt. Sal Hurtado teamed up with San Diego Parks and Recreation Department Area Manager Angel Castro and Billy Ruff, a Carmel Valley resident and member of the Skateboard Hall of Fame, to put on the event at the popular pump track.
At this year's session, people had the opportunity to ride the track, check out police vehicles and meet local officers, including a police dog. Officers cooked up free hot dogs, professional skaters put on skills demonstrations and there was an all-ages relay race on the track. The police department had a free raffle, giving away bikes, helmets and limited print G&S and San Diego Police Department skate decks.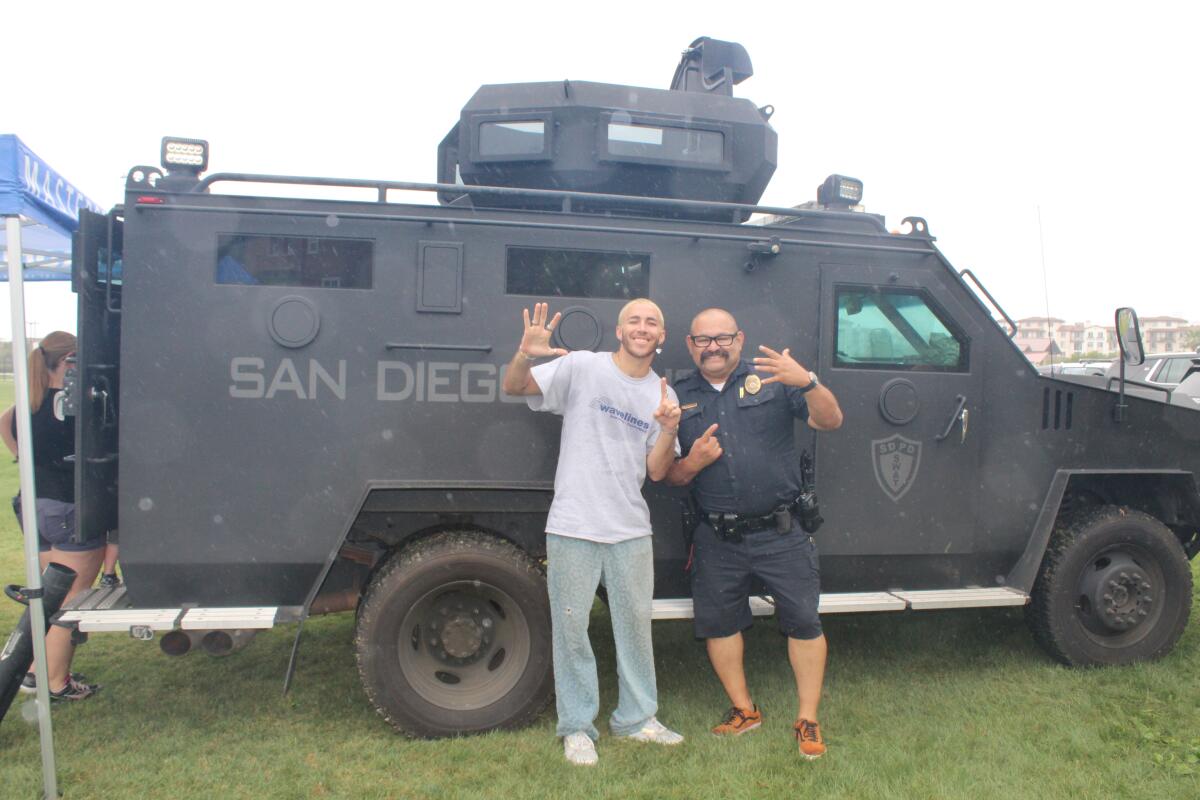 Officer Troy Brown, a skateboarding officer from the Northeastern Division, worked with the longtime surf and skate company G&S to design the skateboard with police colors and concepts. A total of 50 decks were made and those that weren't raffled off will be kept to hand out throughout the year when officers are responding to skateboarding calls.
"It's just a way to build bridges with the community," said Brown. While he was talking, a tiny rider approached, asking for a chance to skate with a cop. "When I was a kid there were no older skaters. Now I'm in a position to actually make a difference and that's what's really exciting."
Before the event begun, local skaters attempted to break the record for the most nonstop laps on the pump track without kicking. Blake Sterger broke the 444 lap mark he set last year, going an incredible 600 laps. The 23-year-old skater started his attempt at 6 a.m. when it was still dark outside.
Get the Del Mar Times in your inbox
Top stories from Carmel Valley, Del Mar and Solana Beach every Friday for free.
You may occasionally receive promotional content from the Del Mar Times.