AutoMatters & More: Magical Holiday Season at Southern California Disney Parks
Disney's announcement of a very special FESTIVAL of HOLIDAYS at Disney California Adventure Park, combined with the prospect of spending New Year's Eve at Disneyland, was too tempting to pass up.
FESTIVAL of HOLIDAYS offers a wide variety of holiday entertainment and special things to eat at Disney California Adventure Park through Jan. 8, 2017.
Not to be missed, Viva Navidad! combines music, dancing and Disney characters in a Latin-American themed party on the streets of Paradise Gardens. The Three Caballeros (Donald Duck, Panchito from Mexico and Jose Carioca from Brazil) dance and cavort center stage, while mariachi and samba musicians accompany colorful folklorico dancers. Minnie, Mickey and 12-foot-tall mojiganga puppets of Santa and Mrs. Claus join in the fun. It all builds to a crescendo with a big burst of confetti filling the sky.
The Blue 13 Dance Company dancers in their bright, colorful costumes perform highly energetic, Indian folk dancing with a distinctly Bollywood style. Over and over again they leap high in the air and then assume traditional Indian poses.
Other entertainers include the Holiday Toy Drummers, Mostly Kosher ensemble performing Yiddish klezmer music, Mariachi Divas, RAISE a capella singing group and Stilt Circus.
There is something for every conceivable taste in the wide variety of enticing holiday fare offered at the Festive Foods Marketplace kiosks, as only Disney can do it: Abuelita's Kitchen (warm tamales and sopes), brews and bites, Fiesta en Familia (pozole and ceviche), Southern Home Holidays (spicy chicken sausage and sweet potato pie), Good Fortune's Feast (pork bao and winter mint milk tea), Heritage Cottage (short ribs and rice pudding), Making Spirits Bright (wines and seasonal beverages), Mistletoe Morsels (Swedish meatballs and eggnog), Mosaic Delights (roasted lamb and baklava), Nosh & Nibbles (brisket potato croquettes and sweet spiced noodle kugel), Spicy Salutations (curry and mango lassi), Treats for Santa (fruit punch and holiday cookies), Winter Sliderland (sliders and hard cider) and Yuletide Yummies (pumpkin spice hot chocolate and gingerbread Bundt cake). Whew!
Moving right along, there is a special holiday-themed World of Color show called "Season of Light." Treasured moments from Disney and Pixar films are projected on screens of water as colorful fountains shoot high in the air, interspersed with tall bursts of flame that surprise and warm the winter-time audience – all choreographed to stirring Disney tunes. If you must have a completely unobstructed view, there is usually room at the very front in the Wet Zone, but be prepared with rain gear as you will get wet!
Of course Disneyland is also decked out for the holidays, complete with a gigantic decorated Christmas tree at the beginning of Main Street USA. A tradition at Disneyland is Haunted Mansion Holiday, where a merry makeover eerily transforms the Haunted Mansion for the "Horror Days," courtesy of Jack Skellington and the kooky characters from Tim Burton's "The Nightmare Before Christmas." A special gingerbread house rests on the ghoulish dining table. Seasons Screamings!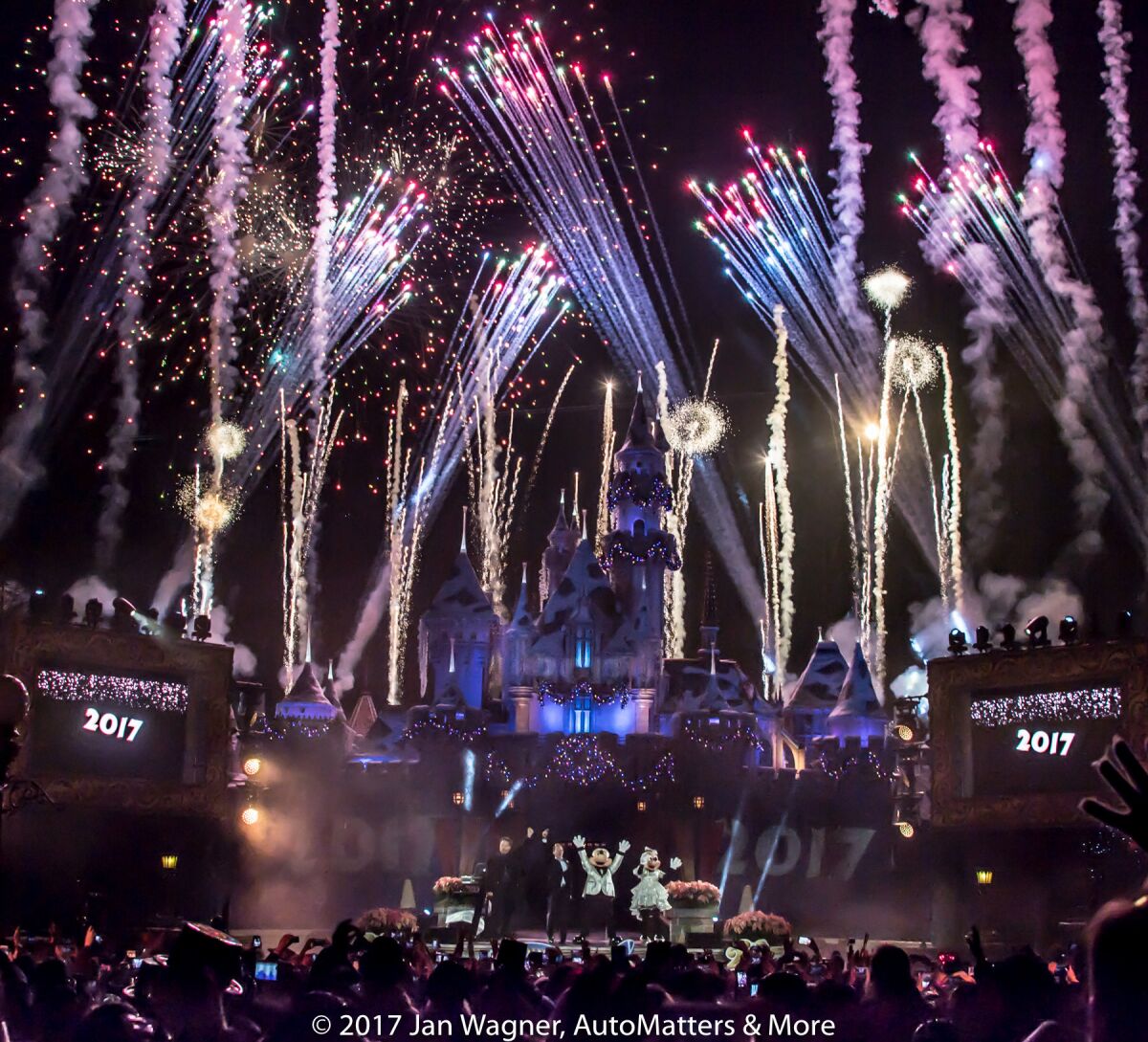 The Christmas Fantasy Parade thrills young and old alike as Mickey, Minnie, Goofy, Disney Princesses and others share the joy of the holidays.
Another attraction that undergoes a magical transformation for the holidays is the Jungle Cruise, appropriately renamed as the "Jingle Cruise" and narrated with non-stop jokes by your skipper.
"It's A Small World" Holiday adds a yuletide version, complete with traditional holiday tunes.
Making a return engagement is the very popular "Paint the Night" parade.
A spectacular fireworks show with Sleeping Beauty castle in the background is iconic to Disneyland. For the holidays the show is "Believe...In Holiday Magic." It ends as "snow" falls gently from the sky.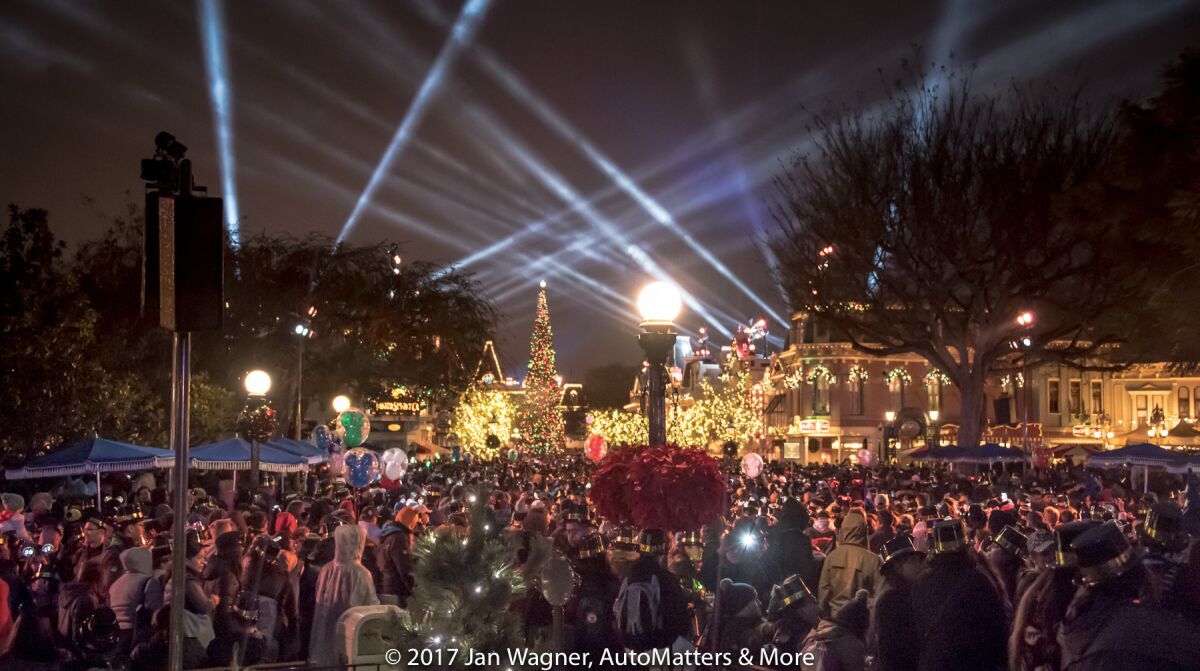 Celebrating New Year's Eve at Disneyland is an incredible experience. The crowds are massive but that is part of the fun. Dancing in place to rousing music kept us warm as we waited for the stroke of midnight. Then Mickey and Minnie welcomed 2017 with the most magnificent fireworks extravaganza, lighting up the sky with huge bursts of color and light. Whether viewed from in front of Sleeping Beauty Castle, "It's A Small World" or, new for this year, along the Rivers of America – complete with live music, this is an experience not to be missed.
Afterwards many of the park guests go home, which leaves two hours until park closing with hardly any lines for the rides.
Do make plans to celebrate New Year's Eve here next year. You'll be glad you did.
Join in the conversation. Send your comments and suggestions to AutoMatters@gmail.com.
Copyright © 2017 by Jan Wagner – AutoMatters & More #470
---