AutoMatters & More: SCORE Baja 1000 Qualifying at Las Vegas Motor Speedway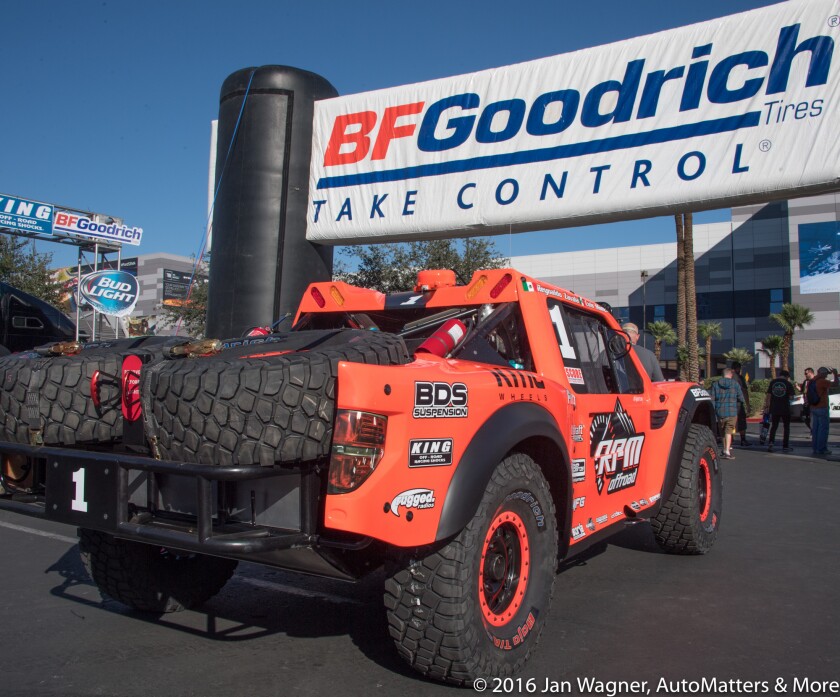 Blasting through desert terrain with a fury unlike any other in professional motorsports, SCORE Trophy Trucks battle for their ultimate prize: a victory in the grueling Baja 1000 – described by some as the top motorsports event in the world.
SCORE International is the Sanctioning Committee of Off-Road Events. It sanctions desert races.
SCORE was founded by the late, great Mickey Thompson in 1973. An avid hot-rodder, Thompson was the first American to exceed 400 mph on the Bonneville Salt Flats (in 1960). Tragically he was murdered in 1988 (https://en.wikipedia.org/wiki/Mickey_Thompson), after which time ownership of SCORE passed to Sal Fish.
In 2012 avid off-road racer Roger Norman became SCORE International's very hands-on series president. If you witnessed Baja 1000 qualifying this year you would have seen Roger performing inspections of the LVMS course, at speed from behind the wheel of a truck.
SCORE's racers are legendary, including Walker Evans, Rod Hall, Rod Millen, Parnelli Jones, Ivan Stewart, Mickey Thompson, Steve McQueen, Paul Newman and, of course, Robbie Gordon.
In 2016 all SCORE races were held in Baja California, Mexico: the SCORE San Felipe 250, the SCORE Baja 500 (Ensenada), the SCORE Desert Challenge (Rosarito Beach) and the Baja 1000 (Ensenada) – the undisputed crown jewel of the series.
The race classes are comprised of two-wheel and four-wheel vehicles: motorcycles, quad bikes, open-wheel cars, Jeeps, Baja Bugs and a variety of specifications of trucks, ranging from mini-trucks to Trophy Trucks and Class 1 racers.
The Baja 1000 dates back to the 1960s, at a time when there were no GPS devices, cell phones or anything else electronic to help navigate the nearly 1,000 mile torture test along the Baja California Peninsula – from Ensenada to La Paz on the Pacific coast. Just to compete in the Baja 1000 has always been a true test of courage, for failure here could well be life threatening.
Before these gladiators may race the Baja 1000, first they must qualify for this great test of man and machine. Qualifying for the SCORE Trophy Trucks and Trophy Truck Spec vehicles was run on the evening of November 1 at Las Vegas Motor Speedway – not coincidentally during the same week as the annual SEMA Show, where the race trucks had been on display, and from where they had left in a procession to LVMS in the afternoon of qualifying day Tuesday.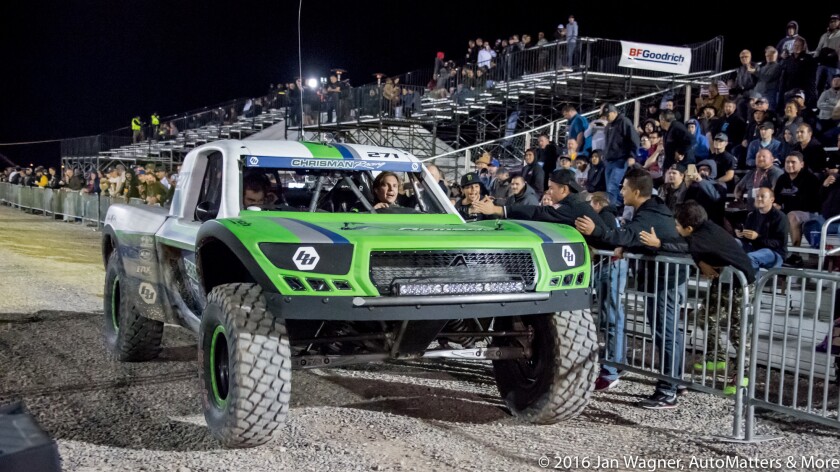 Many are familiar with the high-speed, paved and banked LVMS track where they run the NASCAR stock car races, but this is just one portion of the huge LVMS motorsports complex. Also located within its boundaries is a sprawling off-road dirt course with a towering jump, whoop-de-dos and wide, high-speed turns that are ideal for hanging the tail out and drifting.
The Baja 1000 is not just an endurance test for the drivers and crews, but also for fans and the press. By November it can get bitter cold in the Nevada desert at night, and on this night it was windy, too. Every time a truck sped by, a cloud of dust followed – and then blew over the grandstands, covering the hardy, freezing, and utterly enthusiastic spectators in dust. They did not seem to mind, nor did I. We quickly learned to turn our heads and briefly close our eyes just before the dust arrived. We endured long, cold delays between some of the qualifying runs, remaining in the stands or trackside until the very end of the evening. Such is the excitement of watching qualifying for the Baja 1000, and to see first-hand who was quickest of all.
The trucks qualified individually. As they neared the Start/Finish line at the end of their runs, a team of lightly clad but cheery flag girls hurried out of what I hope was their warm shelter to assemble on both sides of the track, where they welcomed each returning truck with waved SCORE Baja 1000 checkered flags. On this night the quickest driver in SCORE Trophy Truck was Mark Post of Las Vegas, and in Trophy Truck Spec the fast qualifier was Javier Quiros of Huntington Beach, Calif.
In 2017 the 50th Anniversary of the SCORE Baja 1000 will be run. For more information, check out the references used for this article: the online SCORE Journal digital magazine – The Official Publication of SCORE Off-Road Racing (https://score-international.com/scorejournal-digital/) and Wikipedia (https://en.wikipedia.org/wiki/SCORE_International).
Join in the conversation. Send your comments and suggestions to AutoMatters@gmail.com.
Copyright © 2016 by Jan Wagner – AutoMatters & More #469
---