AutoMatters & More: BMW's "i Inside Future" Autonomous Vehicle Interior Concept
Fully autonomous vehicles will be available soon. Eventually, without the need for such driving controls as a steering wheel and pedals, the interiors of fully autonomous vehicles will likely become radically different from the automobile interiors of today. Their personalized spaces will be more like those in a home, workspace or both.
With that in mind, at CES 2017 (the Consumer Electronics Show) in Las Vegas, BMW showcased futuristic styling and technology for an autonomous vehicle's interior. The name of this interior design concept is i Inside Future.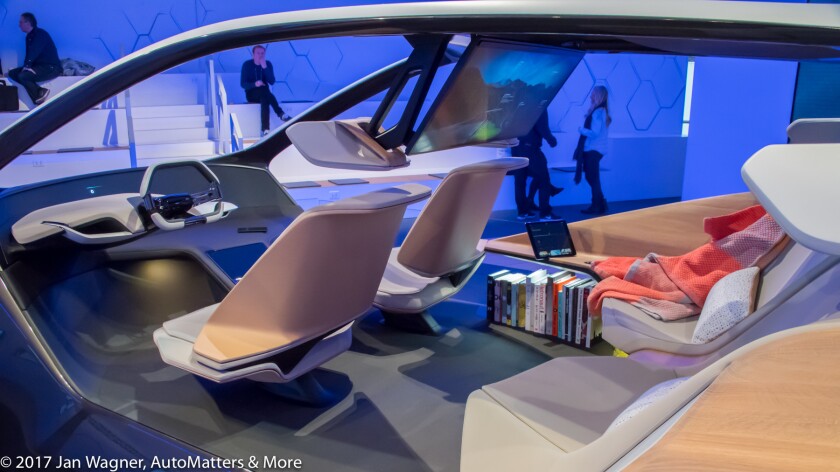 From the outside it is reminiscent of a shuttlecraft from the original STAR TREK T.V. series. Inside it offers a relaxing, inviting environment, with organic, earth-tone colors and materials. The seats comfortably envelop their occupants and an ottoman provides a welcome place for drivers to rest their legs – since there are no pedals.
The floor is electric vehicle flat, and the windshield and dashboard have been pushed further away from the driver – all to provide more interior space. Since the buttons and controls needed to operate the vehicle's systems would be too far away from the driver, BMW incorporated a functional, free-floating, holographic display system for those controls. This was demonstrated this for us on the i Inside Future.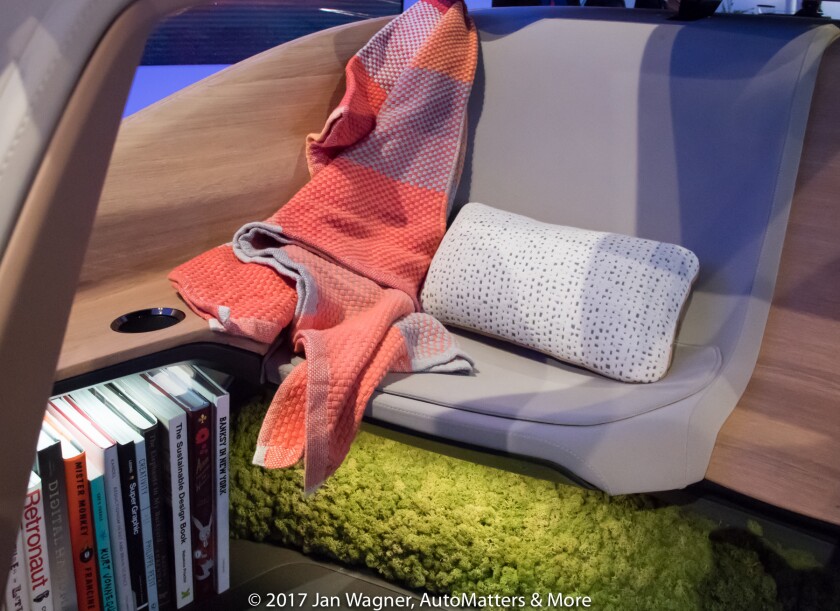 When the vehicle asks the driver to make a decision about whether or not to start the car, reminds them to do something based on a calendar entry, requests a choice from among the recommended routes suggested by the vehicle's intelligent navigation system or respond to any of a myriad of other things, virtual controls (holograms) are projected by an LCD screen on the floor to a micro mirror, where the images pass through an array of prisms. The driver would then 'touch' a finger to the floating buttons.
Cameras track minute movements of the driver's fingers. By so doing, the system knows when, for example, the Start button is pressed. Ultrasonic waves directed at the driver's finger from below provide tactile feedback, to make it feel as of the driver is actually touching a physical button. An array of small jets directs these sound waves, disrupting the air in a much more gentle but similar way to what a dentist does when performing an ultrasonic teeth cleaning. This is truly fascinating tech and, as we experienced first-hand, it really does work.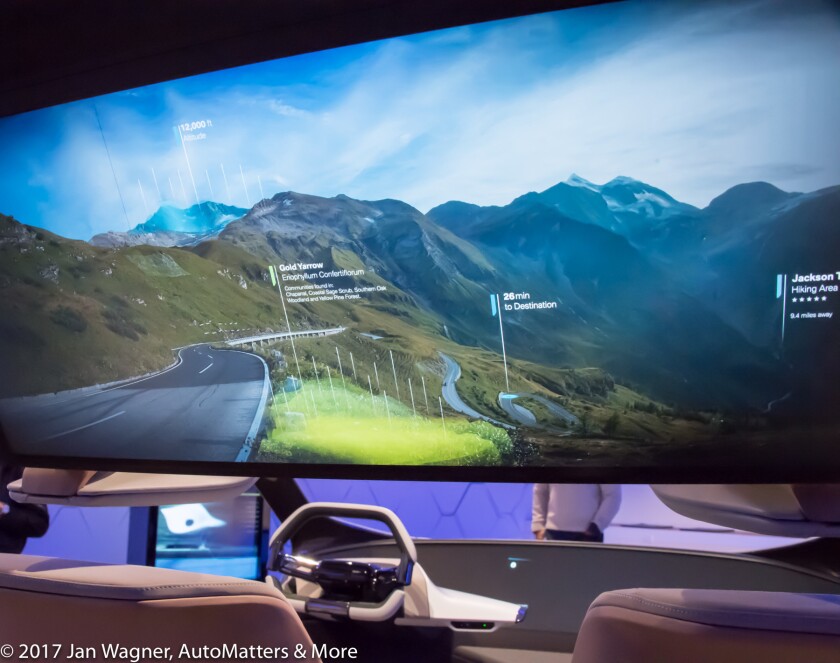 The i Inside Future would be able to read its occupants biometrics, via sensors in the seats. Choices presented to the driver might be determined by how they are feeling – perhaps energetic or calm.
Images and displays – not just for navigation, vehicle control, entertainment and the like, but also for such things as shopping suggestions and reminders to phone someone when the navigation system determines that the driver is running late for an appointment – are projected onto the wide dashboard using rear projection technology. The size of these projected displays is quite variable, since they are not confined to the smaller, framed area found on vehicles of today.
The far forward location of the dashboard, with its rear-projected visuals, has several benefits. In addition to opening up the interior space, it minimizes the amount that the driver's eyes must adjust from far to near and back again, which takes time and is a safety factor.
For privacy the windshield, as well as the BMW's other windows, can darken electronically.
Since the system knows how long it will take to get to the vehicle's destination, it is able to recommend useful or entertaining things to do that will occupy a corresponding amount of time – perhaps read an article or watch a feature film on Netflix or Amazon. Directional speakers are built into the headrests, and there are shakers in the seatbacks. Sound isolation enables the driver and passengers to enjoy different music and video choices, based on their preferences.
In keeping with the i-brand's focus on the environment, the interior of the i Inside Future is fashioned from sustainable materials, from recycled cork flooring to locally sourced wood – and no leather.
While driving ourselves is certainly enjoyable in many situations, BMW shows us with the i Inside Future that when fully autonomous vehicles become available; stressful, monotonous and unproductive aspects of travel by personal automobiles will be replaced by opportunities for rest and relaxation, entertainment (watching "The Grand Tour" on Amazon Video!), work, online shopping, communications and more.
Join in the conversation. Send your comments and suggestions to AutoMatters@gmail.com.
Copyright © 2017 by Jan Wagner – AutoMatters & More #471r1
---
Get the Del Mar Times in your inbox
Top stories from Carmel Valley, Del Mar and Solana Beach every Friday for free.
You may occasionally receive promotional content from the Del Mar Times.