AutoMatters & More: A World Class Model Train Display & Hearing TV Dialog Clearly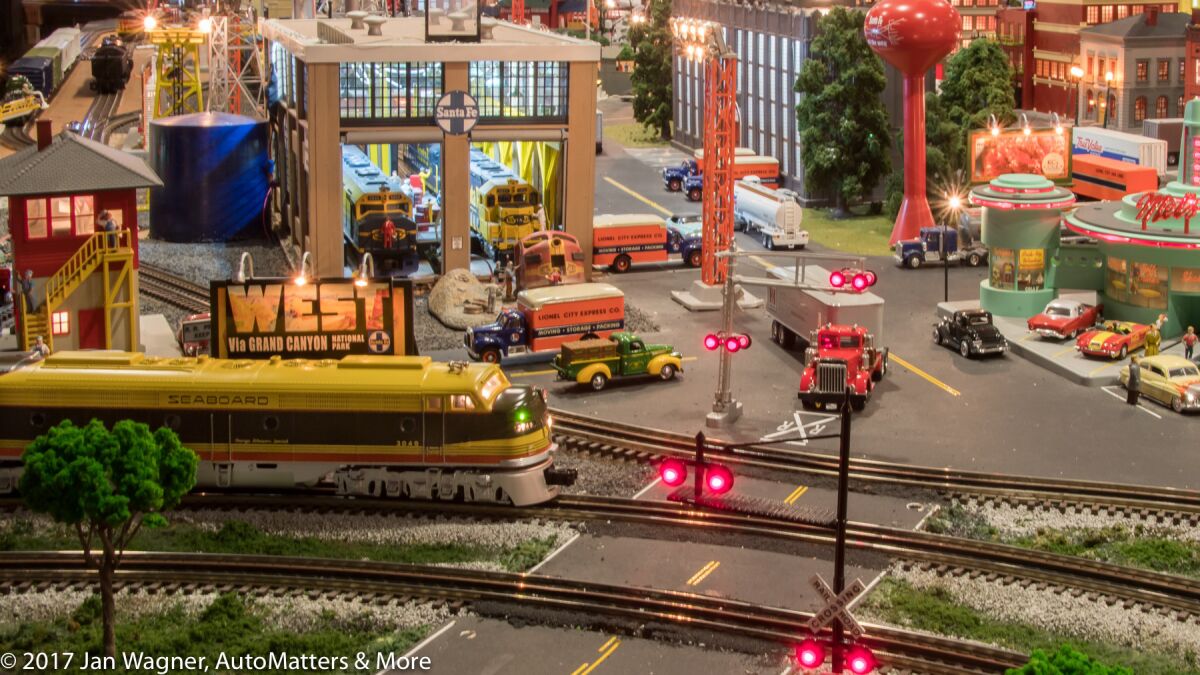 Old Town Model Railroad Depot
The most amazing scale model railroad layout can be found in historic Old Town San Diego, as was revealed to me during a Pacific Photographic Society (PPS) Meetup group photo shoot. It is billed as "the largest privately owned O scale model train interactive San Diego attraction, with over 2500 square feet of fun for all ages."
Spread over two large rooms – one in daylight and one at night – this 1950s slice of Americana features a variety of scenes including a city with a fire department, shops, a motel, a baseball park, movie theaters, car dealerships and even Elvis; a 'Wild West' town; industrial sites; a farming community; a lakeside country resort; a carnival and much more – all reproduced in exquisite, often whimsical attention to detail (signs on buildings include: "Cook, Books & Hyde Tax Accountants" and "Dewey, Cheetum & Howe" Tax Attorneys).
Set in the 1950s, this incredible retro display includes tiny cars, trucks, boats, people, animals, industrial equipment, buildings, a lake and computer-controlled trains. The widespread electrification of lights, signs, vehicles, buildings and more is truly mind-boggling.
Remarkably, admission to this miniature wonder is free of charge, thanks to visitors' voluntary donations and sales of railroad-themed mementos, artwork and clothing items in the gift shop.
For more information, go to https://www.facebook.com/oldtowntrains/.
ZVOX Soundbar SB400
Do you have trouble distinguishing many of the words spoken on TV shows – the dialogue? Many of us over 50 suffer minor hearing impairment.
No matter how loud the volume, how high the treble and how low the bass, the background music and other background sounds drown out some of the speech, making it impossible to distinguish some of what is being said. This is not just due to the tiny speakers that are built in to thin, flat screen TVs. I upgraded to an expensive, name brand sound system and but still cannot distinguish some of the dialogue. The background sounds are just too loud relative to the voices, so I became resigned to turning on the closed captioning. Sometimes those captions are difficult to read and cover up important on-screen video. They are always a distraction.
At this year's CES (the Consumer Electronics Show) in Las Vegas, I discovered what I hoped might be a solution to this problem: a range of affordable, high quality speakers specifically engineered to emphasize the dialog, working with these parameters of hearing aid technology: voice, focus, frequency compensation, bass reduction and compression. Utilizing their proprietary (patent pending) technology, ZVOX speakers "use a computer processor that mimics the functionality of a hearing aid. They apply an advanced compression/equalization algorithm that lifts voices out of background sounds to create the clearest dialogue reproduction ever."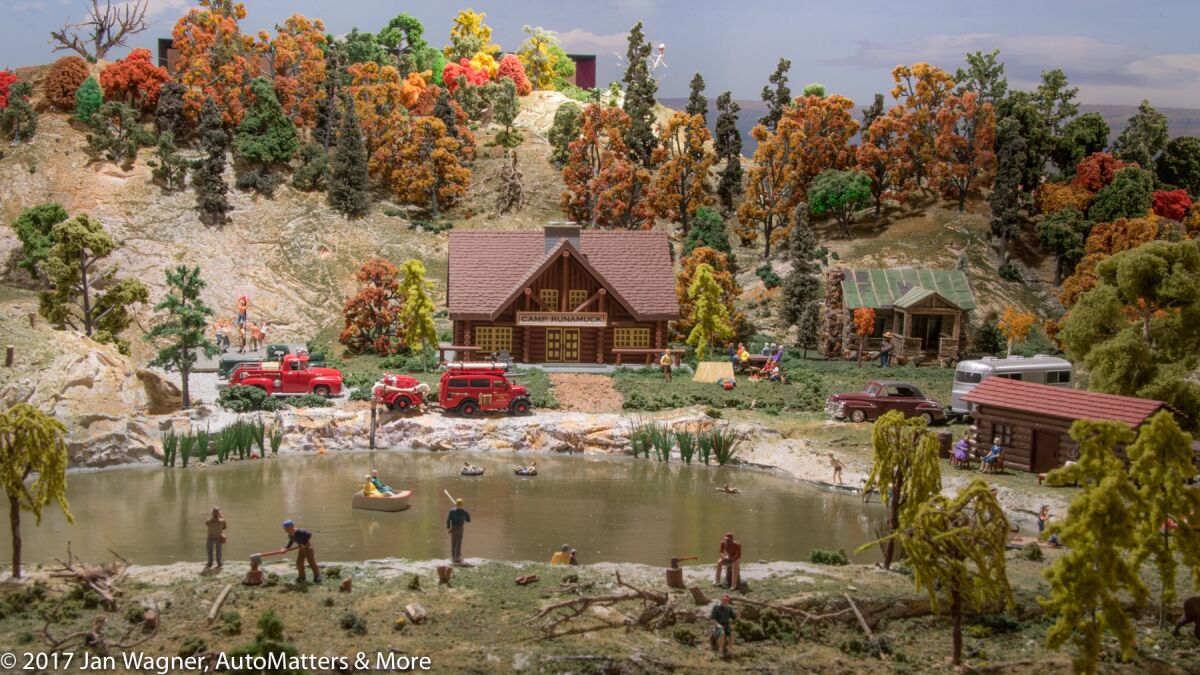 To demonstrate its effectiveness, ZVOX sent me a Soundbar SB400. Inside its nearly three feet wide, extruded aluminum, black cabinet are three high performance speakers, a powered subwoofer and a 118-watt digital amplifier. Along with "AccuVoice" technology, it features output leveling for loud commercials and Bluetooth connectivity for streaming music from phones and tablets.
Installation is straightforward, quick and easy. I literally connected just one wire for sound and one for power, and placed it on a shelf under my flat screen TV. It can also be attached to a wall.
Since I still had my premium, name brand sound system connected, I was easily able to compare the two sound systems by alternately pressing the mute button on each system's remote control while listening to TV program dialog, instantly switching back and forth. The improvement made by the ZVOX Soundbar is absolutely stunning, and at a small fraction of the price of my other speaker system. The dialogue reproduced by the ZVOX is absolutely crystal clear and, if desired, further adjustments can be made to the treble and bass to suit your preferences.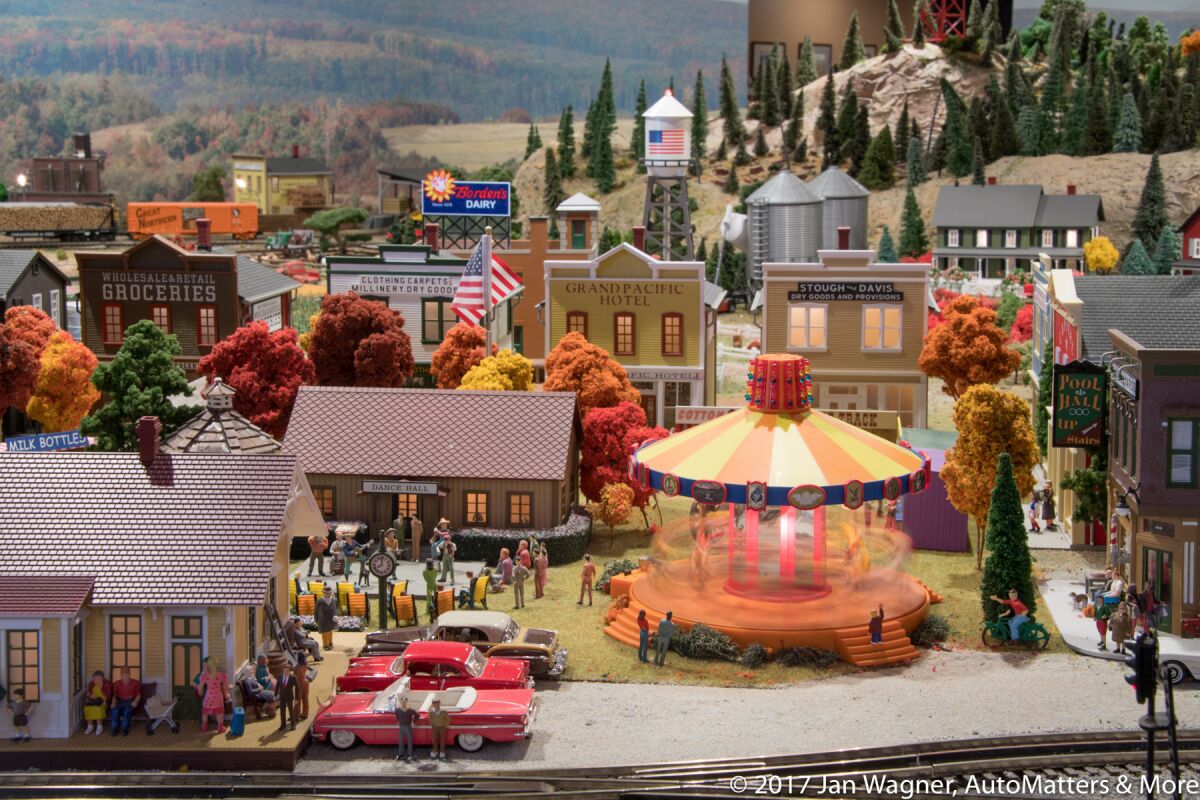 I was pleasantly surprised to discover that in addition to finally being able to distinguish dialogue while watching the TV, I could even hear and understand the dialog while I was in the kitchen washing dishes with the water running! That is nothing short of incredible. Needless to say, I highly recommend the ZVOX Soundbar, which is available in several models.
For more information visit www.zvoxaudio.com. The "ZVOX SB400 Aluminum Bluetooth Sound Bar with Built-In Subwoofer" is available directly from ZVOX, Amazon.com and other retailers.
Join in the conversation. Send your comments and suggestions to AutoMatters@gmail.com.
Copyright © 2017 by Jan Wagner – AutoMatters & More #478
Get the Del Mar Times in your inbox
Top stories from Carmel Valley, Del Mar and Solana Beach every Friday for free.
You may occasionally receive promotional content from the Del Mar Times.