AutoMatters & More: San Diego Travel & Adventure Show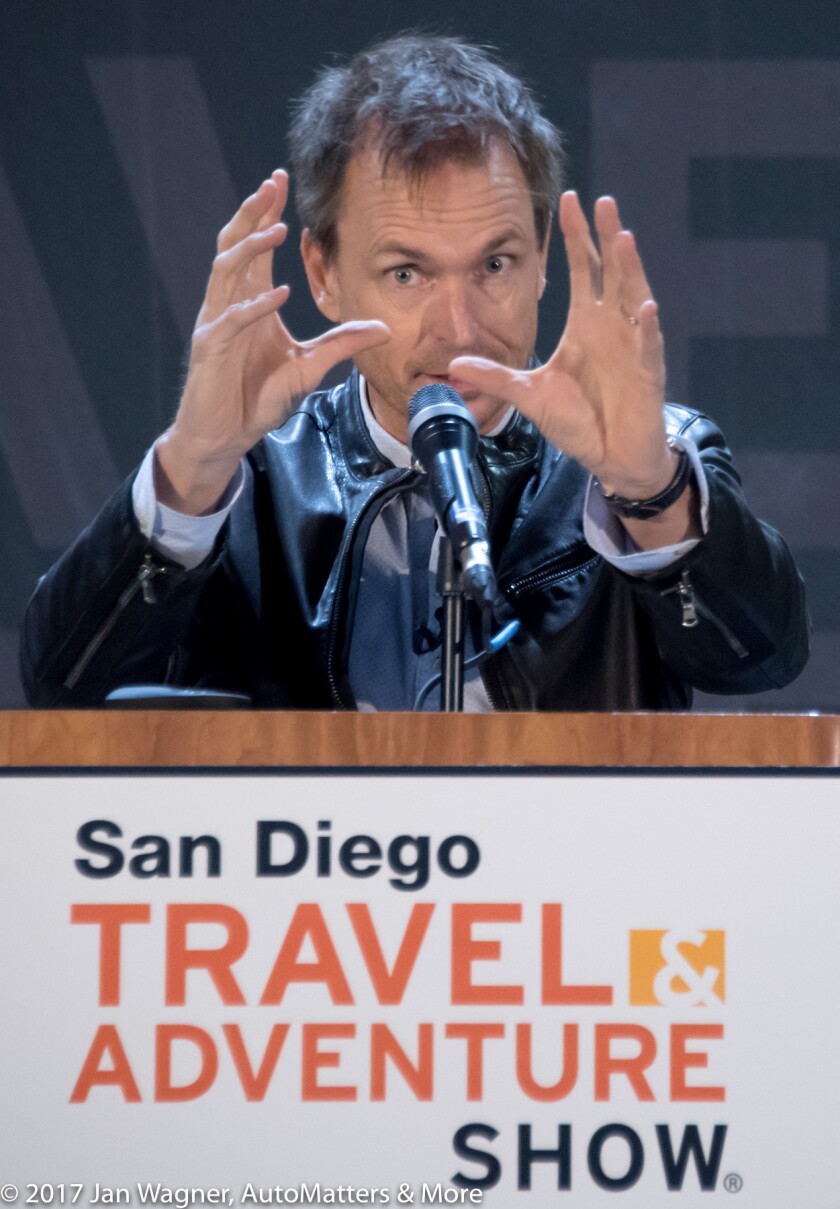 There was a time, not so long ago, when making plans for vacation travel involved meeting face-to-face with a travel agent, reading through photo-filled tour package books and then having the agent make the travel arrangements.
These days we have many choices and travel is more complicated. The travel industry has evolved to meet the challenges.
Online tools enable us research and book our own travel arrangements – from destinations to accommodations to travel.
The two-day San Diego Travel and Adventure Show – one of a series of such shows across the country and billed as the largest in San Diego – brought together representatives from the worldwide travel industry to help showgoers dream, plan and book their next vacations.
Information and travel packages showcased hundreds of destinations with dozens of local experts, from faraway and exotic locales to getaways in our own backyards; cruises; experts speaking about where and when to go, what to do and how to get there, as well as offering travel tips and advice on such topics as packing, safety and saving money; inspirational presentations by travel celebrities including Phil Keoghan, host of "The Amazing Race" T.V. series and documentary filmmaker of "Le Ride" (https://noopportunitywasted.com); more than 20 colorful, festive, cultural dances and performances on the "Global Beats Stage;" travel products; chefs doing international cooking demonstrations at the "Taste of Travel Theater;" recreational vehicles; many "show-only" travel and merchandise deals; hands-on activities; and prize giveaways, including a trip for two to India, a seven-night cruise on Royal Caribbean, an $8,000 South Africa tour, round-trip flight tickets to Taiwan, a Palm Springs vacation getaway, San Diego Segway tour passes, a round-trip flight to Havana, Cuba and many more. Visitors to the show could ride a Segway or even take a live camel ride!
Travel destinations spanned the globe: Africa, Asia, Australia/South Pacific, the Caribbean, Europe, the Middle East, North America, South America and Latin America.
To give you an idea of the variety of fascinating and informative seminar topics that you can expect to hear at these shows, San Diego's schedule included: "Travel in a Time of Disruption," about "how and where to travel in a time of global uncertainty, instability and economic upheaval – and great opportunity;" "Why you should bring a Wi-Fi Hotspot When You Travel," "Taiwan Essentials," "Travel Smart and Pack Right," "How to Travel Like a Movie Star (Without Movie Star Money);" "Cruises – One Size Does Not Fit All;" "The Islands of Tahiti are Closer Than You Think;" "NOW: No Opportunity Wasted" by Phil Keoghan;" "Why 2017 Will Be an Amazing Year for Travel Bargains All Around the World and Where to Find Them;" "See More of Alaska: The Inside Scoop on Alaska Adventures;" "1,000 Places to See in the United States and Canada Before You Die;" "What's On Down Under: Travel Worthy Events in Australia and New Zealand in 2017-18;" "Travel Light by Packing Right: How to Carry-On" by Annslie Bigbee of Briggs & Riley luggage;" "How to Visit All Three US Virgin Islands in One Vacation;" "So, You Want to be a Travel Writer;" "Travel Smarter and Better with Technology;" "Israel: Land of Creation;" "The World in a Glass;" "Emerging Destinations;" and "It Feels Good to Travel Kindly: 10 Tips on How to be a Kind Traveler."
International cooking demonstrations included vegetarian lasagna and fresh citrus salad, Taiwanese popcorn chicken and the Culinary Fight Club – combining cooking, eating, drinking, networking and competition.
Cultural dance and presentations included: the Cabrillo Dancers, Guatemalan Folk Dance Images, Tribal Bellydance, Flamenco, Live Hawaiian Style Ukulele Band and Hawaiian Dancers, Afro Cuban Dance and Music, Dance and Music from Taiwan, 2000-Year-Old Ancient Temple Dance of Odissi, Kathak North Indian Classical Dance, Beats from the Bahamas and Egyptian, Lebanese and Khaleegy Dancers.
China Airlines shared news about its award winning 777-300ER aircraft. Its cabin is described as "a perfect combination of Oriental aesthetic, technology advancement and environmental protection" and "an extension of Taiwan's cultural diplomacy." It "features the aviation industry's first persimmon wood-grain interior finish and dark-blue cloud patterns with muted gold tones."
These nationwide shows will return in 2018, beginning with the San Diego Travel and Adventure Show at the San Diego Convention Center on Jan. 13-14. For more information visit TravelShows.com.
Join in the conversation. Send your comments and suggestions to AutoMatters@gmail.com.
Copyright © 2017 by Jan Wagner – AutoMatters & More #488
---
Get the Del Mar Times in your inbox
Top stories from Carmel Valley, Del Mar and Solana Beach every Friday for free.
You may occasionally receive promotional content from the Del Mar Times.