AutoMatters & More: Tiki Oasis Car Show & International Polynesian Pop Festival
The '60s retro, idealized pop version of Polynesian tiki culture is largely an American phenomenon. Its roots can be traced back to returning post-WWII American GIs who had served in the Pacific islands.
Tiki Oasis is an annual celebration of that tiki culture. Its website (TikiOasis.com) describes this annual summertime gathering as "the largest and longest-running festival in the world for lovers of Island lifestyle and purveyors of Polynesian Pop."
Located at the Crowne Plaza resort on Hotel Circle in San Diego, Tiki Oasis is nestled amongst towering palm trees, and at the foot of an enormous poolside tiki with smoke billowing from its eyes. Participants are typically clad in a variety of different Polynesian shirts.
This year's theme was "INTERNATIONAL INTRIGUE: DEN of SPIES." According to the mysterious tale titled "The Original Tiki Affair," a spy known as "The Man from T.I.K.I. (Tropical Investigative Killer Intelligence" was searching for "the Original Tiki Statue." "Meaning the very first one. Before Easter Island. Before the Big Island. Before Forbidden Island. Before any Island." "Whoever possessed the Original Tiki could wield unlimited power over tiki bars across the world."
Spy-themed symposiums included "The Secret World of 'The Man From U.N.C.L.E.'" – a groundbreaking '60s TV spy drama; "The Spy Who Came In From The Pool" – "a briefing on the swinging spies and supervillains from the screen and page, and their suave or sinister beverages;" "The Devil-Ettes Spy Dance Party Au Go-Go;" and "Ultimate Cool: The Great '60s Spy Craze" in the movies and on TV.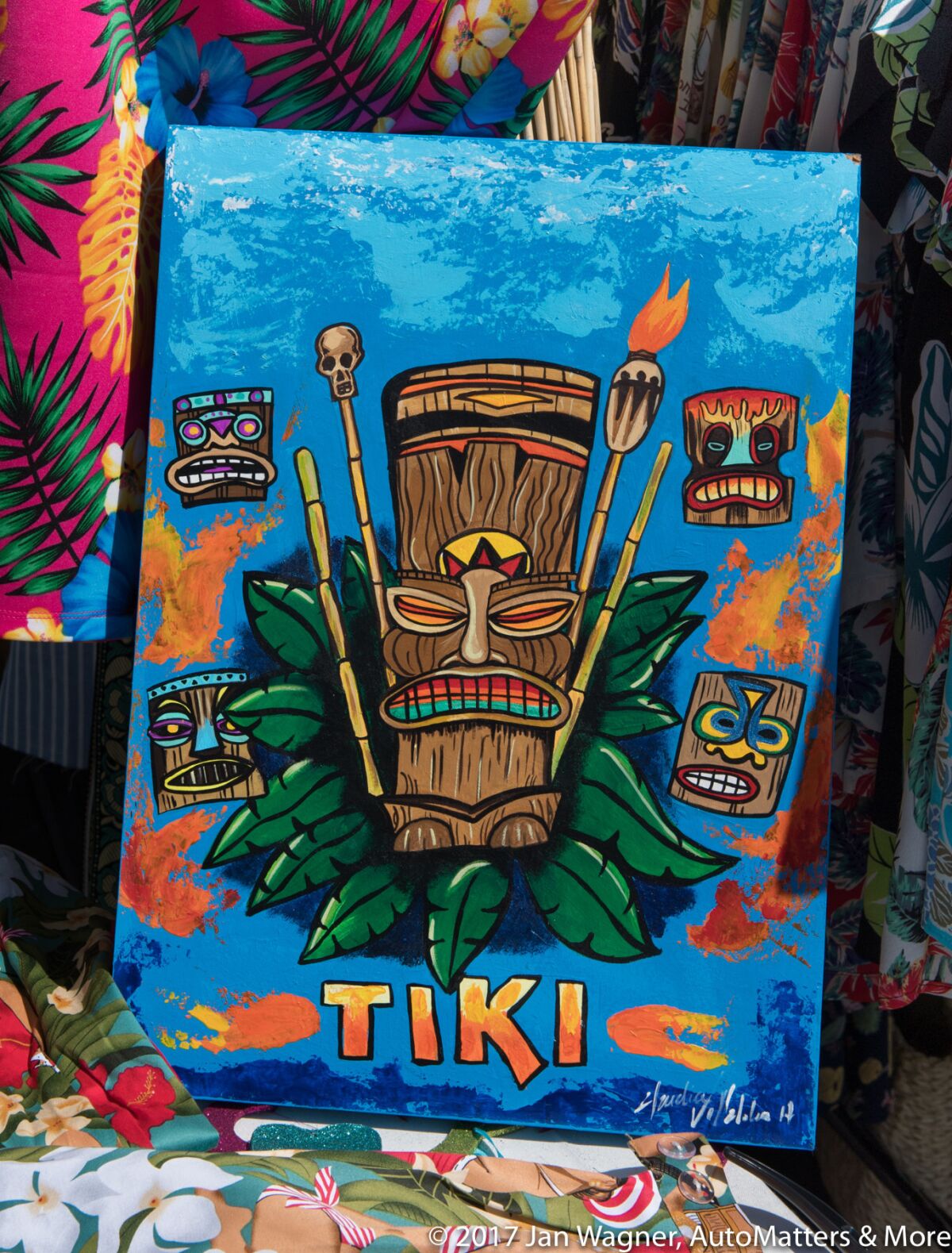 Poolside entertainment featured live bands, DJs, go-go dancing and tiki carving. Over a hundred vendors offered just about anything and everything tiki-related, including tiki shirts, tiki mugs, art and more – even large, carved tikis! Educational seminars covered a wide range of topics, including makeup, hairstyling, playing the ukulele, making your own tiki art and tropical dancing lessons. Additionally there was a retro Americana car show; the Miss Tiki Oasis beauty pageant; crafts and plenty of other fun activities for kids; story telling; rum tasting; contests; an art show; and after-midnight burlesque shows.
My abbreviated, one-and-a-half-day experience at Tiki Oasis began with a Saturday afternoon stroll through the Car Show & Marketplace, which included some pretty cool cars from the '50s and '60s. Food trucks were present and vendors sold island-themed clothing, ceramics, jewelry and more. I couldn't resist buying a piece of original tiki art (painted by an artist in Mexico).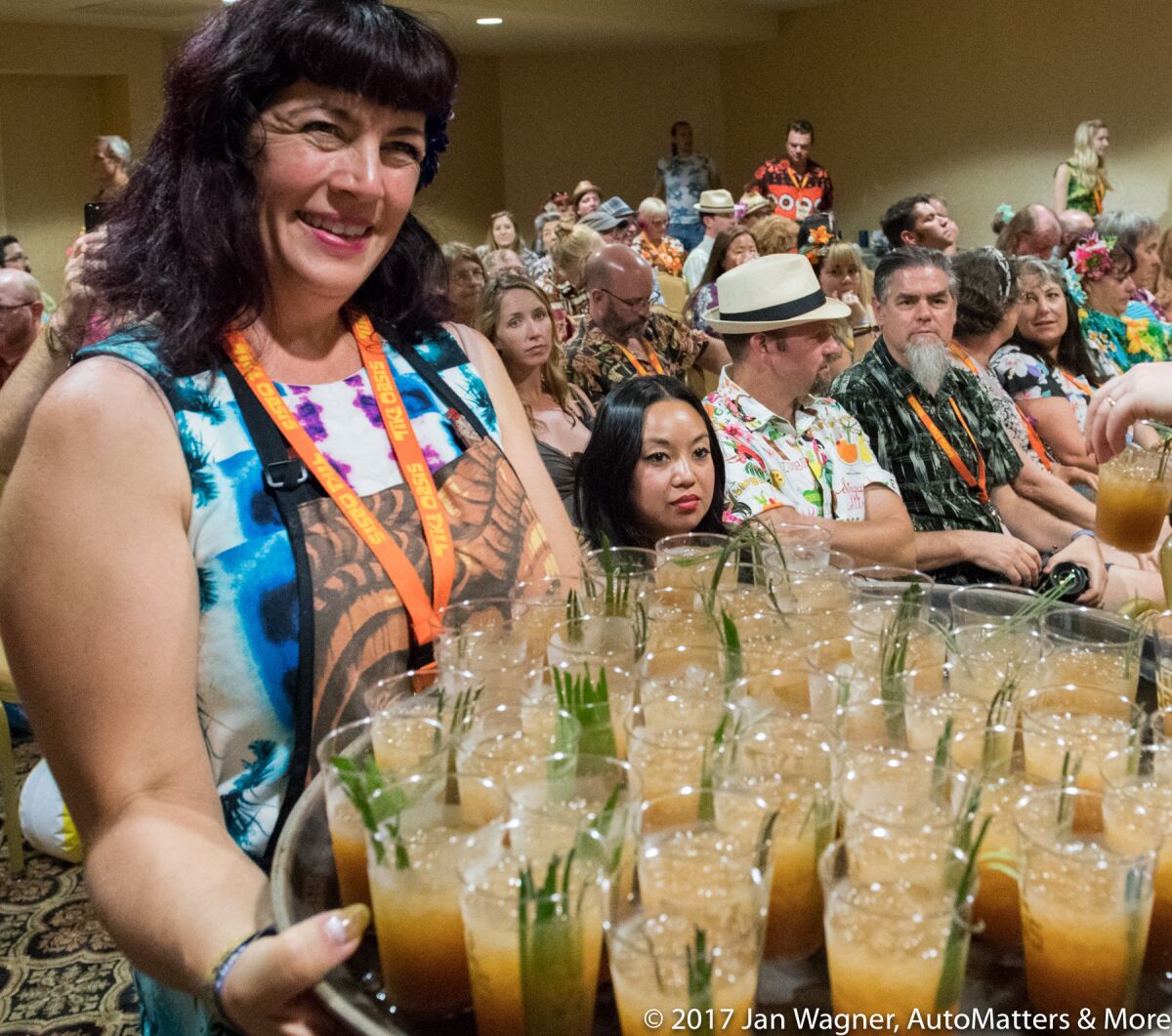 While I am not much of a drinker, I really enjoyed the "21 & over" Tiki Tasting. Each participant received a mini tiki mug, which was then filled with samples of rum, gin and rum cocktails. I find undiluted rum too strong, preferring mixed drinks instead. With that in mind, REAL Simply Squeeze cocktail ingredients (www.realingredients.com) were available for us to sample. Their infused syrup fruit purees are delicious and are available in a variety of fruit flavors, including mango, peach, pineapple and the one that I chose to sample – kiwi. In addition to their use as mixers, they can also be used in dips for fruit, toppings for all sorts of foods, non-alcoholic beverages and more.
San Diego-based North Park Nuttery (northparknuttery.com) provided samples of several varieties of their tasty craft beer glazed nuts.
One of Saturday's live bands was called APE – a six-piece tiki band from San Francisco playing Hawaiian steel guitar, ukuleles and jungle drums. While pairs of go-go dancers performed on the sides of the stage, an athletic member of APE actually carved a tiki while he sang.
Charles Phoenix is an internationally renowned comedian, historian, author and car collector (www.CharlesPhoenix.com). His enthusiastically narrated slide shows are always entertaining, and his presentation to us was no exception. He showed us slides of vintage automobiles and retro Americana as he took us "on the ultimate ride to the wondrous world of Detroit's most extreme era of motoring."
My Tiki Oasis experience concluded with the "Bartenders Battle," during which some of the best bartenders in San Diego were pitted "against each other in a no-holds-barred, head-to-head cocktail throw-down." They were judged on their amazing tiki cocktails, samples of which were presented to the judges and to the cheering, appreciative audience.
I am really looking forward to covering next year's Tiki Oasis. Perhaps I'll see you there!
Join in the conversation. Send your comments and suggestions to AutoMatters@gmail.com.
Copyright © 2017 by Jan Wagner – AutoMatters & More #502
---
Get the Del Mar Times in your inbox
Top stories from Carmel Valley, Del Mar and Solana Beach every Friday for free.
You may occasionally receive promotional content from the Del Mar Times.