AutoMatters & More: Rods, Customs, Autocross, Burnouts & More at the Goodguys Del Mar Nationals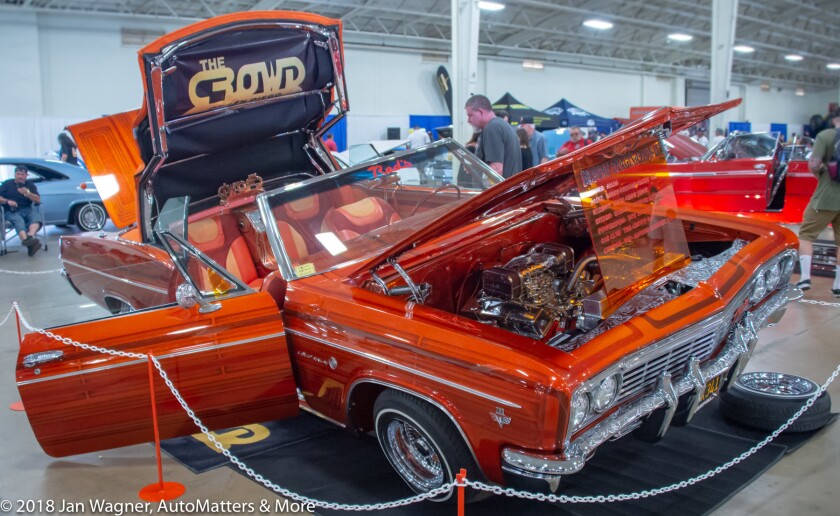 The 18th Goodguys Del Mar Nationals was arguably the best yet. Where to begin?
The show was held at the Del Mar Fairgrounds, home of the San Diego County Fair. In addition to the incredible array of rods and customs, this year also included a large and colorful display of amazing lowriders – long a part of the Southern California car culture. Even if you're not familiar with the term lowriders, you've probably seen them hopping on their tires.
Saturday was a big day. Special parking was reserved for the "Camaro Corral," the "Tri-5 Chevy Corral," "Mighty Muscle" and others. The "Good Wood Area" was "a spectacular gathering of woodies in the Plaza de Mexico." There were over 2,500 hot rods and custom cars on display in the "Show n' Shine" area.
Proving that they were not all show and no go, several cars – and a truck – produced billowing clouds of tire smoke in the burnout competition.
Terrific bargains were available at the huge swap meet. Treasures included vintage car parts, road signs, toys, old license plates and even complete cars. A blue-with-black-fenders, 1928 Ford Model A was being advertised for only $13,000! If only I had room for it. There were also project and parts cars available, including a rollover-wrecked, 2014 Shelby GT500 Mustang with what was described as a sound engine and drivetrain – for an asking price of $16,500 or best offer.
A beautiful 1950 Ford F1 panel truck, in Gongora's Body and Paint livery and painted in two-tone light green and off-white, was towing a matching 1955 StarFire vintage trailer, which was outfitted with period-correct camping knick-knacks, plates and pillows. Its proud owners do a lot of vintage camping. The sky is the limit for what people do to enhance these rigs, with some cleverly concealing all of the modern comforts of home while keeping the vintage look.
A stunning 1932 Lincoln – upgraded with a Chevrolet LS3 engine and modern independent suspension, so as to be safe for freeway driving – was staged to include a chauffeur patiently waiting for his master to return to be driven somewhere.
Nearby was a wonderfully home-built/restored, 1940 Autocar Cab-Over-Engine truck.
At the popular Goodguys Nitro Thunderfest, extremely loud dragsters were fired up in all their raucous glory. Earplugs were strongly recommended.
At the Goodguys Autocross, the on-track action was as intense as ever as the fans in the stands cheered on their favorite cars and drivers. One at a time the drivers negotiated the tight turns, slipping and sliding up to – and sometimes beyond – the limits of adhesion as they each raced their way towards the checkered flags at the finish line. The penalty for pushing just a little too hard was hitting at least one cone, and perhaps several, knocking them high into the air and earning penalty points for each one struck.
The main autocross competition concluded on Saturday afternoon with the 16-car "Duel in Del Mar." Then, on All American Sunday, the autocross was opened up to all years of American made – or American-powered – cars and trucks, including an American V-8-powered Porsche! That raised some eyebrows. As in past years I could not resist the temptation to dust off my 2011 Mustang GT, put on my helmet and go for it once again. I'm getting rusty, as was evidenced by the huge drop in my times over the span of my first three runs. However, by the end I was back to my former form.
There was also plenty for kids to see and do. At the Kids' Zone, they could bounce and compete in kids-sized games of skill. At the Kids' Model Car Make n'Take, they were each given their own model car kit to build and then take home. For kids of any age, there was also an exhibition of highly detailed model cars and trucks. On Sunday, right before the presentation of the 70 awards, several little kids were invited to go up on stage, join the band and sing to a very appreciative audience.
Throughout the year, Goodguys presents these popular gatherings for car enthusiasts across the country. To find an event near you, go to good-guys.com.
To best enjoy this column, you will want to see the most photos. To do that go to www.drivetribe.com, search for "AutoMatters & More" and click on TRIBES.
Copyright © 2018 by Jan Wagner – AutoMatters & More #539
---
Get the Del Mar Times in your inbox
Top stories from Carmel Valley, Del Mar and Solana Beach every Friday.
You may occasionally receive promotional content from the Del Mar Times.