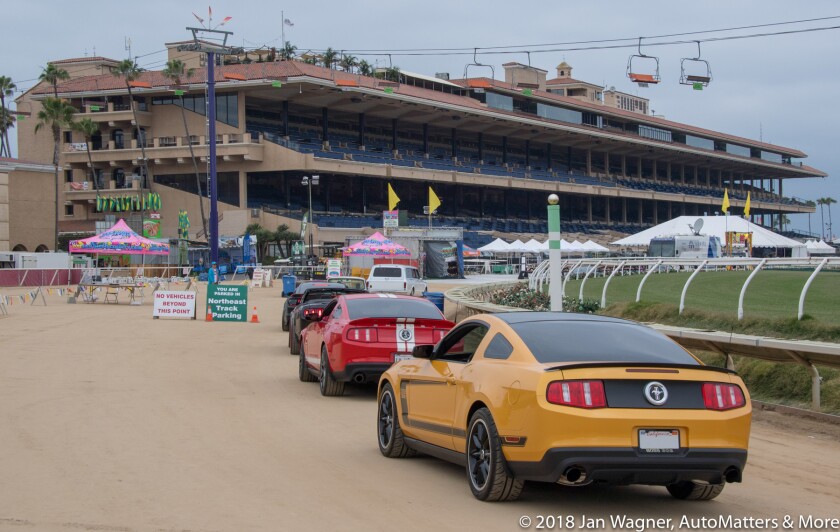 There is so much to see and do here in Southern California. It is no wonder why this is such a popular travel destination – year-round.
Car Shows & Monster Trucks
A nearly daily tradition at the San Diego County Fair is "Car Shows @ The Fair." This year I drove my 2011 Mustang GT onto the Fairgrounds with the Mustang Club of San Diego.
Motorsports played a prominent role in the last couple of weeks of the fair, culminating on the Fourth of July with exciting Jr. Outlaw Sprints racing, and monster trucks competing to see who could earn the most style points by wowing the judges.
The highlight of the event happened when 21-year-old, seven-year professional monster truck racing veteran Rosalee Ramer took a jump in her truck – a 1,500 horsepower, 10,000 pound behemoth named "Wild Flower," landed – precariously balanced on one of its massive front tires in a difficult monster truck maneuver called a "stoppie" – and then masterfully brought it down on all four tires to continue her run. The crowd went wild with appreciation.
As she told me afterwards, exuding cheery self-confidence: "We're trying to put on a show, and part of that is those 'WOW' moments, things that kids really remember – and a few come up to you after the show and say 'hey, I loved when you did THIS' – and you know that's the best feeling for me."
She began in motorsports at age 5 in a go-kart and moved into a trophy kart at age 10. "My dad's a gearhead, so anything with a motor – you know, four wheels – he's into, and I was always out either in the shop or at shows, trying to get my hands dirty and helping out, learning as much as I could." Her dad (and her #1 fan) is fellow competitor Kelvin Ramer, who drives the "Time Flys" monster truck.
"Before I started driving I was working on the trucks. I actually helped build my truck when I was 13. … We like to push them to their limits … so there's always something breaking, but the cool thing about my dad and I owning our own trucks is that … we're always … making the trucks a little bit better, a little bit stronger, making them capable of handling what we're pushing them to do."
Rosalee is in her third of five years studying mechanical engineering. This summer she is living in Michigan and doing an internship at General Motors, where she is doing small block engine calibration.
"I get to compete against my dad every weekend I'm out. It's pretty fun. More recently I started beating him, but that's definitely thanks to him."
The day ended with a marvelous, patriotic, celebratory fireworks show.
In the new IMAX film showing in the Dome Theater at The Fleet Science Center in San Diego's beautiful Balboa Park, explore the Great Barrier Reef, which spans more than 1,400 miles off the coast of Australia. It is home to 411 different known types of living corals. You will visit with green sea turtles, giant manta rays and other magnificent creatures (see rhfleet.org/shows/great-barrier-reef) as you travel along with Queensland-based Jemma Craig. She grew up on a small island where she was – among other things – crocodile handler at her family's zoo, a dive instructor and an underwater photographer (see islandjems.com).
"A Funny Thing Happened on the Way to the Forum"
One of my very favorite films is the 1966 Stephen Sondheim musical "A Funny Thing Happened on the Way to the Forum," starring Zero Mostel, Phil Silvers and Buster Keaton.
It began as a stage play (winning six Tony Awards) and now it is being performed as a stage play once again, telling the hilarious, laugh-a-minute tale about "the Roman slave Pseudolus, who will do anything to win his freedom and bring two lovers together."
See it live on stage now through Aug. 12 at the North Coast Repertory Theater in Solana Beach, California (www.northcoastrep.org).
Last, but certainly not least, it will soon be time once again for San Diego Comic-Con (July 19 – 22; www.comic-con.org/cci). Check back here in the weeks ahead for extensive coverage.
To best enjoy this column, you will find the most photos and even the occasional video at www.drivetribe.com. Enter "AutoMatters & More" in their search bar and click on TRIBES.
Copyright © 2018 by Jan Wagner – AutoMatters & More #549r3
---