AutoMatters & More: 2019 Mazda MX-5 Miata 30th Anniversary Edition
Thirty years ago, Mazda introduced its now-iconic Miata at the Chicago Auto Show. Its concept was simple and effective: a no frills, reliable, nimble, small, two-seat convertible sports car that offered just the right amount of power and handling to enable drivers to explore, fully control and enjoy its performance at legal speeds.
In sharp contrast, other performance cars compete with copious amounts of horsepower. While that can be great for flat-out, high-speed performance on a racetrack, the outer limit of that power cannot legally or safely be explored at legal speeds on public roads. These cars also tend to be heavy.
The Miata was, and continues to be, at home on speed-limited public roads – especially two-lane country roads with lots of twists and turns – running up and down through the gears, the wind in your hair, with hardly a care in the world. The Miata mixes just the right amount of power and lightness to enable brisk acceleration and precise handling. The driver, not a high-powered engine, is firmly in control.
Over 1,000,000 Miatas have been made and there is every indication that this number will continue to increase well into the future.
The fourth and current generation of the Miata (codenamed ND) is available in convertible and retractable hardtop models. For 2019 it has a significantly more powerful engine and a backup camera, but the news today is the 30th Anniversary Special Edition, which was announced in a live stream video from the Chicago Auto Show.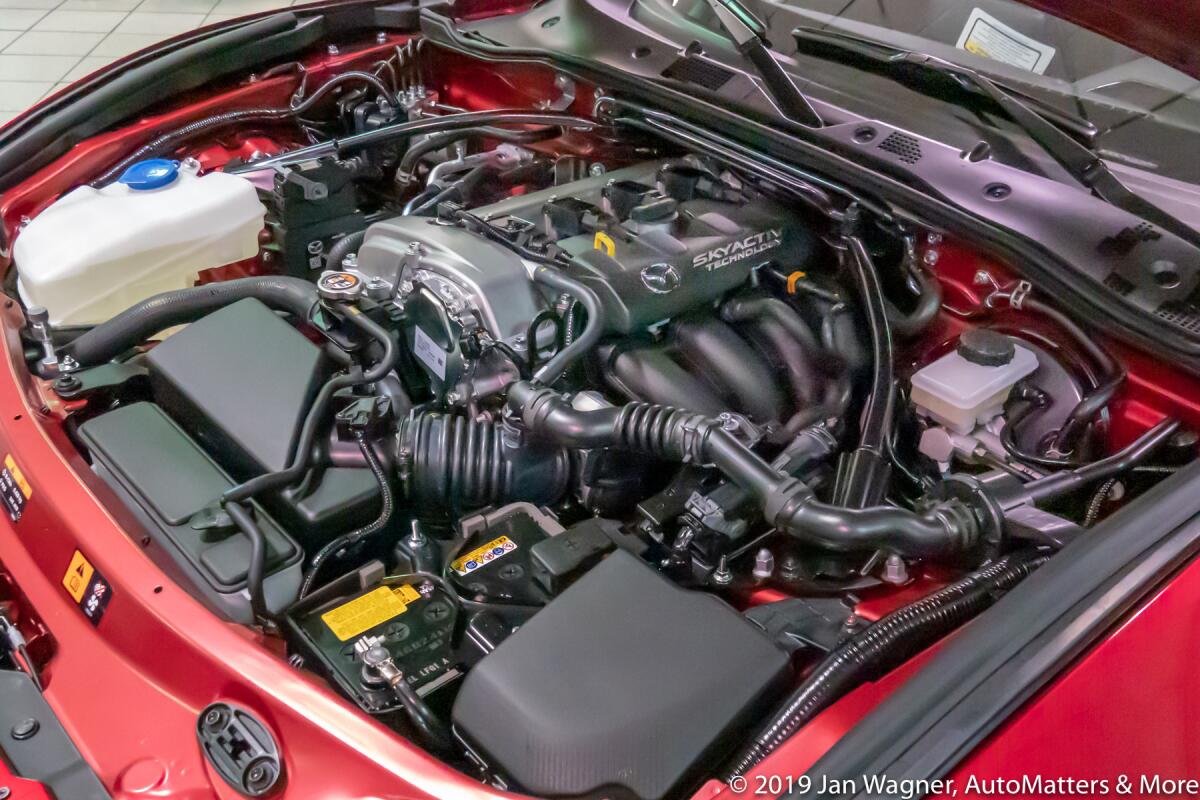 Available only in Racing Orange paint, with orange accents on the brake calipers, seats, door trim, dashboard and shift lever, this Miata features forged aluminum wheels co-developed with Rays, Recaro seats, Bilstein dampers, (manual transmission models only), Brembo front brake calipers and a commemorative badge with serial number. There will be 3,000 of these cars sold worldwide, with only 500 for the U.S – all of which were spoken for within four hours of their announcement.
I have owned three Miatas over the years. The color of my first sports car – a new, 1971 Datsun 240-Z – was Mandarin Orange. I loved that car. Without hesitation, I was one of those who placed a deposit on this new, very orange Miata.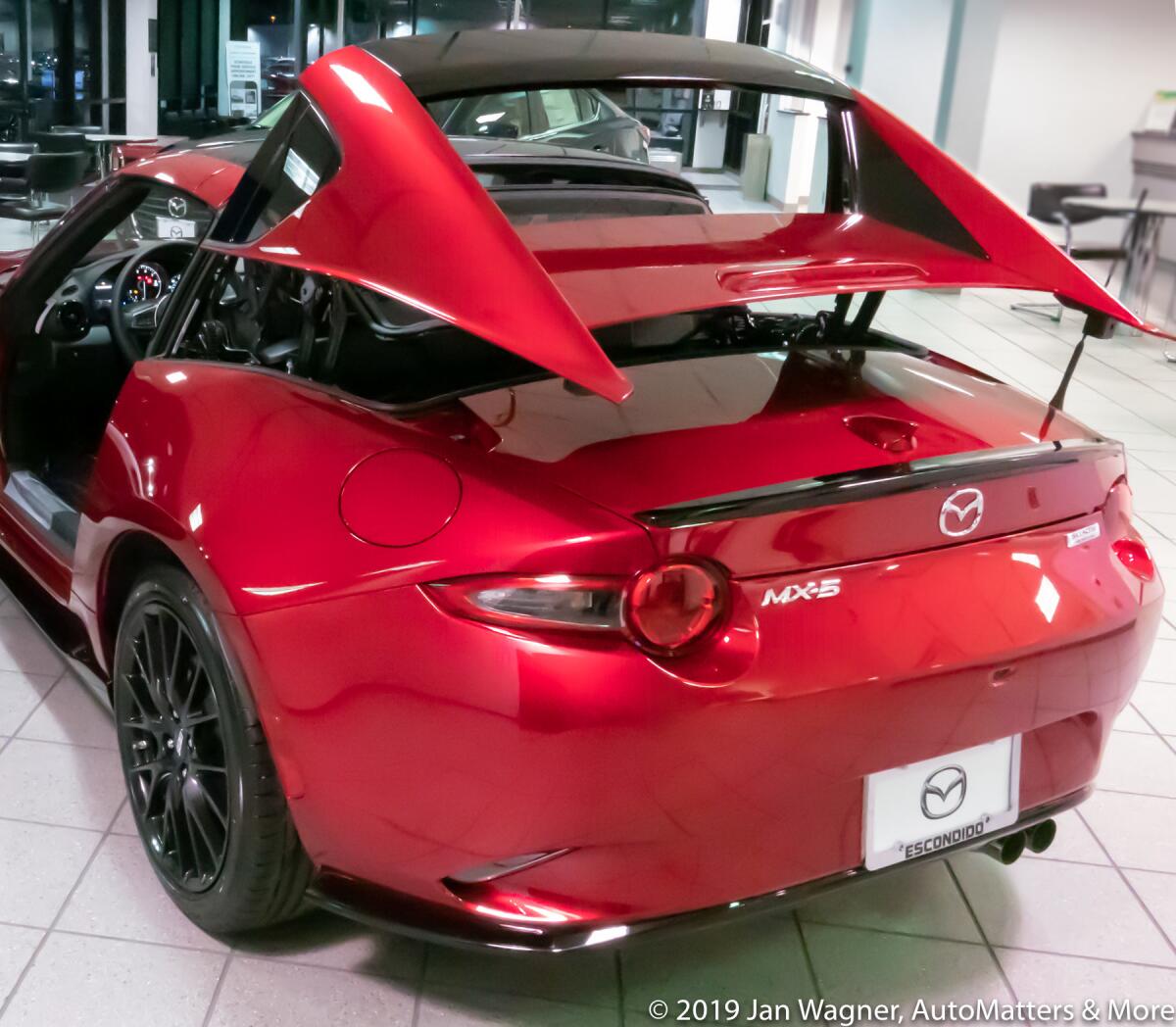 With each subsequent generation of the Miata, it has been continually refined. Incredible engineering and design efforts have been made to stay true to the original concept of the car: small and light, nimble and fun to drive. This has not been an easy task, as more and more equipment has been mandated by government regulations and competitive forces.
My first Miata – a 2003 Club Sport model had plenty of cargo capacity, considering the small size of the car. I was able to fit two autocross tires into the trunk and stack the other on the shelf behind the seats, in the area reserved for the folded soft top. The car also carried my tools, a jack to raise the car to change the tires, my helmet and a chair to the autocrosses.
One of my favorite Miata memories was a cross-country, week-long road trip that I took in my 2006 Miata to a huge Miata celebration at the Texas Motor Speedway. On my way back I took old Route 66, which was a fantastic historical experience. To make the journey, I brought my autocross helmet, sufficient clothing, camera gear and more – while still leaving enough room in the car to bring back the expected souvenirs of my trip.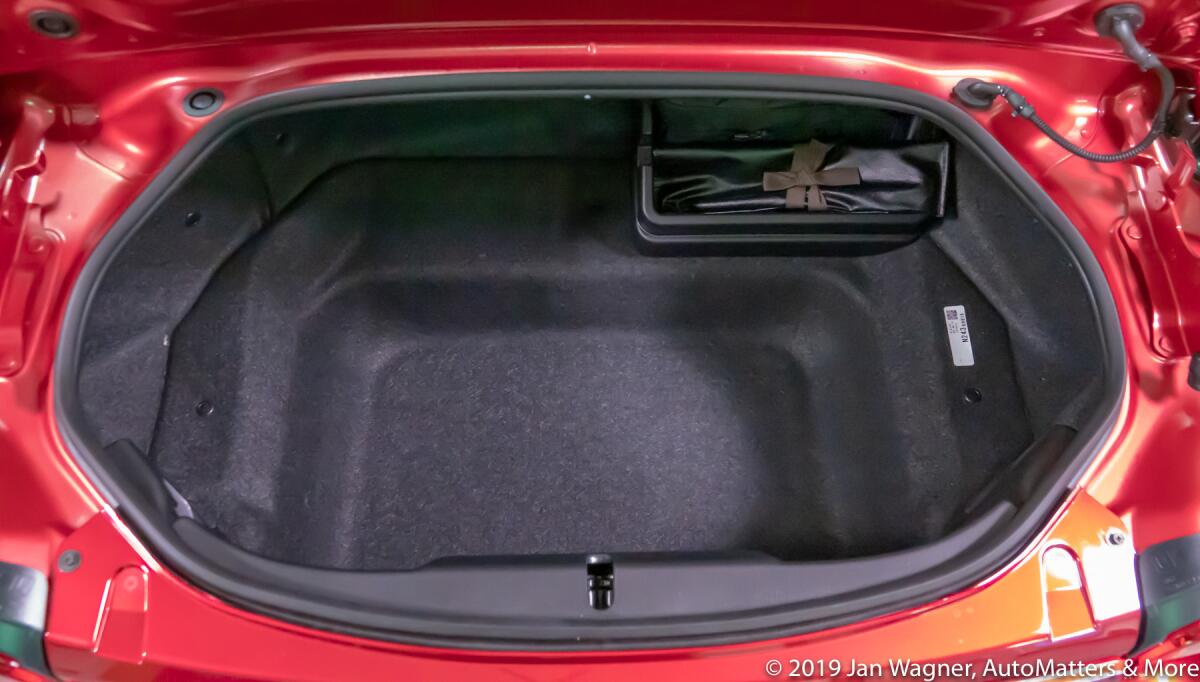 On the ND retractable hardtop MX-5 Miata, gears raise and lower the roof and buttresses. The convertible uses an ingenious mechanism that enables the soft top to be easily raised and lowered. Therein lies a challenge: where to put the additional underlying hardware in such a small car, and how to compensate for the added weight?
Among other changes, the ND has a smaller and lighter transmission, lighter brake rotors and seats. Holes are drilled in components. Unfortunately, the already tight cargo capacity has suffered. Cargo volume is only 4.48 cu. ft. For structural rigidity to produce better handling, the shape and size of the trunk opening has shrunk, making it very difficult to pack for two for a road trip. Message to Mazda: practicality matters. How about a hatchback model?
For more information, visit https://www.mazdausa.com. For additional photos, visit www.drivetribe.com and enter "AutoMatters & More #577" in their search bar. Please send your comments to AutoMatters@gmail.com.
Copyright © 2019 by Jan Wagner – AutoMatters & More #577r1
Get the Del Mar Times in your inbox
Top stories from Carmel Valley, Del Mar and Solana Beach every Friday for free.
You may occasionally receive promotional content from the Del Mar Times.