AutoMatters & More: The SEMA Show Turns 50
SEMA – the Specialty Equipment Market Association – is a trade association representing the $39.2 billion, worldwide automotive aftermarket industry. It offers its members research, training, education, manufacturing support services, legislative advocacy, group-buying discounts, networking events and more. For four days each year it hosts the SEMA Show, one of the largest trade-only shows in Las Vegas.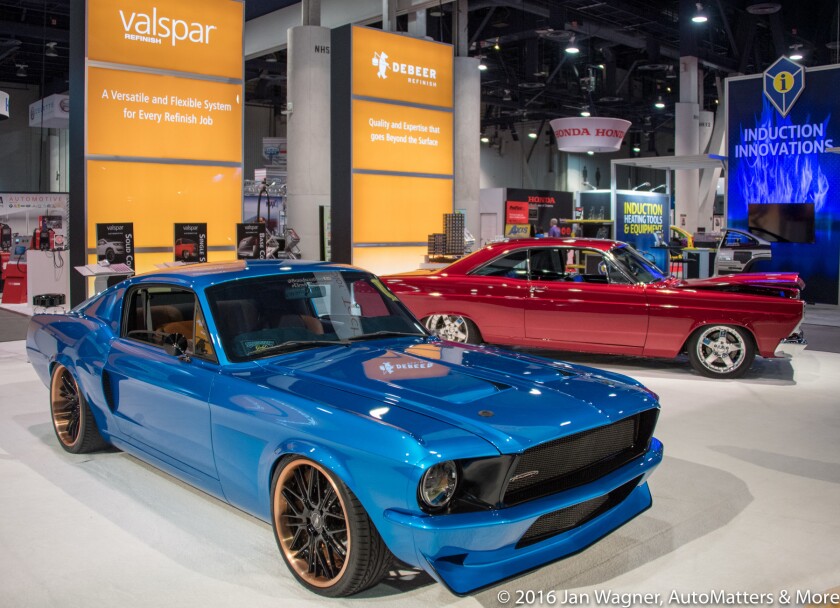 This year, occupying 1.2 million square feet of exhibit space in the Las Vegas Convention Center and another 1.5 million square feet elsewhere, its 2,400+ exhibitors were comprised of businesses large and small, including manufacturers of automotive accessories that enhance the performance, styling, comfort, convenience and safety of cars, trucks and SUVs. There were more than 3,000 products in the New Products Showcase alone.
500 companies exhibited at the SEMA Show for the very first time. Auto manufacturers were there, as were over 3,000 members of the media to cover this massive event.
In addition to exhibits in the exhibit halls, there were demonstrations of the products. Cars burned copious amounts of tire rubber while drifting in paved lots outside – with and without passengers.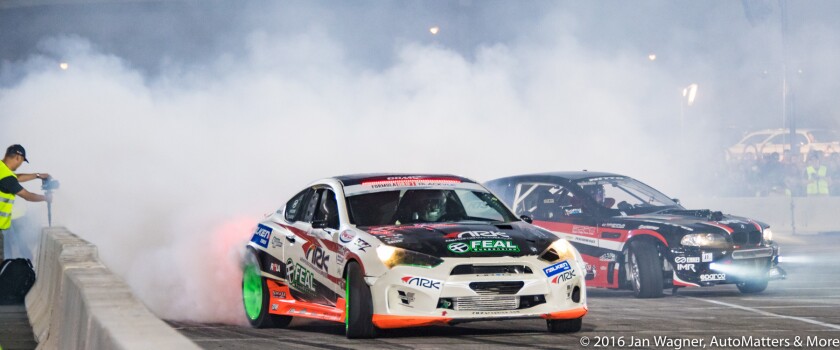 Nearly 70,000 buyer companies were represented, from over 140 countries around the world. They sought products to sell and attended education seminars that focused on such topics as business strategies and techniques, online marketing, product training, customer service and new vehicle technology.
This year the SEMA Show celebrated its 50th anniversary, and has it ever grown! The first SEMA Show – then called "The High Performance & Custom Trade Show" – took place in 1967 under the damp grandstands of Dodger Stadium in Los Angeles. It had 98 booths featuring products on simple card tables, backed by drapes hung from pipes.
The show grew and in 1974 it moved to the Anaheim Convention Center. In 1977 it moved again, to a smaller version of its current home in the Las Vegas Convention Center. In 2002 the convention center expanded with the addition of the two-story South Hall, providing an additional 1 million square feet of space.
In 2003 a proving ground was added to demonstrate the manufacturers' products. Over the years these demonstrations have included off-road rock crawling and drifting.
In 2011, in response to the public's desire to at least catch a glimpse of the many custom vehicles as they left the convention center on Friday afternoon, the SEMA Show introduced the SEMA Cruise. After the vehicles departed the convention center, they all merged onto the road in front of the buildings and slowly paraded past where temporary grandstands were erected. Thousands of people enjoy this popular event each year.
Another event open to the public is SEMA Ignited. Introduced in 2014, this is the SEMA Show after-party. It features food, hundreds of custom vehicles from the SEMA Cruise, the finale of the Battle of the Builders competition, drifting, displays and lots more to see and do.
A new project is underway to further expand the Las Vegas Convention Center. When complete it will add 600,000 square feet of space, thoroughly modernize the convention center and comprehensively upgrade transportation.
Among the countless products at this year's SEMA Show, here are two that should have broad appeal.
Craftsman Extreme Grip Tools
New from Craftsman is the latest in their series of Extreme GRIP hand tools. The 45-piece Mechanics Tool Set features diamond-coated bits to grip fasteners better and reduce slippage. This makes loosening, tightening and starting faster and easier, and aids in the removal of stripped screws. The set includes a slim profile, combination drive flex-head ratchet (1/4-inch hex and 3/8-inch square), 18 bit sockets, 25 screwdriver bits and an extension bar. It is available online from Sears.com, and from brick & mortar stores.
Race Ramps Pro-Stop
New from Race Ramps is their Made-in-the-USA Pro-Stop. It helps you pull forward to the correct place for parking in your garage, eliminating the need to hang a tennis ball from the ceiling.
Made from recycled rubber tires, the Pro-Stop is non-slip. Place it where you want a front tire of your car to stop. Then when you drive into your garage, you'll feel a slight bump when you drive over the lip at the front of the Pro-Stop. Keep going slowly until the tire hits the other end, which will stop you. It's as simple as that.
Pro-Stop is available online at raceramps.com, from Amazon.com and elsewhere in packs of one, two and four.
Join in the conversation. Send your comments and suggestions to AutoMatters@gmail.com.
Copyright © 2016 by Jan Wagner – AutoMatters & More #465
---
Get the Del Mar Times in your inbox
Top stories from Carmel Valley, Del Mar and Solana Beach every Friday for free.
You may occasionally receive promotional content from the Del Mar Times.