AutoMatters & More: 2016 Optima Ultimate Street Car Invitational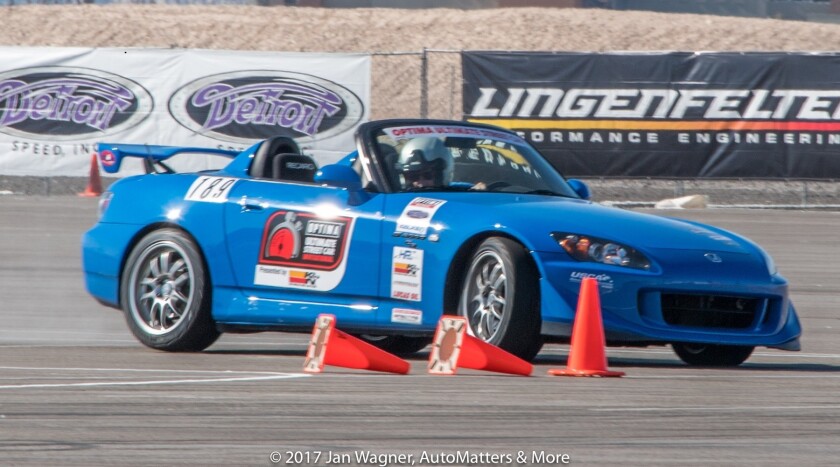 While most of us will never be able to race automobiles professionally, grassroots motorsports offer a wide variety of auto racing opportunities to everyday enthusiasts. This includes autocrossing, rallying, time trials and more – all designed to let drivers push themselves and their automobiles to their limits in organized, sanctioned events.
The Optima Ultimate Street Car Series combines several different types of auto competitions into one overall series of ten events. At the end of the season over 100 competitors – from pro builders to doctors – are invited to compete in a grand finale event: the Optima Ultimate Street Car Invitational. This year's finale was held at the sprawling Las Vegas Motor Speedway complex.
This competition is produced by the independent Ultimate Street Car Association (USCA – https://driveusca.com). It is intended to "provide a safe and fun experience for all enthusiasts" and "an outlet for owners of high performance street cars to congregate, socialize and participate in an event designed specifically for them to showcase the performance of their vehicle and create an infectious environment that promotes sponsors products," stressing "safety, fun, organization and friendly competition."
Street cars (and trucks) at the finale included: Chevrolet Corvette, Camaro, Chevelle, Nova and C-10; Ford Mustang, Fairlane, Focus and F100; Mitsubishi Lancer Evo; Subaru STI; Nissan GTR; Dodge Viper; Datsun 280-Z; Chrysler Conquest Tsi; BMW M3; Lotus Elise; Porsche; Buick GS; Honda S2000; American Motors AMX; Mazda MX-5; and Plymouth Valiant. They had been on display for the preceding days at the SEMA Show, where they were judged in the Lingenfelter Performance Design & Engineering segment "on their construction and modifications that enhance the look, performance, and/or functionality of a stock vehicle while maintaining or enhancing the Daily Drive comfort features and accessories."
On a sunny Saturday morning the driving competitions commenced with the Detroit Speed Autocross and Powerstop Speed/Stop Challenge. The competitors were divided into two groups, with one group heading over to the autocross and the other to the speed/stop.
The Detroit Speed Autocross was run on two large, mirror-image courses. It tested "the ability of the car and driver to negotiate tight turns, slow speed maneuvers, short straightaways and a stop within a designated spot" – a challenging test of cars, their preparation and the skill of their drivers. At the wave of the green flag, pairs of competitors took off side-by-side and then split off in different directions to run the remainder of their respective courses.
The Powerstop Speed/Stop Challenge is similar to a very compact autocross – which makes it ideal for the enjoyment of spectators. It "is a timed event that establishes the ability of the car and driver to accelerate, negotiate tight turns and stop in a designated spot. Traction and braking are the two key mechanical tests, while timing and car control are the two driver tests." This challenge combined hard acceleration on a sweeping, banked turn; a tight pair of turns into a small, confined area; and a precise stop at the finish line. Drivers who left their braking too late were penalized for spectacularly knocking over cones, banners and more.
After both groups ran both events, their day of competition continued with the Lucas Oil Road Rally – the only event that was run on streets that were also in use by the public. "The Road Rally is not a race and all traffic laws must be obeyed. Vehicles must meet rules to enable them to be compliant with safety and environmental laws/regulations."
The rally finished with a food truck dinner at Shelby American (https://www.shelby.com). Competitors were treated to an open house where Shelby automobiles are manufactured and notable Shelby automobiles are on display in a museum setting.
The second day featured a timed road course competition. The Falken Tire Hot Lap Challenge at Las Vegas Motor Speedway "establishes the ability of the car and driver to negotiate a variety of turns and straightaways in the shortest time."
Registration for the 2017 Optima Ultimate Street Car Series is now open at the Ultimate Street Car Association website: https://driveusca.com. The Invitational is scheduled for Nov. 4 – 5 in Las Vegas.
Optima Batteries has a 40-year history. Their slogan is "The Ultimate Power Source." Optima Batteries sponsors thousands of events across America including Goodguys, The Sports Vintage Racing Association (SVRA) and the Optima Ultimate Street Car Series and Invitational.
Join in the conversation. Send your comments and suggestions to AutoMatters@gmail.com.
Copyright © 2017 by Jan Wagner – AutoMatters & More #473
---
Get the Del Mar Times in your inbox
Top stories from Carmel Valley, Del Mar and Solana Beach every Friday for free.
You may occasionally receive promotional content from the Del Mar Times.