AutoMatters & More: Happy Lunar New Year 2017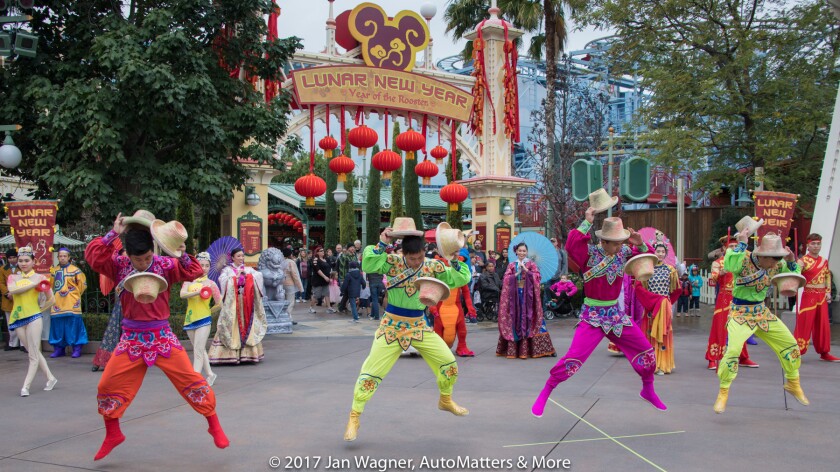 In Chinese, Vietnamese and Korean cultures, 2017 is the Year of the Rooster. Public celebrations in Southern California were held at Disney California Adventure and San Diego's Qualcomm Stadium.
So what is the Year of the Rooster? According to www.LunarNewYearFestival.org – the website for the San Diego event – the Chinese Zodiac consists of a repeating cycle of 12 years based on the lunar calendar. The rooster is the tenth animal in the Chinese Zodiac. Other Years of the Rooster are 1921, 1933, 1945, 1957, 1969, 1981, 1993 and 2005. It is said that people who are born in the Year of the Rooster are attentive, determined, brave, confident, neat, meticulous, practical, resourceful, observant, analytical, straightforward, trusting, honest and conservative. Rooster people are deep thinkers and good speakers. They are compatible with Ox or Snake.
Disney explains that the Chinese Lunar New Year (also called "Spring Festival"), the Korean event ("Seollal") and the Vietnamese Lunar New Year ("Tet Nguyen-Dan") are all celebrated on a different date each year – usually between late January and mid-February, marking the arrival of spring based on the lunar calendar. Whereas the Chinese New Year is celebrated over two weeks, "Seollal" is three days and "Tet Nguyen-Dan" is seven days. Reflections about ancestors and the past are common to all three, as are good wishes for the future. These are festive occasions of renewal.
Chinese rituals include the preparation of special food, cleaning the home thoroughly, wearing new clothes, paying respect to one's elders and lighting firecrackers to chase away evil spirits. The season culminates with a Lantern Festival.
Korean families feast, wear traditional costumes, play games, visit a fortune teller and give youngsters paper money when they bow to their elders as a sign of respect. Drums or gongs are banged to wish Happy New Year.
Vietnamese families exchange gifts, paint and clean their homes, plant a tree, honor their ancestors, and set off firecrackers or play gongs to welcome the New Year.
At San Diego's Lunar New Year Festival we played the game of Jenga – a game of skill where players take turns trying to remove a block from a tall tower built of 54 wooden blocks, without causing the tower to topple. Prizes included a chocolate coin for good luck and a ceramic rooster bank, courtesy of Wells Fargo. Special foods included fried quail, grilled pork on skewers and fresh squeezed sugarcane juice. Entertainment ranged from traditional song and dance, to hard rock on the big stage.
At Disney California Adventure the Lunar New Year celebration was, as expected, a spectacular extravaganza, with themed activities and scheduled live performances throughout the day and into the evening at the "World of Color" water show. Disney offers several fixed price packages that include an evening show ticket and a multi-course meal at one of their three high-end restaurants. The food and service (thanks Sami!) were so good that it would be well worth the price for the meal alone. Think of the ticket as a bonus. Otherwise pick up a (free) Fastpass for "World of Color."
For those on a budget, try the lunch at Wine Country Trattoria. The chef endeavors to accommodate special dietary requests, and prepared an absolutely delicious salmon entrée. Dessert consisted of a large sampler plate with Trattoria Tiramisu, European Macaroons, Caramel Chocolate Panna Cotta and a Lemon Cream Puff. Those were as incredible as they sound. Online reservations are highly recommended.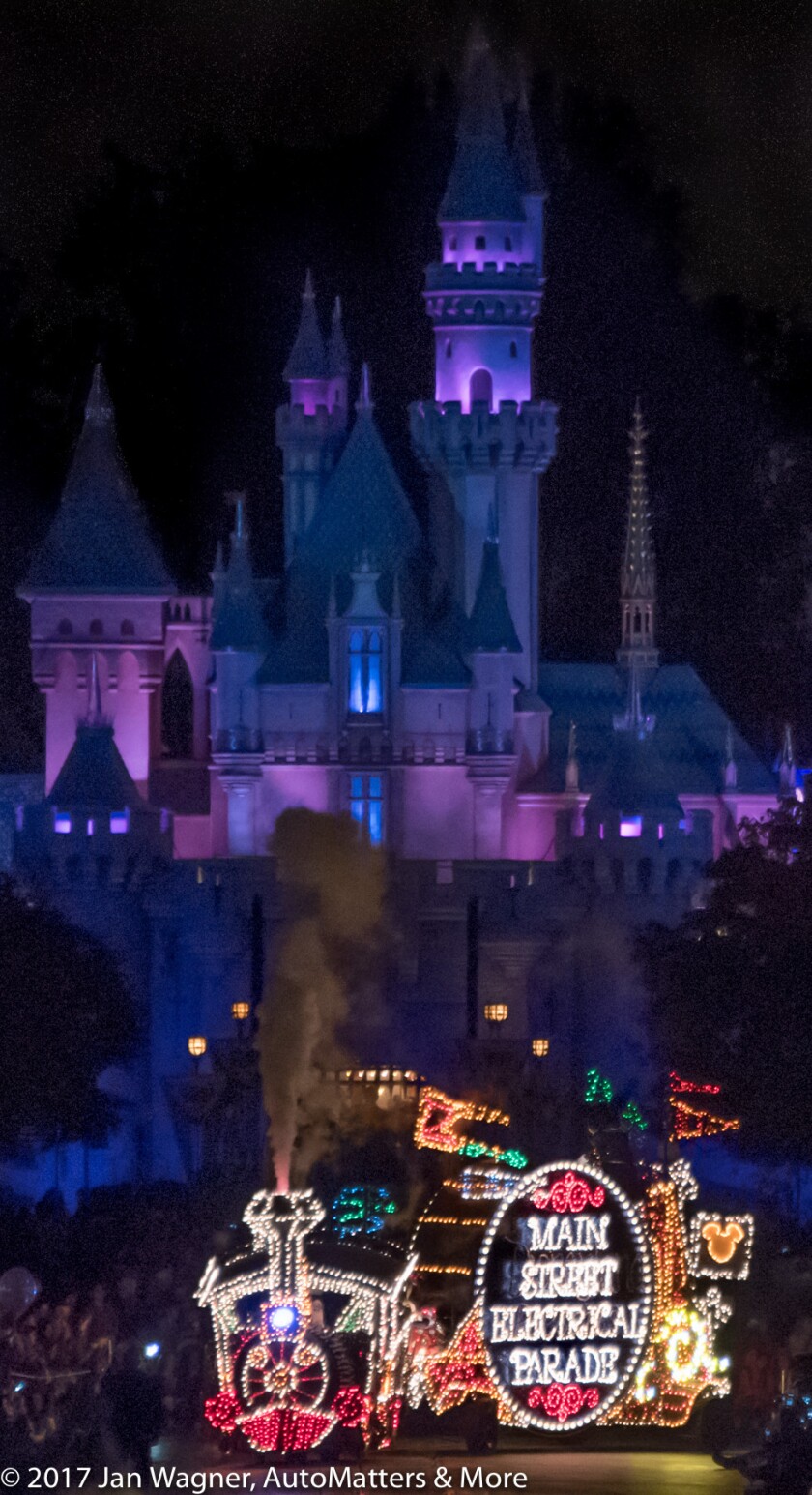 In Mulan's Lunar New Year Procession, located in Paradise Gardens, Mulan, Muchu and many performers, including Chinese umbrella dancers, welcomed the Year of the Rooster.
Guests could enjoy traditional music on the Paradise Garden Bandstand. Nearby they could get a souvenir card with their name hand-written in Chinese calligraphy and add wishes to a wishing wall. Kids delighted in meeting Mickey, Minnie, Mulan, Mushu and others; having their faces painted; and coloring and assembling paper lanterns – all included in the price of admission.
At several daily performances on the Paradise Park Stage, the award-winning "Acrobats of China" performed incredible acts of athleticism and balance.
A variety of traditional foods from Korea, China and Vietnam could be purchased at Marketplace kiosks.
The Disney California Adventure Lunar New Year celebration ended with the "Hurry Home" Lunar New Year waterscape pre-show – with fireworks – and then "World of Color, followed by quickly hustling over to Disneyland just in time to enjoy the return of the Main Street Electrical Parade.
Join in the conversation. Send your comments and suggestions to AutoMatters@gmail.com.
Copyright © 2017 by Jan Wagner – AutoMatters & More #475r1
---
Get the Del Mar Times in your inbox
Top stories from Carmel Valley, Del Mar and Solana Beach every Friday for free.
You may occasionally receive promotional content from the Del Mar Times.