AutoMatters & More: 2017 Fiat 124 Spider — Make Mine Red
At every auto show, certain vehicles seem to stand out from among the rest. This year's Los Angeles International Auto Show press days were no exception, where one new star shone brightly. It is the brand-new 2017 Fiat 124 Spider convertible sportscar.
Many of us will fondly remember lusting after this car's spiritual predecessor. That car was the original Fiat 124, which had a long and successful run in the U.S., selling a total of more then 170,000 cars here from 1968 to 1985. At the new model's introduction, Fiat reminded us of this automotive icon by displaying one on stage, top down and tilted up on its side to face the world's automotive press. The Fiat 124 Spider has returned to thrill a new generation.
This sleek, two-seat Italian roadster reprises the style and fun-to-drive nature of its namesake from nearly 50 years ago, but with the added benefits of the latest in performance, safety, fuel efficiency, reliability, comfort and convenience. You can see its proud heritage all the way from the headlamps — with outlines similar to the lines of the sculpted buckets of the Pininfarina original; past the retro twin "power domes" on the hood; along its beautiful, Italian-designed body; and ending with the evocative, upper surfaces of its inward-facing rear bodywork.
It enjoyed a fitting introduction to the world's press, which you can share in the comfort of your own home. To see the car as it was revealed at the LA Auto Show, visit www.fiatusa.com and click on "124 Spider Reveal" under FIAT Nation.
It already has a great new TV commercial, in the spirit of brilliantly funny commercials for other Fiat automobiles. You may recall a hilarious commercial for the Fiat 500, in which an amorous Italian gentleman chases a little blue pill that had fallen down a crazy path filled with twists and turns, evading capture as if it had a mind of its own. The latest commercial replaces that performance-enhancing medicinal supplement with an adrenaline-pumping, exhilarating ride in a 2017 Fiat 124 Spider. The same gentleman from the Fiat 500 commercial is overcome with passion by the very act of driving this new, two-seat sportscar.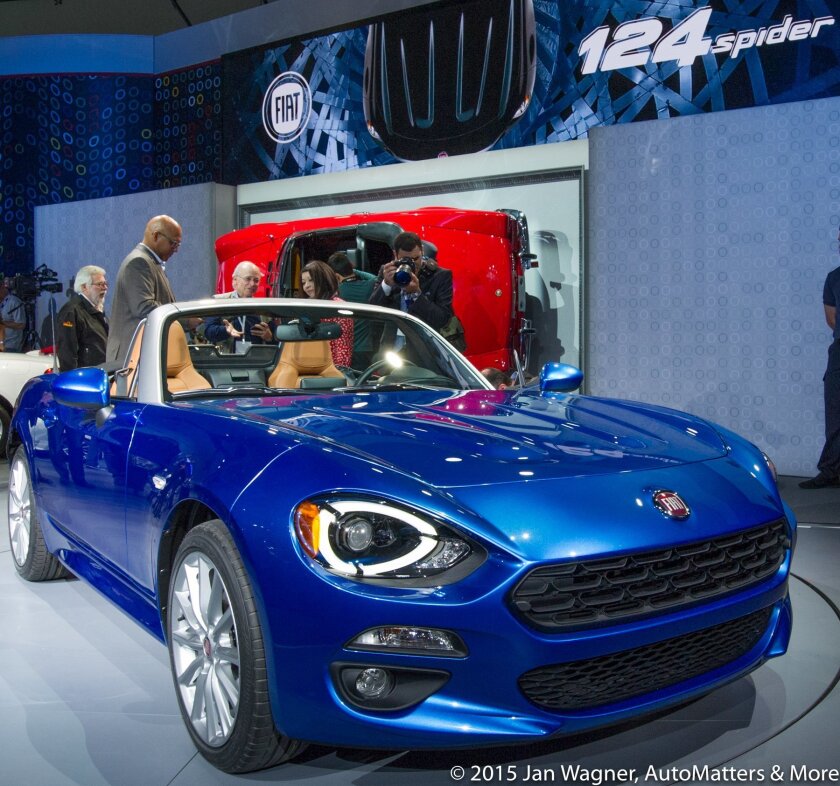 The Fiat 124 Spider is beautiful. I fell in love with it at first sight, envisioning myself behind the wheel with its top down, while slowly cruising along the Pacific coast through the streets of old Del Mar on a beautiful evening, with the sounds of the surf in the background.
Despite being loaded down with two large, professional cameras and other gear, I could not resist the urge to squeeze through the crowd of admiring journalists and sit in it for a brief but captivating moment. I sank into one of its oh-so-soft premium leather seats, where at once I felt: "Here is where I belong." It is perfect. The verdict is clear: Its ergonomics are great.
Underpinning its bodywork is the proven, well-engineered, rock-solid reliability and sound engineering of the Mazda MX-5 Miata. Several specific benefits of this partnership include a lightweight frame, double wishbone front suspension and multi-link rear suspension.
While the two cars share engineering, their basic size and proportions, they look very different from each other. The Fiat has strong design cues that link it to its predecessor and its heritage, whereas the MX-5 derives its athletic appearance from Mazda's KODO – Soul of Motion design philosophy.
The beating heart of the Fiat 124 Spider is the time-tested, proven 1.4-liter MultiAir turbocharged four-cylinder Fiat engine. Assembled in Italy, this engine delivers 160 horsepower and 184 lb.-ft. of torque. It is mated to either a 6-speed manual or automatic transmission.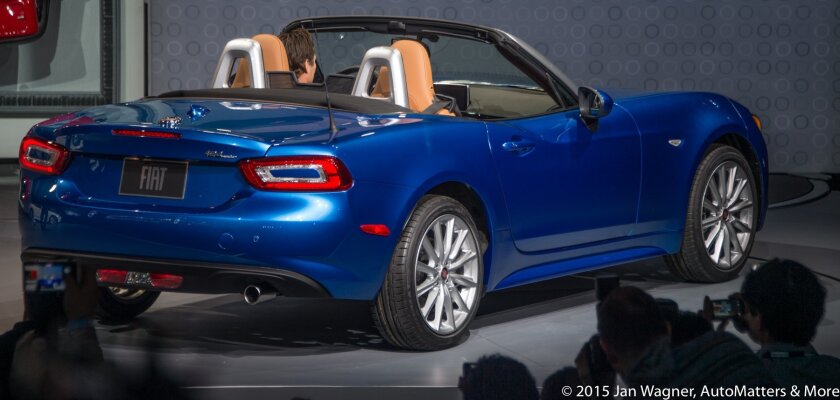 Available state-of-the-art safety features include blind spot monitoring, rear cross path detection to warn drivers backing out of parking spaces that traffic is moving toward their vehicle, a rear backup camera with grid lines to aid the driver when maneuvering, anti-lock brakes and traction control.
There will be two models. The Classica has 16-inch alloy wheels; Nero (black) premium cloth seats; black roll bar finish; and body-color header, side sills and door handles.
The Lusso is the luxury model. It features standard 17-inch alloy wheels, premium leather seats and more.
I can't wait to drive one when they arrive in the summer of 2016. Make mine a Lusso model, in Rosso Passione (red clear coat) with a saddle premium leather interior.
Please write to AutoMatters@gmail.com with your comments and suggestions.
Copyright © 2015 by Jan Wagner – AutoMatters & More #412
---
Get the Del Mar Times in your inbox
Top stories from Carmel Valley, Del Mar and Solana Beach every Friday for free.
You may occasionally receive promotional content from the Del Mar Times.