AutoMatters & More: Autocross with the Unsers at the Goodguys Del Mar Nationals
The Goodguys Rod and Custom Association has been organizing amazing car shows for many years. Sadly their Founder and Chairman, Gary "Goodguy" Meadors, passed away on Dec. 17 2015, but his legacy lives on in very capable hands.
Hundreds of cool cars (and trucks) are on display outside, both parked and driving along the palm tree-lined boulevards of the Del Mar Fairgrounds; and indoors, inside spacious arenas. There are also hundreds of vendors, a swap meet, the "Cars 4 Sale Corral" and entertainment. You will also meet the very cool men, women and children for whom these cars are a passion.
Cars are meant to be driven, and driven they are in the Goodguys autocross, where "Hot Rods, Trick Trucks and Muscle Cars compete on a timed road course."
Even though I 'retired' from SCCA autocrossing a couple of years ago, ever since then I've been dusting off my trusty 2011 Mustang GT and entering it in "All American Sunday" at the Goodguys autocross. I do this purely for the fun of it, but it is also a competitive event that some people take very seriously indeed.
You might have seen some of these highly prepared autocross cars in previous coverage of the ultra competitive Optima Batteries Ultimate Street Car Invitational series (https://www.optimabatteries.com/en-us/experience/optima-invitational/), the finale of which I've been covering for the past few years as part of my trips to cover the SEMA Show in Las Vegas. These specially prepared, performance optimized customs are quick and they handle spectacularly as they carve up the Goodguys autocross course.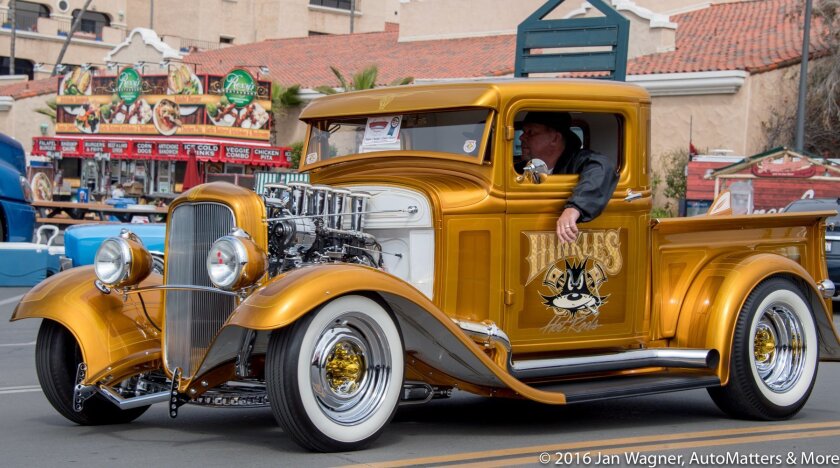 What I did not expect to see, and which was a wonderful surprise, were Al Unser Jr. and Robby Unser competing for Team Speedway in their spectacularly prepared Team Speedway cars: G-Comp '65 Nova and '70 Camaro. It is mind blowing to realize that by going to a Goodguys autocross you can see a two-time Indy 500 champion (Al Jr.) and 9-time Pikes Peak International Hill Climb winner (Robby) competing in an autocross. I understand that on Saturday, while I was away in Long Beach covering the Long Beach ePrix (electric FiA Formula E car racing, which I will cover in an upcoming column), Al Jr. was giving a thrilling autocross ride to none other than the famous car designer Chip Foose.
I found out about all of this totally by accident, having gone there merely to run my car in the autocross and take pictures of the cars – on and off the track.
At the autocross, with a camera in hand, I saw the Unser's Nova about to hit the track. My shots of it included a few with a shower of flying pylons that had been marking the course so, after it ran, I followed it back to the TEAM SPEEDWAY hauler where the Camaro was also on display. I asked to speak with the car's driver, explaining that I had some photos of his autocross run to share with him.
To my surprise, it was not Al Jr. or Robby who emerged from the hauler but rather a young man named Jason Tanner. It turns out that his was a pretty cool story all by itself.
He was driving the '65 Nova in his very first run ever in an autocross. He is Al Jr. and Robby's nephew, and he does all the maintenance on their Speedway Motors-sponsored cars. He explained that they had been talking about getting him into one of the cars all last year and it just seemed like a good day to do it "so I went ahead and got in the car and gave her a run! That was really cool." "I do drive myself. I'm a dirt track guy – non-winged sprint cars primarily – when I do race."
As we spoke, Al Jr. and Robby stopped by. They are both really down-to-earth, humble folks.
Later, back in my car, I had worked my way back to the head of the autocross line and was about to stage when Robby pulled up beside me for a run. Naturally I waved him on through. Then Al Jr. pulled up beside me to take a run. I grabbed my camera and took a picture of him (you can see my white Mustang reflected in his glasses).
What a wonderful day at the Goodguys event! Join in the conversation, by sending your comments and suggestions to AutoMatters@gmail.com.
Copyright © 2016 by Jan Wagner – AutoMatters & More #431
---
Get the Del Mar Times in your inbox
Top stories from Carmel Valley, Del Mar and Solana Beach every Friday for free.
You may occasionally receive promotional content from the Del Mar Times.