AutoMatters & More: Formula E Makes Auto Racing History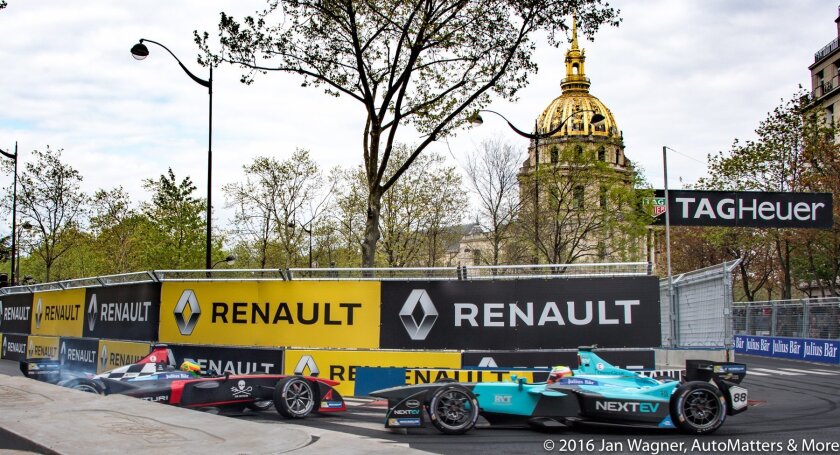 The first major auto race conducted in well over 100 years on the streets of Paris, France – the "City of Light" – was electric. The inaugural Formula E VISA Paris ePrix was held on April 23, 2016 at the foot of the Eiffel Tower.
According to Wikipedia, the Paris-to-Rouen Le Petit Journal Horseless Carriage Contest was run in 1894. In the petrol category, that race was won by Albert Lemaitre racing a Peugot – with a whopping 3 hp engine! Considered by some to be the world's first motor race, it not only pioneered organized auto racing but also city-to-city endurance racing, which became popular back in the day. No doubt the demands and stresses of competition helped to accelerate the development of automotive technology of that era, just as Formula E is doing today for electric car technology. Then as now, racing improves the breed.
Fast-forward to 2016 where Paris is significant for more than just its historic role in the origins of motor racing. It is also the home of Michelin, a founding sponsor of Formula E. Renault, a major French automaker, is also the manufacturer of the successful Renault e.dams Z.E 15 Formula E racecars.
Round 7 of the FiA Formula E Championship followed the Long Beach ePrix (covered in AutoMatters & More #432, entitled "Formula E: Accelerating the Future of the Automobile"). With the strong support of the French government, the Mayor of Paris and other officials, Parisians embraced this race. The race tickets were completely sold out well in advance.
Within the event compound, Renault exhibited street and racecars, and provided auto racing-themed activities for the fans.
The tight, 14-turn, temporary street circuit was just over one mile in length and located near the Place de la Concorde. As always, all Formula E competition – from practice to qualifying to the race – was held on one day.
The lineup of drivers included a who's who from professional auto racing series from around the world, including Formula One, IndyCar, the World Endurance Championship and the Japanese Super GT Championship.
Race day was bitter cold, but that did not chill the enthusiasm of Parisians as they pressed against chain link fences to get a close look at the action on track. They had several local drivers to cheer for: Nico Prost, Jean-Eric Vergne, Stephane Sarrazin and Loic Duval, but the race would be won by Lucas di Grassi of Brazil – the same driver who led the series after Long Beach.
He was driving one the two team ABT Schaeffler Formula E racecars. Impossible to ignore, they were boldly colored in bright green, yellow and red.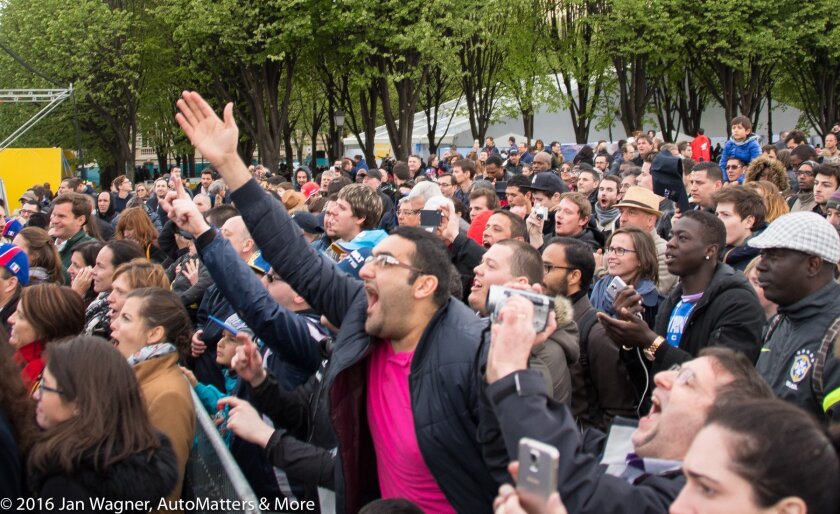 As with other open-wheeled, high-tech racecars, they featured adjustable aerodynamic wings – front and rear, a steering wheel bristling with electronics, 18-inch wheels shod with Michelin tires (featuring the same tread design found on production cars), a variable output ABT Schaeffler MGU 01 electric motor (270 hp for practice and qualifying, 231 hp plus FanBoost in the race), a battery developed by Williams Advanced Engineering, a spec carbon fiber and aluminum chassis built by Italian racing car specialist Dallara (to the same safety standards as Formula 1) and adjustable brakes. The minimum weight, including the driver, is just under 2,000 pounds.
As battery technology continues to develop, the racing format specifies that each driver is assigned two identical cars for the race. Together they provide sufficient battery power to complete each race of approximately 50 minutes. Changing cars mid-race is part of the excitement.
Unfortunately, unlike for the first two years of this series, Long Beach is not on the expanded 2016-17 championship schedule, but there will be new, double-header races in Montreal (July 15-16) and New York (July 29-30), as well as a driver-versus-fan virtual race in Las Vegas on January 7 (that should be interesting) and a returning race in Mexico City on April 1. April 22 is listed as TBA. FYI the Long Beach Grand Prix IndyCar race weekend is scheduled for April 7 – 9.
A promise of Formula E is that we can look forward to seeing the cars eventually get inductive charging as they drive along the race tracks. That will eliminate the need to change cars mid-race, although that is kind of cool. Maybe they'll keep that.
Join in the conversation. Send your comments and suggestions to AutoMatters@gmail.com.
Copyright © 2016 by Jan Wagner – AutoMatters & More #452
---
Get the Del Mar Times in your inbox
Top stories from Carmel Valley, Del Mar and Solana Beach every Friday for free.
You may occasionally receive promotional content from the Del Mar Times.