AutoMatters+: IndyCars at the Toyota Grand Prix of Long Beach & "Mad Max: Fury Road"
IndyCars at the Toyota Grand Prix of Long Beach
The 2015 Toyota Grand Prix of Long Beach spanned three weekends with eight race series, concerts and the Lifestyle Expo. The feature event was the Verizon IndyCar Series race, run through the streets of Long Beach on a beautiful Sunday afternoon in mid-April.
The IndyCars are powered either by Honda or Chevrolet 2.2-liter twin-turbocharged V-6 engines.
Chevrolet and Honda also design, manufacture, and supply distinctly different aerodynamic bodywork kits, which consist of front and rear wings, sidepods, and an engine cover. Through various adjustments and parts changes, these may provide the desired combinations of reduced drag and increased downforce which, with ride height and other adjustments, will determine the cars' maximum speeds in the straights and turns of different race courses, and will hopefully keep the cars on the ground even if they spin and go backwards. There are different kits for road and street courses, and short ovals; and for superspeedways.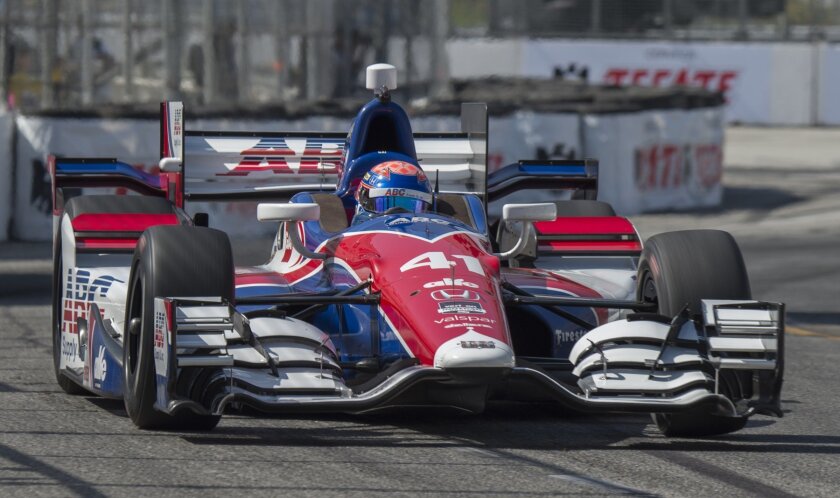 After practice, Marco Andretti (#27 Snapple Honda) remarked: "I'm quite pleased with the car. Unfortunately there's still a gap to the Chevys and that's frustrating, but we're chipping away at it."
Juan Pablo Montoya added: "I was really happy with the number 1 Verizon Chevy in the first practice. It had a lot of speed."
Qualifying was held on Saturday. Winning the pole position was Brazilian (and 2007 "Dancing with the Stars" winner) Helio Castroneves (Team Penske Chevy #3), followed by teammate Montoya (#2), and Scott Dixon (Chip Ganassi Racing Honda #9). 2014 IndyCar Series champion Will Power had a disastrous day, qualifying 18th.
Castroneves told us: "The team worked really hard because we changed everything in the car last night, so congratulations to them." Racing is a team effort.
On race day (Sunday, April 19), actor Patrick Stewart issued the traditional command to start engines, and then, at 1:40 p.m., the green flag was waved to start the 80-lap, 11-turn, 157-mile race.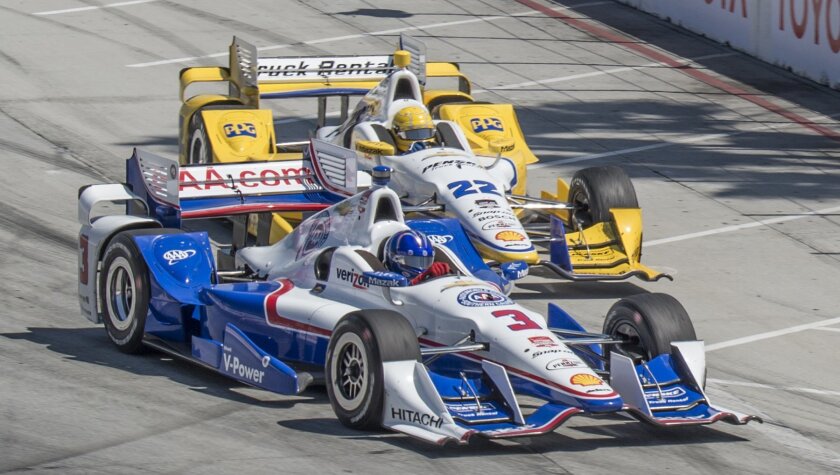 Castroneves maintained his lead as Dixon moved into second place, and that's the way it stayed until they both pitted for tires and fuel on lap 29. Dixon beat Castroneves out of the pits and held him off to win his 36th IndyCar race and his first at Long Beach — a race that saw only one full-course caution (for debris, on lap five). Montoya finished in third.
After the race, Dixon said: "I like coming here, I love the event. All in all, this is huge. Long Beach, I finally get to crack this one and I'm really happy."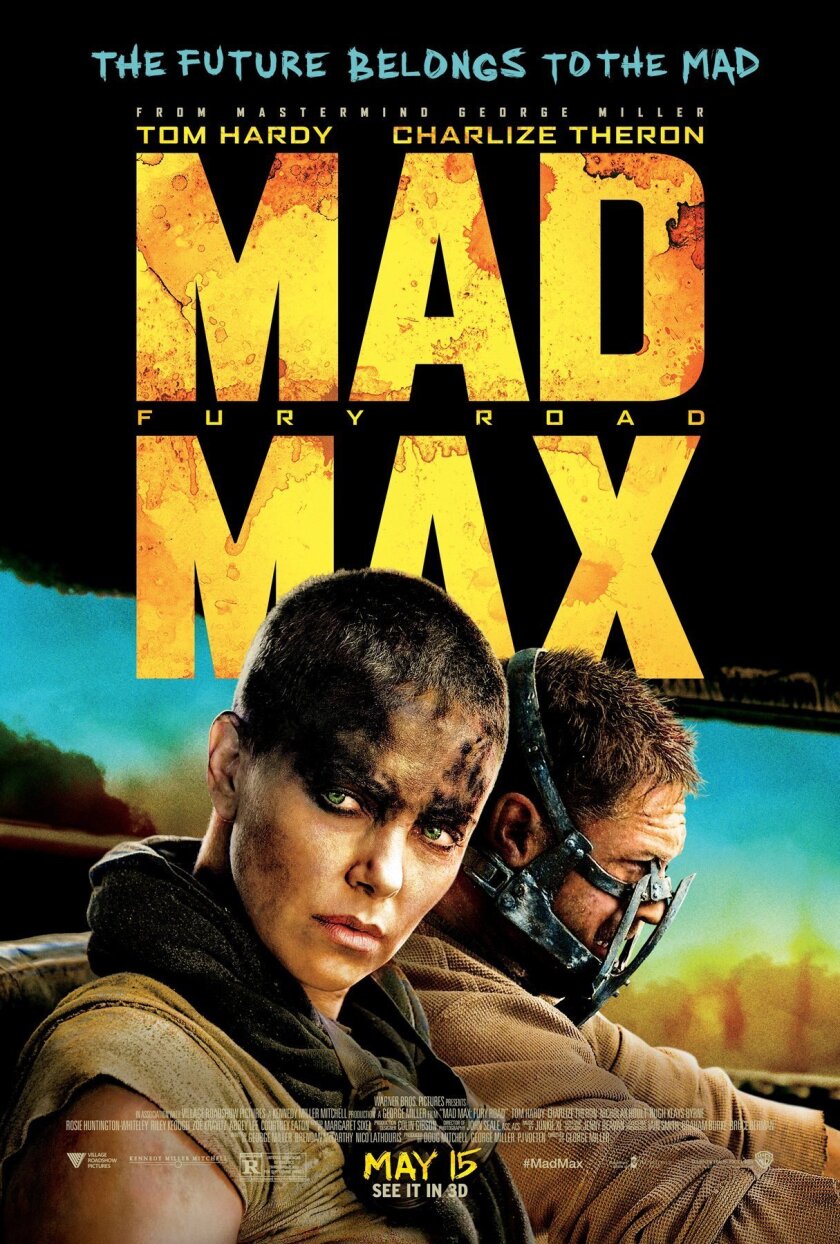 "Mad Max: Fury Road"
Sequels often fail to live up to the original film, and this is already the fourth in the franchise. Yet not only did "Mad Max: Fury Road" far exceed my expectations, but it is also a really well-crafted, compelling movie. You need not have seen the previous "Mad Max" movies — this one easily stands on its own merits. Spoiler alert: I am now about to describe the setup for the plot.
"Mad Max: Fury Road" is set in a post-apocalyptic, future Earth wasteland. Those who are left of humanity fight — to the death — over the few precious resources that remain, including water and gasoline. The gasoline fuels the road warriors' bizarre, highly customized war rigs and other vehicles.
Together with his sons and a ruthless gang of fighters, the tyrannical Immortan Joe (Hugh Keays-Byrne) rules with an iron fist. Women are enslaved and abused. The majority of the populace lives in squalor, barely surviving. Life seems to have little value, and self-sacrifice in the service of Immortan Joe is revered and glorified.
Whereas you might reasonably expect the main character to once again be Max Rockatansky (Tom Hardy), this time around you will almost certainly be drawn to the resourceful, strong and self-confident Imperator Furiosa (Oscar winner Charlize Theron).
The truly epic chase and fight scenes — and there are many — are incredibly complex, exquisitely choreographed, live-action stunts, as opposed to computer animation. As a result, they look completely realistic, which adds greatly to the movie's believability.
This is very much a film about human relationships, intense conflict, trust, and redemption.
"Mad Max: Fury Road" is in theaters now. It is one of the best films that I've seen this year.
That's all for now. As always, please send your comments and suggestions to me at AutoMatters@gmail.com. I will reply. Until next time...
Copyright © 2015 by Jan Wagner – AutoMatters+ #385
---
Get the Del Mar Times in your inbox
Top stories from Carmel Valley, Del Mar and Solana Beach every Friday for free.
You may occasionally receive promotional content from the Del Mar Times.