AutoMatters & More: "Luigi's Rollickin' Roadsters," Craftsman "Extreme Grip" Screwdrivers & "London Has Fallen"
"Luigi's Rollickin' Roadsters"
"Luigi's Rollickin' Roadsters" replaces "Luigi's Flying Tires" as the newest ride in Carsland, at Disney California Adventure.
The story behind the attraction goes something like this, according to the Disney Parks Blog. Luigi has returned to Radiator Springs with his cousins from the make-believe town of Carsoli, Italy. Luigi and his cousins are cute, colorful, happy little FIAT-like cars with loads of personality. Some have luggage racks and luggage; some have racing stripes or are painted in two-tone paint schemes, like classic 50's Corvettes; and the guys have chromed moustache grilles.
With guests along for the ride, they celebrate their arrival in Carsland by "dancing" to one of the cheery, Italian-inspired songs sung by Luigi (Tony Shalhoub of "Monk" fame).
This is really cool and very high tech. The cars are not on tracks. In carefully choreographed moves they circulate around the dance floor, similar to synchronized swimming. At the end of the dance they stop and then spin around a couple of times. Like the songs, the dance moves also change from ride to ride as the cars follow 18 different paths.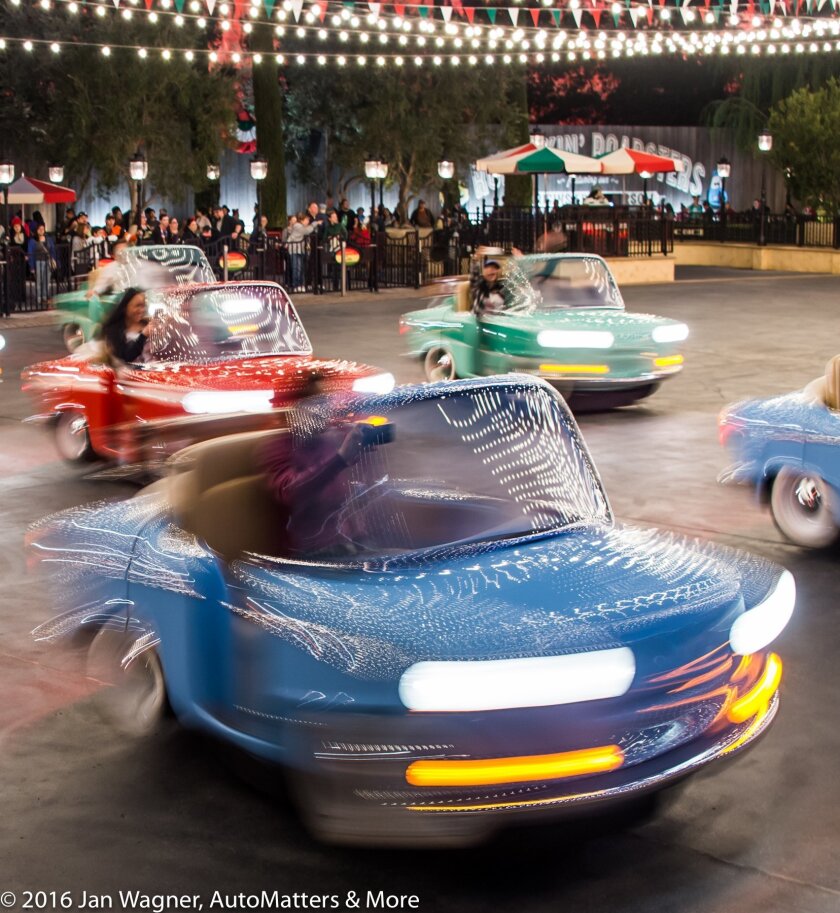 In the daytime you'll mostly notice the bright colors of the cars, whereas at night you will also notice their bright headlights and taillights, with strings of festive light bulbs stretched out above the dance floor.
It is all great fun, both to ride and even just to watch. The latter is an especially good thing because the wait times for this ride are likely to remain very long for the foreseeable future. When I went during the Annual Passholder preview day, I waited in line almost three hours! That included about 15 minutes during which the ride had apparently broken down. Hopefully that will not happen often, as that reminded me of another great Disney parks ride that was soon removed because of its continual breakdowns. That ride was "Rocket Rods" at Disneyland. Time will tell.
Craftsman "Extreme Grip" Screwdrivers
Have you ever heard that saying about building a better mousetrap? Well, Craftsman has built a better screwdriver, and the difference is almost beyond belief.
Surely you know the scenarios. Here's one: you need to put some screws into some really tough material. Perhaps you did not pre-drill the holes, or the diameter was a bit too small. You place the screw into position and then you start to twist the screwdriver. Soon the tip of the screwdriver slips up and out of the hole or slot in the head of the screw (called "cam-out"), rounding out the metal of the screw head in the process. Now the screw head is stripped and you may not be able to screw it in any further. If only you could have applied more downward pressure on the screwdriver to keep that from happening. Now what do you do?
Here's another scenario: you need to remove some old, weakened screws that were fastened really tightly. You start to twist the screwdriver counterclockwise, but instead of backing the screw out, the tip of the screwdriver rides up and out of the slot or hole, once again rounding out the metal of the screw head. What can you do now?
There is a limit to how much downward pressure that a person can apply to a screwdriver while trying to twist it, and sometimes that is just not enough. Instead of requiring the application of more pressure, Craftsman changed the design of the tips of the screwdriver so that they will grip better.
Said to provide four times more gripping power, Craftsman "Extreme Grip" screwdrivers have very grippy, diamond-coated tips to reduce "cam-out" and slippage. Also, the comfortable, dual material handles make it easier for you to grip the screwdriver.
Check out the reviews on Amazon.com. Most give a five-star rating, with the rest giving four stars. These screwdrivers should be an excellent addition to your toolbox.
Now in Theaters: "London Has Fallen"
Gerard Butler stars as a U.S. Secret Service agent, with Morgan Freeman as the Vice President, in this riveting, R-rated and violent political action-adventure. Guaranteed to get your adrenalin flowing and your heart pounding, it has long, thrilling and extremely well done car chase scenes, interspersed with a succession of blazing gun battles, rocket attacks and massive, fiery explosions. It is non-stop excitement.
Please write to AutoMatters@gmail.com with your comments and suggestions.
Copyright © 2016 by Jan Wagner – AutoMatters & More #427
---
Get the Del Mar Times in your inbox
Top stories from Carmel Valley, Del Mar and Solana Beach every Friday for free.
You may occasionally receive promotional content from the Del Mar Times.