AutoMatters & More: Plug-in Hybrids — Chevrolet Volt & Toyota Plug-in Prius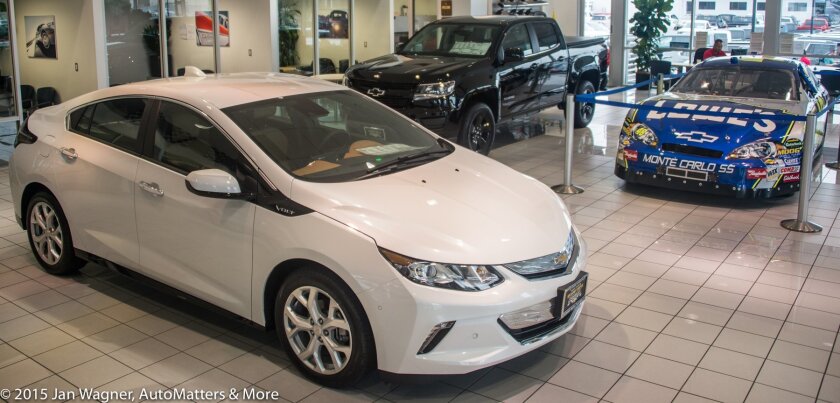 Depending upon your driving habits, a plug-in hybrid might be an ideal compromise between a vehicle that runs solely on electricity and a vehicle that runs solely on gas.
With a plug-in hybrid automobile, you can get the best of both worlds — the advantages of the economy, emissions-free electric operation and (temporary, with DMV stickers) California single-occupant freeway carpool lane use of an all-electric vehicle — as well as peace of mind from the knowledge that you will never be stranded due to not having a place to plug in and recharge your car. All you will need to do is find the nearest gas station, quickly refuel and be on your way.
As with all-electrics, plug-in hybrids are limited by the current state of battery technology. Even if you can accommodate the fact that it takes a lot longer to recharge an electric vehicle's battery than refuel with gasoline, to store a sufficient charge to enable a long-distance range requires a really large, heavy battery. If you visit a Tesla showroom and look at the chassis of my favorite all-electric car — their Model S — you will see what I mean. The battery pack runs along a large portion of the chassis of the car. That is how Tesla achieves over 200 miles of driving range.
If Tesla were to also add the capability of refueling with gas, they would need to fit an internal combustion engine (ICE), a gas tank (large and heavy) and various engine-related parts. As you can well imagine, that would further add to that vehicle's already significant complexity and weight.
Nevertheless, an increasing number of automakers are bringing plug-in hybrids to market, and these are getting better all the time.
Having recognized and appreciated the various benefits of plug-in hybrids, I bought one of the first of these of these — a 2012 Toyota Plug-in Prius. Its price represented a significant premium over that of a regular Prius, but since I drive to L.A. frequently to cover events, being able to drive in the carpool lane solo allows me to bypass the often-clogged and barely moving regular lanes of traffic. That has saved me a lot of time over the years.
Aside from its higher price, another negative is that the Prius Plug-in Hybrid has very little all-electric range. Its dash display, after a full charge, tells me that I can get approximately nine miles of all-electric driving before the car reverts to its standard Prius Hybrid gas mode of operation, with comparable fuel economy to that significantly less expensive model. However, that very limited all-electric range (driver selectable, via a switch in the cabin) is somewhat deceptive. Since the car has regenerative braking, it replenishes the battery under certain conditions, extending the all-electric range. Going downhill once from Lake Arrowhead, I was able to fully recharge the battery.
At the same time that the Plug-in Prius was on sale, the first generation of the Chevrolet Volt was available, too. Whereas my Prius can go only about nine miles on all-electric operation, the Volt could go much further (perhaps 35 miles, if my memory serves me correctly).
That would suggest that choosing the Volt over the Prius Plug-in would have been a no-brainer, but there was more to consider. In its gas mode of operation, my Prius consistently gets at least 50 mpg, whereas the Volt gets about 10 mpg less than that. Furthermore, the first-generation Volt requires premium gasoline, versus regular for the Prius. Finally, the Prius is a five-passenger car, whereas that Volt seated only four.
Since I do a lot of highway driving (to L.A., Disneyland and two trips per year to Las Vegas to cover the SEMA Show and CES), my car's great gas mileage was the deciding factor over the first-generation Volt.
With the all-new, re-engineered and restyled 2016 model, the Chevrolet Volt has improved significantly in all areas. It now has an all-electric range capability of up to 50 miles. That should be sufficient for most people's typical daily driving needs. It would certainly be so for mine.
Furthermore, it now uses regular grade gasoline instead of premium. It also seats five and has beautiful styling.
But wait, there is more to consider. My generation of Toyota's Plug-in Prius recently ceased production. Its new and improved replacement is anticipated within the next year. Times are good for plug-in hybrids.
Please write to AutoMatters@gmail.com with your comments and suggestions.
Copyright © 2015 by Jan Wagner – AutoMatters & More #410
---
Get the Del Mar Times in your inbox
Top stories from Carmel Valley, Del Mar and Solana Beach every Friday for free.
You may occasionally receive promotional content from the Del Mar Times.