AutoMatters+: Auto safety glass, Coronado Speed Festival preview and "Fantastic 4"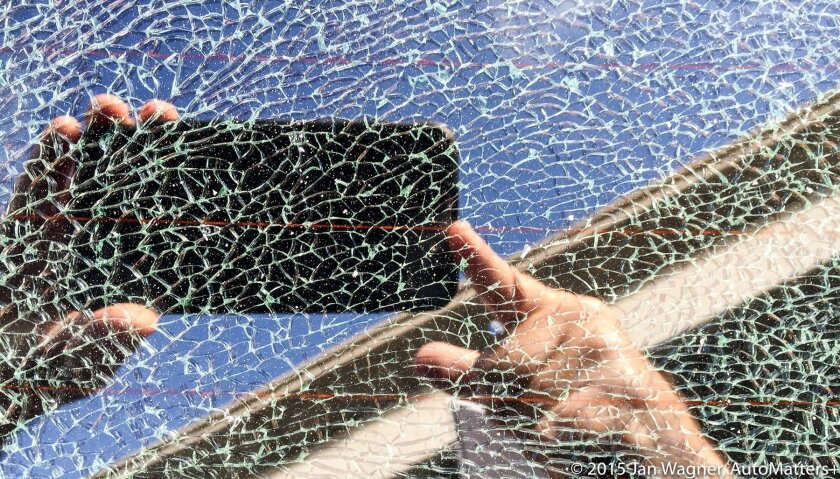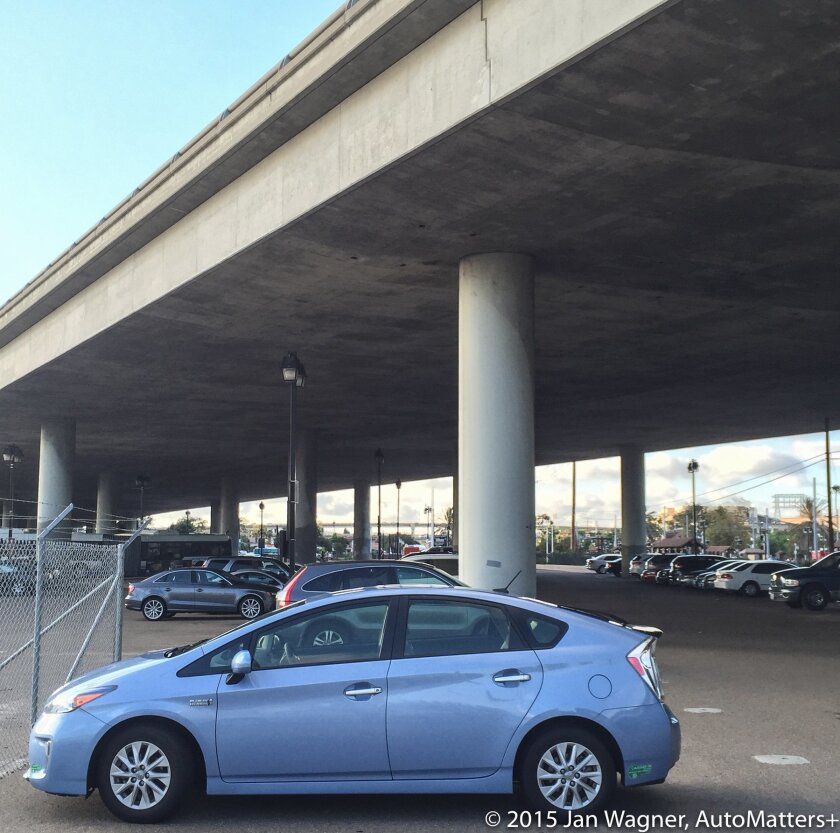 Automotive Safety Glass
We hardly ever give our car's windows a second thought — until they get broken. Did you know that there is more than one type of window glass in your car, and why?
The windshield is made of laminated safety glass: several layers of glass that are sandwiched together by what are essentially clear, strong, thin sheets of adhesive-backed plastic. Consequently, in an accident or after an impact, this laminated safety glass is designed to shatter but keep the pieces of glass attached to each other, instead of allowing them to separate completely and fly all over the car.
What you might not know is that the other windows in your car are typically not made from this laminated safety glass. Recently I learned why, courtesy of our legal system.
It all began after I received a notice in the mail for jury duty. I was instructed to report to a courthouse in downtown San Diego, where I would become part of a large pool of prospective jurors for upcoming trials.

Parking downtown can be very expensive, so my plan was to park elsewhere and then complete my trip on public transportation.
I ended up running late that morning. So, to make up some time, I decided to park close to downtown at an unfamiliar transit station. From there I would take public transportation into downtown.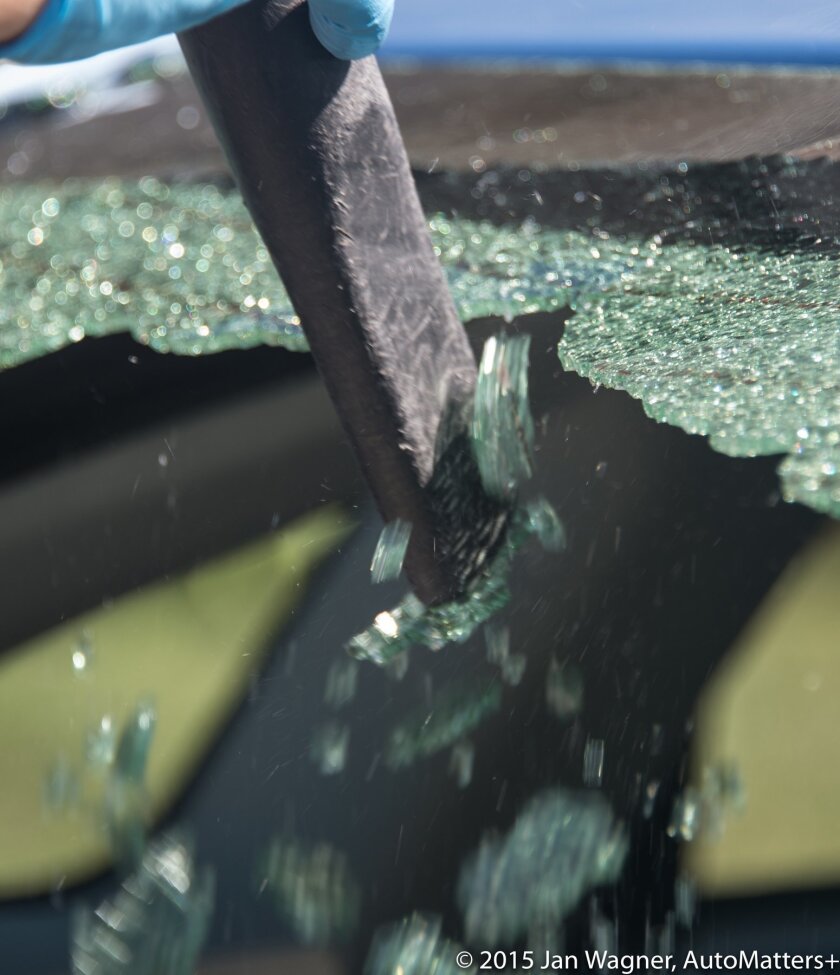 When I arrived at the Old Town Transit Center, the main parking area was full, so I parked further away in what appeared to be an overflow lot, directly beneath elevated trolley tracks (keep that in mind). I rolled the windows up fully, locked the car and left.
It was already a sunny, warm day. I boarded a nearby bus that was heading for downtown, and I got to court on time.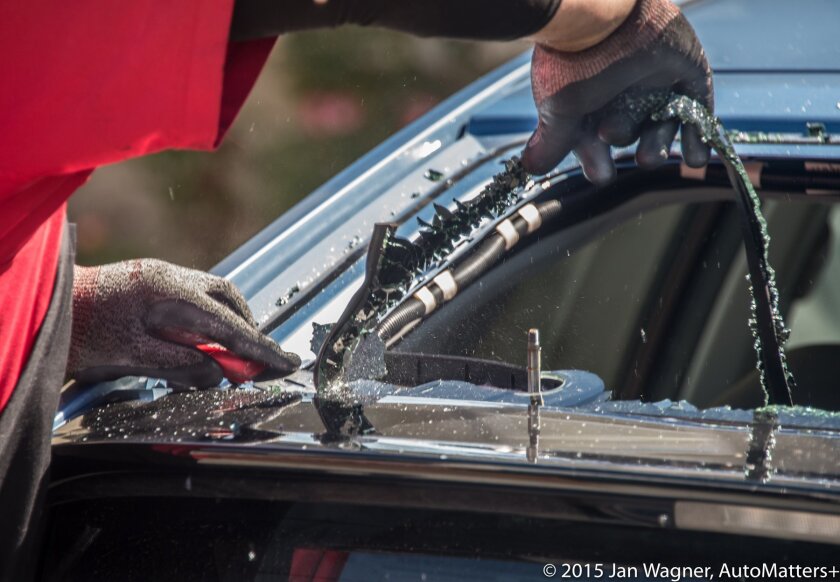 Fast forward to the end of the day. I left the courthouse, boarded the San Diego Trolley and returned to my car. When I arrived, I was shocked to see that my entire hatchback window was shattered, although it had mostly stayed together. It was precariously suspended above the luggage compartment.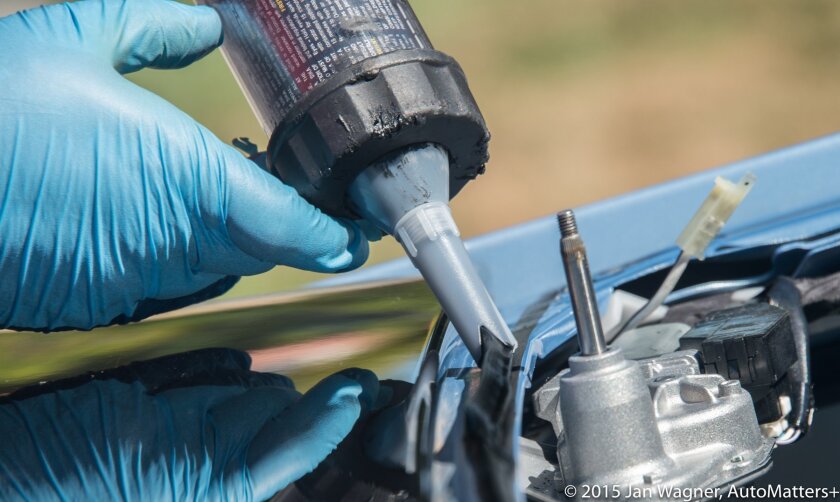 At first I thought that someone had broken into my car, but soon I was relieved to learn that nothing was missing. I looked more closely at the glass and on the ground, but I could see no signs that anything had broken the glass.
I spoke with the transit police and then drove home slowly, so as not to cause the window to collapse into my car. It arrived at my home more or less still intact.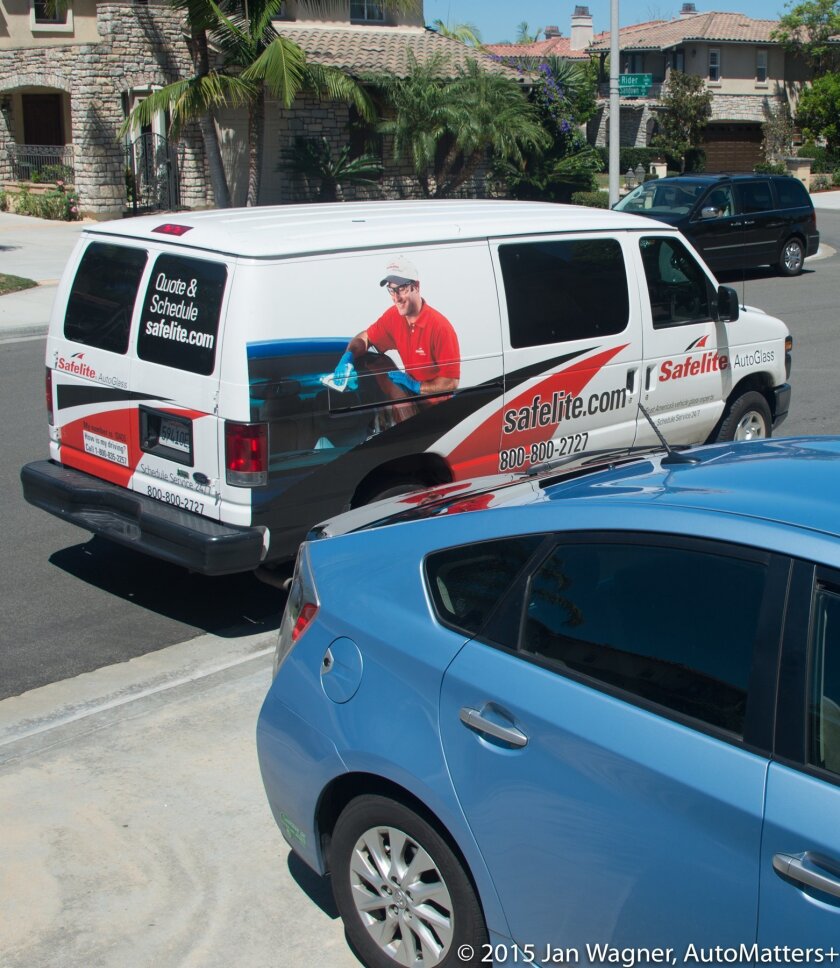 I phoned my insurance company and learned that the comprehensive category of my auto insurance would cover the glass replacement — and with no deductible! They helped me make an appointment to have Safelite AutoGlass come to my home to replace the window.
I was told that it was unlikely that the glass had spontaneously shattered due to the heat of the day. Instead, something had probably fallen onto it from the trolley tracks high above.
I asked the Safelite technician why all auto windows are not made of laminated safety glass, like the front windshield is, since that would keep tiny pieces of shattered glass out of the vehicle. He told me that non-laminated safety glass is used so that occupants will be able to exit through window openings, if necessary, instead of being trapped inside the vehicle.
My window was fixed as good as new.
Coronado Speed Festival Preview
Start making your plans now to see historic car racing at its best at the Fleet Week Coronado Speed Festival 2015 (www.fleetweeksandiego.org). Located at Naval Air Station North Island, the dates will be Sept. 19-20.
Review of "Fantastic 4"
The Marvel universe is expanding again. Set on earth and in an alien-looking and dangerous alternate universe, "Fantastic 4" introduces movie audiences to a team of four superheroes who are unexpectedly bestowed with unique and special powers, and then struggle to learn about and accept those powers.
The film goes by really quickly, which is a sign of a good movie. Rather than jump right into the action-packed, dazzling special-effects "eye candy" that is typical of this genre, "Fantastic 4" takes extra time to develop rich, multi-faceted characters. Its story is complex and very well-crafted.
I missed the anticipated Stan Lee cameo. Was there one? If you see it, please let me know at AutoMatters@gmail.com.
Copyright © 2015 by Jan Wagner – AutoMatters+ #397
---
Get the Del Mar Times in your inbox
Top stories from Carmel Valley, Del Mar and Solana Beach every Friday for free.
You may occasionally receive promotional content from the Del Mar Times.