AutoMatters & More: A Great Day at SeaWorld San Diego
San Diego is renowned in the world as a vacation destination, and with good reason. The weather is ideal most days of the year, and there is plenty to see and do here and throughout Southern California.
SeaWorld is one of San Diego's major attractions. It is part wildlife sanctuary and part amusement park. The killer whale and dolphin shows are breathtaking; the performing pets and human gymnasts are entertaining; the penguins, fish and polar bears are fascinating; the rides are thrilling and fun; and there is a wide variety of cuisines to choose from.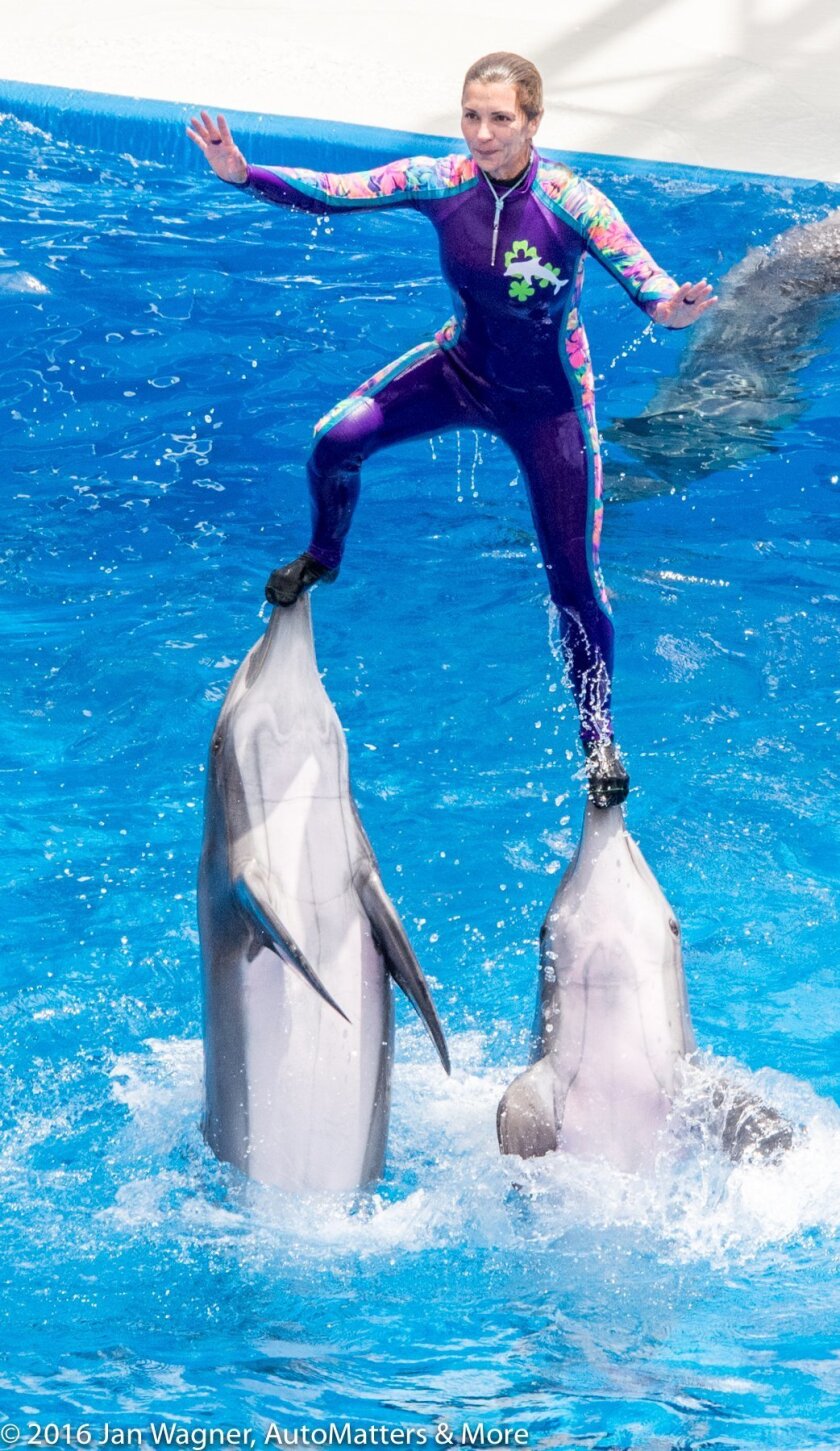 SeaWorld is also an exceptional family entertainment value. Discounted offers are typically available online and at Costco. For example, as of this writing an unlimited annual pass is currently available on the SeaWorld website for less than $12. per month – and that includes parking! For more information go to https://seaworldparks.com/seaworld-sandiego/.
Recently I spent the day at SeaWorld San Diego. Let's take a virtual tour of the park!
Our day will begin by parking in the large lot that is conveniently close to the main entrance, eliminating the need to take a shuttle.
From there we enter the gates, grab a park map and bear right. Soon we will arrive at the Garden Plaza restaurant, to fortify ourselves with some coffee or a meal.
As we continue walking we are greeted by beautiful flamingoes, much like we would see on a visit to the San Diego Zoo.
Next up is Journey to Atlantis, a thrilling roller coaster ride that culminates in a huge water splash. If you, like me, would rather watch than ride first thing in the morning, there are great vantage points to take photos of the riders taking that big splash. We can also observe marine life through the Window to the Sea.
Following that we enjoy an extended visit to Wild Arctic. This area includes arctic outdoor habitat areas for polar bears, magnificent beluga whales and huge, powerful walruses. We observe all of this while keeping cool ourselves in air-conditioned comfort. Tall glass windows enable us to see both above and below the surface of the water, and by timing it just right we get to see the whales being fed.
Also in Wild Arctic is a motion simulator, where we take a helicopter ride on a thrilling adventure. In addition to that ride, we explore Base Station Wild Arctic.
Time is ticking so we move right along to Pets Stadium for the small animals show, where we see them perform amazing tricks.
Through windows at Turtle Reef we watch sea turtles gracefully swimming under the surface of the water. And speaking of being under water, we ride an escalator through the glass tunnel in Shark Encounter, where we can reach up and almost touch the sharks as they slowly swim by us.
At Dolphin Stadium we enjoy a show where dolphins jump, splash and perform with their agile trainers. In the finale, ten dolphins leap in unison high up into the air.
By now we are ready to go for a wild ride. We consider boarding a tube-style raft and following a winding river to a waterfall and underground cavern at Shipwreck Rapids, but instead we get on the thrilling Manta roller coaster.
There are lots of great choices for lunch. We choose something a little different than typical amusement park fare: Hickory Smoked Chicken at the Calypso Bay Smokehouse.
After lunch were are off to the killer whale show at Shamu Stadium. Warning: if you sit in the "Soak Zone" you will get wet – very wet! This is the final season of One Ocean. We do not want to miss it. A new Orca experience will be coming in 2017.
Also on our must see list is the Sea Lions comedy show, starring Clyde and Seamore.
At the Cirque de la Mer show at Cirque Stadium, we enjoy a live stage and water show featuring whimsically costumed gymnasts, daring stunts by a Flyboard rider soaring high above Mission Bay on jets of water, and more.
There is much more to see and do at SeaWorld San Diego but unfortunately there is just enough space remaining here to mention the fireworks show (June through September). It is a spectacular way to end our day.
I hope you have enjoyed your virtual tour of SeaWorld San Diego.
Join in the conversation. Send your comments and suggestions to AutoMatters@gmail.com.
Copyright © 2016 by Jan Wagner – AutoMatters & More #450r1
---
Get the Del Mar Times in your inbox
Top stories from Carmel Valley, Del Mar and Solana Beach every Friday for free.
You may occasionally receive promotional content from the Del Mar Times.