AutoMatters+: STEAM Family Day in Balboa Park & Review of "Chappie"
STEAM Family Day in Balboa Park
This Sunday (March 15, 2015), help celebrate the 100th anniversary of San Diego's Balboa Park Exposition (see celebratebalboapark.org) at STEAM Family Day — a Park-wide science, art and technology special event — the first major event for families on the 2015 Centennial Celebration calendar. More than two dozen cultural organizers will combine their talents and resources to put fun into science, technology, engineering, art and math (STEAM). Visitors of all ages will find hands-on activities, crafts, demonstrations, special exhibitions and more.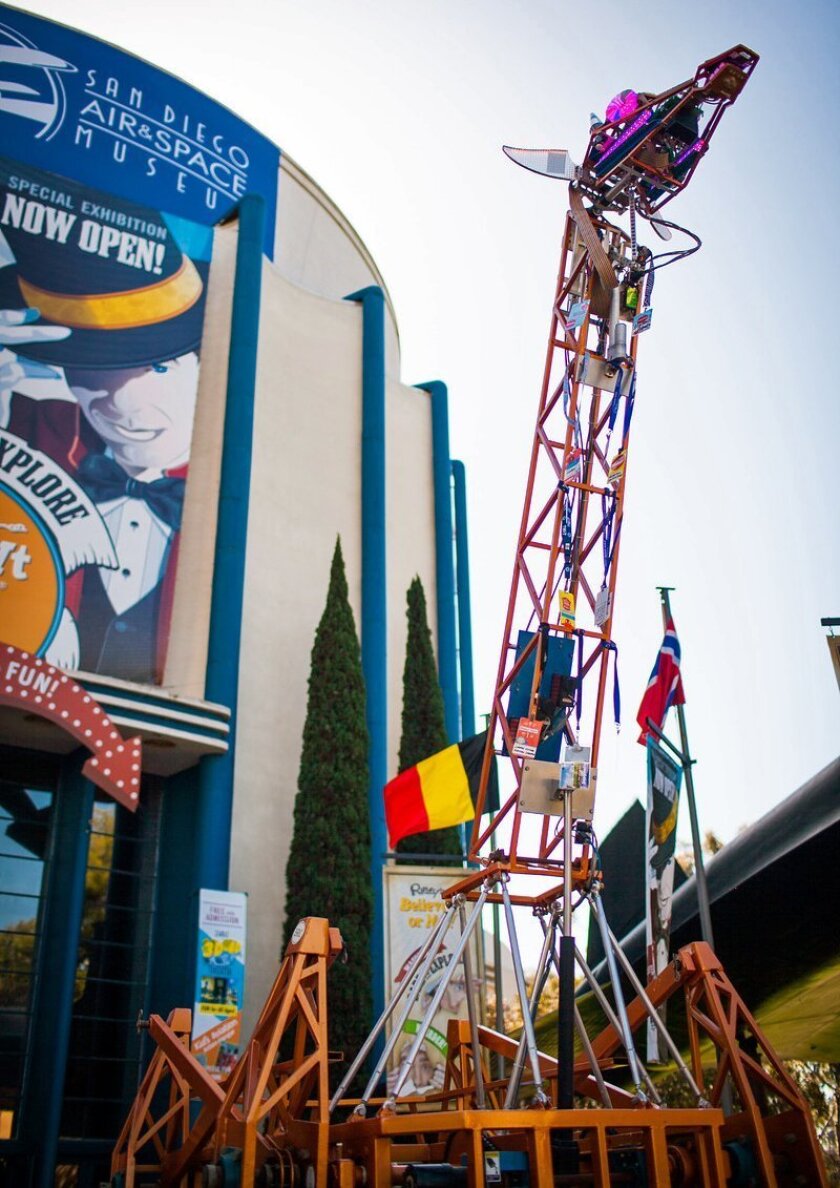 There will be activities and exhibits everywhere. Making a return visit to this year's STEAM Family Day will be Russell, the 11-foot tall electric giraffe in front of the Reuben H. Fleet Science Center. While you're there, make and race a pinewood car, and see other Maker exhibits (highly creative, do-it-yourself contraptions that educate and entertain with their applications of technology).
See a working scale model of the Panama Canal (San Diego History Center); an exhibit about recycling (San Diego Art Institute); electric car conversions (San Diego Automotive Museum); music and dance performances courtesy of the House of Ireland (one of the House of Pacific Relations International Cottages); the use of creative math and engineering to create handmade beads (Mingei International Museum. Learn about the bugs that make the Japanese Friendship Garden beautiful and make a butterfly finger puppet; enjoy free puppet-making and a full-stage marionette production (Marie Hitchcock Puppet Theater); butterfly crafts, face painting and live butterfly releases (Friends of Balboa Park and San Diego Floral Association); and, at 2 p.m., a massive launch of paper airplanes at the San Diego Air & Space Museum and a kid-oriented, free organ concert at 2 p.m. in the Spreckels Organ Pavilion.
Be sure to enter the free drawings at the Balboa Park Visitors Center. Prizes will include a family 4-pack of admission tickets to the San Diego Air & Space Museum and MathAlive!, tickets to a San Diego Junior Theatre performance, Old Town Trolley/Seal Tour tickets, four tickets to the San Diego Youth Symphony and dinner for four at the Cosmopolitan Hotel from Fiesta de Reyes/Old Town State Park.
For complete information about STEAM Family Day, visit https://www.balboapark.org/STEAMday.
Activities will take place between 11 a.m. and 3 p.m., and are free with paid museum admission. Participating museums are also offering free admission to children 12 and under with a paying adult. Be sure to get there early for the best parking, as this is a very popular event. A good alternative will be MTS bus service.
STEAM Family Day is only part of the annual San Diego Festival of Science & Engineering. From March 14 to 21, enjoy a week of interactive demonstrations, hands-on activities and dynamic speakers designed to engage kids in STEM (science, technology, engineering and math). The week culminates in the free Science & Engineering EXPO DAY at PETCO Park on March 21. For a complete schedule, visit www.lovestemsd.org.
"Chappie"
Considering its extreme violence (which seems appropriate for this, an R-rated film), "Chappie" is a clever, surprisingly endearing story. Set in the near future in South Africa, starring Sigourney Weaver ("Alien") and Hugh Jackman, and from the director of "District 9" (another fascinating sci-fi film set in South Africa), the premise for "Chappie" is, on a superficial level, reminiscent of the original "Robocop" film. Crime is fought by an army of mechanized police robots. They were doing just fine until someone decided that they were not getting enough recognition for their work. They were in a position to disrupt the system, and they did so with major consequences.
Enter Chappie. Once a soulless member of the mechanized police force, Chappie was seriously damaged in a police operation. Being sent to the scrap heap proved to be Chappie's ticket to have a human-like, benevolent and kind consciousness. His is a story of compassion and family. That and more is what makes Chappie so special, and what makes the movie so heartwarming. Chappie is taught to rap. The results are hilarious.
I won't say any more. Hopefully you get the idea. If you can tolerate the violence of the confrontations, "Chappie" is a must-see film. I also think a sequel might be under serious consideration, depending upon how well "Chappie" does at the box office. For information and to see a trailer, go to https://www.sonypictures.com/movies/chappie.
As always, please write to AutoMatters@gmail.com with your comments and suggestions.
Copyright © 2015 by Jan Wagner – AutoMatters+ #375
---
Get the Del Mar Times in your inbox
Top stories from Carmel Valley, Del Mar and Solana Beach every Friday for free.
You may occasionally receive promotional content from the Del Mar Times.