AutoMatters & More: Volvo in the U.S. — 60 Years Young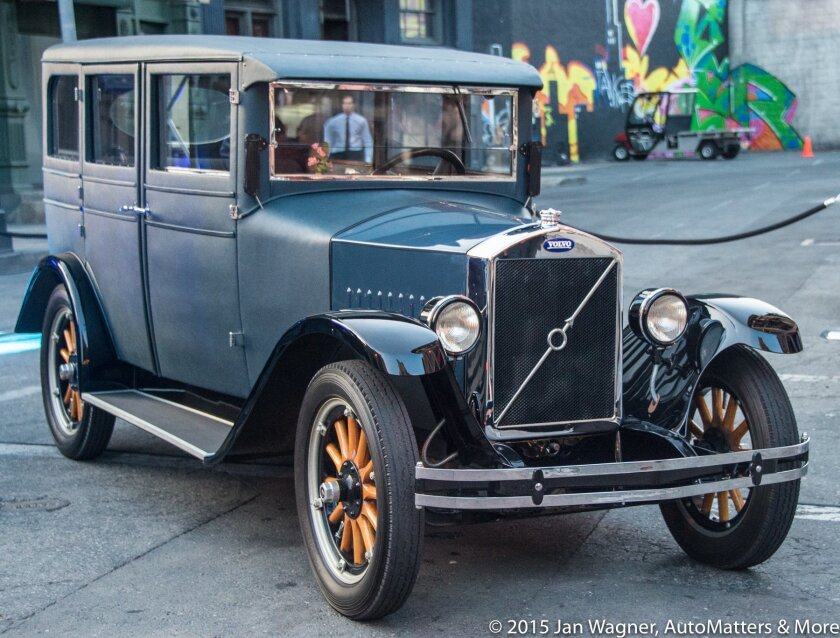 Los Angeles was the destination of the very first Volvo imported to the U.S., so it was especially appropriate that the Swedish automaker celebrated 60 years in the United States with a '50s-themed party at Paramount Studios in Hollywood. An exceptional collection of historical and new Volvos was displayed within the iconic Paramount City Streets back lot.
The vintage Volvos included an ultra-rare 1928 PV4, Volvo's first covered car; a 1955 PV444, the first Volvo exported to the U.S.; and the beautiful 1967 P1800S sports car that was driven by Roger Moore in the Sixties TV series "The Saint."
Guests toured the back lot and dined on Scandinavian food. A live band played dance music. Jay Leno — himself a vintage Volvo owner — entertained and posed for photos with countless star-struck guests. Volvo commercials played on the big screen at the drive-in theater. A caricature artist drew portraits.
Behind one of Paramount's storefront facades, Bowers & Wilkins had a listening room where audiophiles enjoyed the high tech, 19-speaker, 1,400-watt entertainment system available in the Volvo XC90 sport utility vehicle.
In a gallery, classic Volvo print ads were displayed like works of fine art. One such ad, with a picture of a Volvo 544, was titled "Farewell, old friend." Its copy reminded readers that the 544 had been providing fast, economical, enjoyable transportation for 20 years, but compared its dated styling to that of a 1941 Ford. In contrast, the Volvo 122S heralded fresh, new styling, a choice of two doors or four, an available automatic transmission, more comfort, more room and 25 mpg fuel economy.
Another early ad, for the Volvo Canadian, was titled "Drive it like you hate it." It reasoned that if a Volvo could hold up under Swedish driving (no highway speed limits), survive Swedish roads (80 percent unpaved) and withstand Swedish winters (30 degrees below), then a Volvo would hold up under anything. It went on to say, "Volvos were driven right off showroom floors to race tracks, where they proceeded to win more races than any other compact ever made."
Volvo's styling took another giant leap forward with the introduction of the 1800S grand touring sports car. One ad favorably compared it to Ferraris and Aston Martins costing more than $10,000, whereas the 1800S cost only $3,920. Shared features included a 4-speed, all synchromesh transmission with optional overdrive; "a real trunk with room for real luggage;" and complete instrumentation — including a tachometer, electric clock and oil temperature gauge.
A print ad from 1973 reminds us that Volvo was committed to safety long before it became mandatory. In 1956, Volvo installed padded dashboards in their cars — 12 years before the government required them. Then in 1959, Volvo became the first mass-produced car in the world with safety belts as standard equipment. It was not until nine years later that all cars had them.
For 1973, Volvos also had other safety features not required by law, including impact-absorbing front and rear ends, four-wheel disc brakes with a pressure-proportioning valve to reduce the chances of rear-wheel lockup, childproof rear door mechanisms, and rear window defrosters.
The laminated windscreen was introduced on the PV444 in 1944 — the first car in the world to have one.
A rear-facing child seat entered production in 1967. 1n 1990, an inertia-reel seat belt for the rear center seat became standard equipment, followed by automatic height adjustment for safety belts in 1991.
Introduced on the Volvo XC90 in 2014, Intersection Braking is designed to apply the brakes if a driver on a two-way main road fails to notice oncoming traffic and attempts to turn across its path — a world first, and part of Volvo's City Safety system.
Volvo has come a long way in 60 years. To usher the company into the next 60 years and beyond, Volvo announced an $11 billion investment plan, and intends to introduce a new car every year through 2020.
One of those vehicles is the XC90 Twin Engine Plug-in Hybrid. It is a luxury SUV, with exclusive features that include a handcrafted gear shifter made from Orrefors crystal.
As part of its long-term commitment to the United States, Volvo announced construction of a factory in Charleston to "produce American cars on American soil in 2018."
Learn more about Volvo at https://www.volvocars.com/us, and visit the Volvo exhibit at the LA Auto Show (Nov. 20-29).
Please write to AutoMatters@gmail.com with your comments and suggestions.
Copyright © 2015 by Jan Wagner – AutoMatters & More #409
---
Get the Del Mar Times in your inbox
Top stories from Carmel Valley, Del Mar and Solana Beach every Friday for free.
You may occasionally receive promotional content from the Del Mar Times.