Education Matters: Tracking teacher absences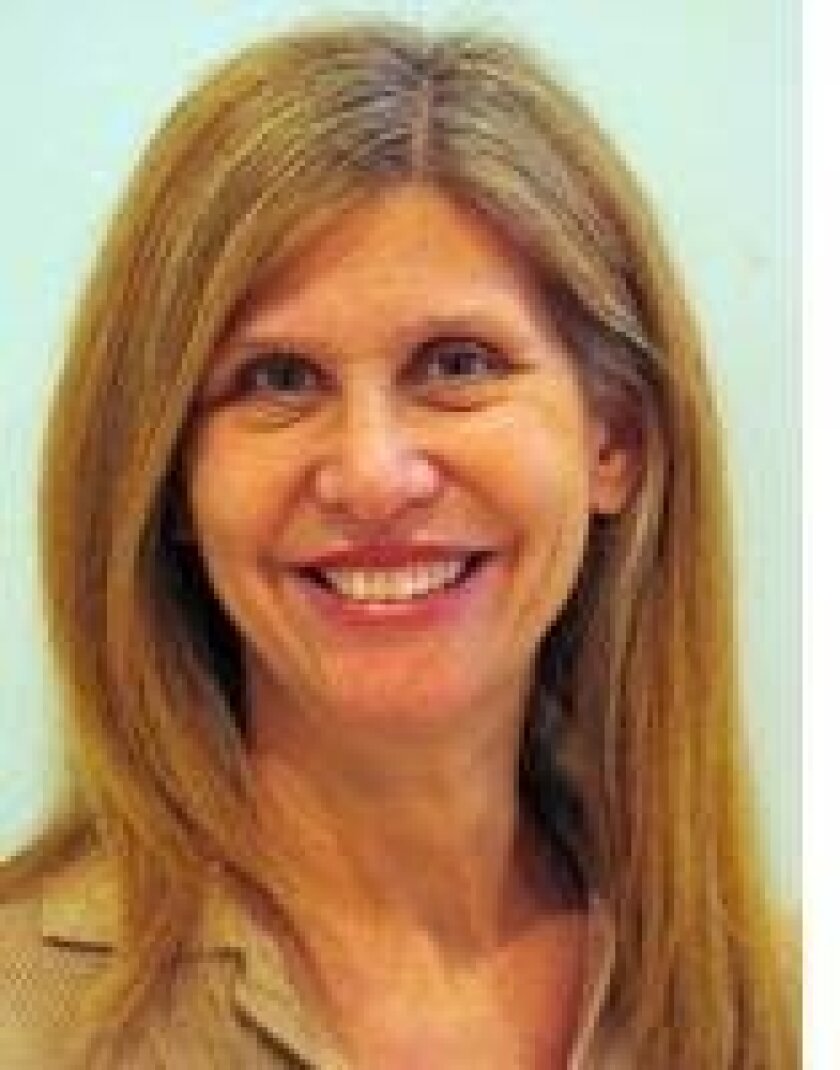 Data provided by the U.S. Department of Education show that teacher absenteeism may be more of a problem than student absenteeism, which receives more attention.
An article in the Aug. 15, 2016 San Diego Union-Tribune provided a link for data for each school district and school in San Diego County. And what the statistics reveal isn't good.
The U.S. Dept. of Education (USDOE) defines chronic absenteeism as missing 10 or more days in the school year for teachers and 15 days for students.
Most Calif. school districts offer teachers about 10 paid sick days per year, and those can also be used as personal days (funerals, sick kids or parents, car trouble, or other personal business or voluntary absences).
Teachers generally don't receive vacation days since they have off the same holiday and summer breaks that students receive.
The charts shown at the end of this column provide data, self-reported, for local schools for the 2013-2014 school year from the USDOE website, as reported by the San Diego Union-Tribune. Schools opened since 2014 are not included.
In the San Dieguito Union High School District, Carmel Valley Middle School had the highest rate of chronically absent teachers, at 26.5 percent, followed by Torrey Pines High School (at 23.3 percent), Canyon Crest Academy (at 22.3 percent), and Oak Crest Middle School (at 21.9 percent).
Three elementary districts – Del Mar Union, Encinitas Union and Solana Beach – fare no better. Locally, only Cardiff and Rancho Santa Fe school districts had zero percent chronic teacher absenteeism.
Totaling the per-district numbers, the data show that 91 out of 473 full-time teachers at the San Dieguito district equals 19.24 percent chronically absent.
For Del Mar, the number of teachers chronically absent is 22.67 percent (56 out of 247). It's 17.2 percent in Encinitas (42 out of 244), and is 19.56 percent for Solana Beach (27 out of 138).
The number of reported teacher absences does not include "administratively approved leave for professional development, field trips or other off-campus activities with students."
This is according to the 2013-2014 Civil Rights Data Collection report (U.S. Dept. of Education, Office for Civil Rights – ocrdata.ed.gov). The CRDC collects this data every two years.
So what's shown is only the number of teachers who took 10 days or more of sick leave and/or personal leave, although this is disputed by at least one local school district.
That means that as high as these numbers are, the number of days teachers are absent is under-represented, because the times they miss classes for school district business (union negotiations, professional development or other training) are not included in these statistics.
Teachers who also coach a school sports team often miss classes when they need to travel off-site with their teams for a match or game.
When this happens, a substitute teacher is required, but the absence is not reported as a sick day or personal leave and thus is not part of the federal data.
Those teachers are paid for the missed class, said SDUHSD's associate superintendent of human resources Torrie Norton, "and it is reported as 'school business' in our absence system."
Del Mar
Jason Romero, Del Mar Union School District's assistant superintendent of human resources, "empathically refuted" the numbers the USDOE shows for Del Mar.
"They have to be using data that includes professional development," he said.
"We closely monitor our certificated employee absences, and we have actual data that drastically contradicts (to the tune of less than half of what was shared in the report) what is being reported by the USDOE," he said.
The true number of chronically absent teachers who missed school 10 days or more for sick leave or personal leave for 2013-2014, he said, was 33 out of 247, or 13.4 percent – not the 22.67 percent the USDOE data show.
Romero said DMUSD's internal system specifically categorizes the reason for teacher absences, but there's no way to exclude from the reports the days teachers miss school for district business like professional development.
"When I factor in the professional development, I get close to the number the U.S. Dept. of Education shows," he said.
San Dieguito
San Dieguito's associate superintendent of instructional services, Mike Grove, said,
"It's pretty clear on the reporting document that you should exclude professional development" and other absences due to district business.
He said districts must report every absence "other than school business" – even maternity leave and medical leave, because for both of those categories sick leave is used up first.
Grove said SDUHSD was "right around average or even a little below" the rate of chronic teacher absenteeism at other high school districts, noting that high schools in general seem to have higher rates of absenteeism than elementary school districts.
The reports, he pointed out, don't say whether the chronically absent teacher missed just 10 days or many more than that. Teachers work 180 days in the school year, and missing 10 days, he said, was only 5.5 percent.
"Adults have more absences than kids," Grove said, because it's not just the teachers who may get sick but they often need to use those sick days to take care of their own sick kids.
Solana Beach
According to the data from USDOE for 2013-2014, the Solana Beach School District had zero chronically absent students at all six schools, which is either bad reporting or an amazing attendance rate.
Terry Decker, SBSD superintendent, confirmed the number was inaccurate.
He explained that a transition occurred when the staff member responsible for data reporting left the district and the duty was handed over in 2015 to a different department unfamiliar with the procedures.
Decker said the correct numbers in 2013-2014 for chronically absent students (those absent 15 or more days) were: 13 at Carmel Creek (2.3 percent), 11 at Skyline (2.1 percent), six at Solana Highlands (1 percent), six at Solana Pacific (1.3 percent), 14 at Solana Santa Fe (3.6 percent), and nine at Solana Vista (1.8 percent).
The other curious statistic in SBSD is the high rate of chronic teacher absenteeism at Solana Santa Fe School in Fairbanks Ranch (eight out of 17, or 47.1 percent).
"Upon checking, we found that the teacher data was also inaccurate," Decker said.
He said instead of 27 teachers in the district chronically absent in 2013-2014, there were only 10: three at Solana Santa Fe, two at Carmel Creek, two at Solana Highlands, one at Solana Pacific, one at Skyline, and one at Solana Vista.
Ten teachers with chronic absenteeism, out of 138, is about 7.2 percent, rather than 19.5 percent the USDOE numbers show.
"As with the student data, the staff members compiling the reports were new to the process," Decker said. "They included absences that should not have been part of the reporting, and that increased the number of teachers for each school."
He attributed the problem to "a training gap we need to address."
Decker said it's common in small districts for one employee to handle such reporting.
"While that may seem convenient at the time, it leaves a significant knowledge gap should the person leave the district," he said.
Two areas of concern
There are two major areas of concern with teacher absenteeism:
n Having frequent substitute teachers in the classroom, resulting in interrupted learning lessons, has been closely linked to lower student achievement.
n The cost of hiring substitutes represents a significant impact on school district finances.
A 2014 U.S. News and World Report article reported on the detrimental effects of teacher absenteeism, stating, "Previous research from the National Bureau of Economic Research has shown that when teachers are absent for 10 days, there is a significant decrease in student outcomes."
Going back to 2012, a report by the Center for American Progress think-tank stated that attention to teacher absenteeism is important because "teachers are the most important school-based determinant of students' academic success. It's no surprise researchers find that teacher absence lowers student achievement."
The report also noted the financial impact on school districts nation-wide, stating, "Resources are scarce, and any excess of funds tied up in teacher absence, which costs at least $4 billion annually, should be put to better use."
The expense of hiring substitutes is significant: Many are paid up to $150 per day. And with all the focus in recent years on professional development for full-time teachers, high-quality subs are in great demand and are harder to find.
Costs
According to SDUHSD's interim superintendent Eric Dill, the cost to hire substitute teachers in the 2015-2016 school year was about $513,000 for illness or personal leave and about $226,000 for teachers out on school business, which could include professional development, other training, union-district negotiations or coaching.
Holly McClurg, DMUSD superintendent, said in 2015-2016 her district spent about $497,000 hiring substitute teachers to cover for full-time teachers out sick or taking personal leave, and about $472,000 for substitutes covering for teachers out on district business (usually professional development or other training). This was a total cost of $969,000, she said.
SBSD's Decker said that for 2015-2016 the cost of hiring substitute teachers for full-time teachers out on sick/personal leave or personal business was $269,682, and the cost to hire subs covering for teachers out on district business (again, typically, professional development or district meetings) was $201,701.
An ancillary issue is the disparity between what the districts spent for subs last year based on student enrollment numbers.
To cover for teachers out on sick or personal leave, San Dieguito, with more than 12,000 students, spent $513,000 on subs, while Del Mar, with about 4,300 students, spent almost that much – $497,000. Solana Beach was much lower, spending $269,682.
For substitute teachers covering for teachers who missed classes to attend meetings or other district business, San Dieguito spent $226,000. Del Mar spent more than twice that amount – $472,000. Solana Beach spent $201,701, nearly as much as San Dieguito which has almost four times the student enrollment.
Tim Baird, Encinitas Union School District superintendent, did not respond to questions, a staff member saying only that the district paid $120 per day for substitute teachers.
With so much focus on students attending school, these statistics on chronic teacher absenteeism paint a broader picture of another critical factor that contributes to student success.
See charts below (click on each chart to enlarge the image):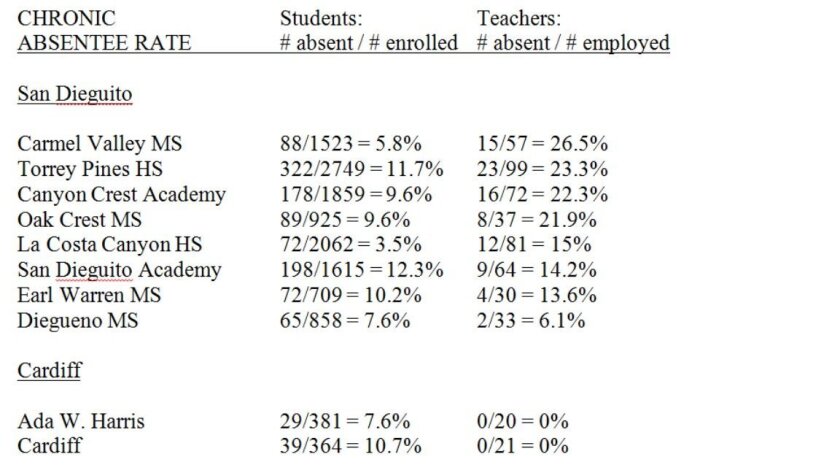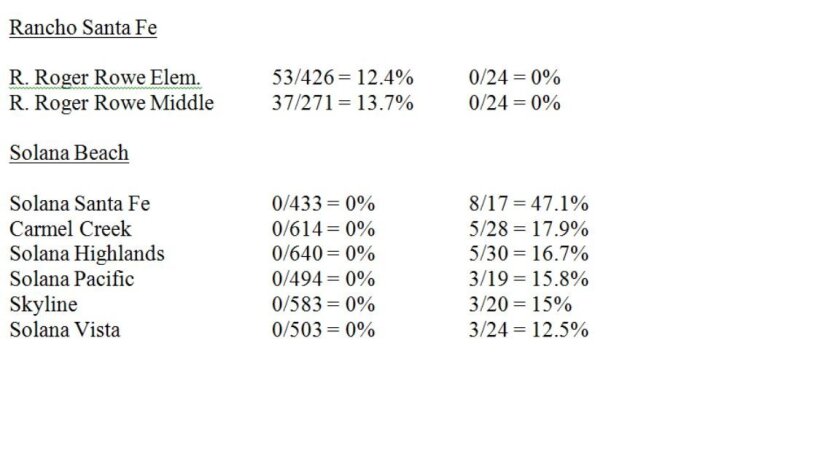 Sr. Education Writer Marsha Sutton can be reached at suttonmarsha@gmail.com.
---
Get the Del Mar Times in your inbox
Top stories from Carmel Valley, Del Mar and Solana Beach every Friday for free.
You may occasionally receive promotional content from the Del Mar Times.