AutoMatters & More: Your own Universal Translator — Timekettle WT2 Edge
As a decades-long fan of Star Trek, I grew up longing for my very own universal translator. At the 2023 Consumer Electronics Show in Las Vegas, my wish finally came through in the form of a review sample of the WT2 Edge translator earbuds, from a company named Timekettle.
Of course, I was skeptical. Who wouldn't be, but I am skeptical no more. They've actually done it. Consider my mind blown.
At first glance it would look to the casual observer that I was wearing a common earbud, like what you might use with your cell phone to conduct phone conversations or listen to music, but the WR2 Edge (available in white and black) is anything but common. It enables its wearer, several wearers of other WR2 Edge earbuds and people within earshot of the speaker and microphone of a cell phone, to conduct conversations in two different languages, bi-directionally and simultaneously, translated in real time, with very little delay between the people speaking.
I have only just begun to use this, so I'm sure I will learn more of what it can do. However, for my needs it already accomplishes what it was designed to do.
The Timekettle WT2 Edge has three distinct modes of operation: "Simul Mode," "Touch Mode" — where any single user can take control of the microphone and deliver their translated speech to all participants, and "Speaker Mode." I was in my office doing this review and needed the assistance of a foreign language speaker but, since I was the only person here, I used "Speaker Mode" in conjunction with the Timekettle App for the WT2 Edge. The app enabled me to select my desired mode ("Speaker Mode"). Then, with my iPhone on my desk a couple of feet from my computer's speaker, my iPhone's microphone captured the sound of my computer reading the text of one of my columns in Spanish (further refined to the language as it is spoken in Mexico). It was a simulation of me having a conversation with a Spanish speaker, while I was speaking English.
Here is exactly what I did. First I took the left earbud out of its charger and opened the Timekettle WT2 Edge App. The app instantly recognized the earbud as a "New Connection" and connected to it. It even showed me its remaining power level.
I clicked OK and, on the next page, I clicked on "Speaker Mode." I had already chosen the two languages (Mexican English and U.S. Spanish). I attached the handy over-the-ear hook to the earbud (to keep it more securely in place), slipped it over my left ear and then selected a paragraph of text in one of my columns. I was about to right click on that text (on my IMac Pro) and select "Translate," but as I was about to do that I mumbled something to myself. A moment later, and to my complete surprise, my iPhone repeated what I had just said, but translated into fluent Spanish! I was having a conversation with myself — in two different languages! In practical terms, it was as if I was having a conversation with someone else, with me speaking English and the other person speaking Spanish. A written copy of the text of our conversation was also being generated on the Timekettle app as we spoke, to be exported for later use, if need be.
I have only just begun to scrape this surface of what the Timekettle WT2 Edge is capable of being used for. I need more practice with it and the Timekettle App, but what I have seen so far is very encouraging.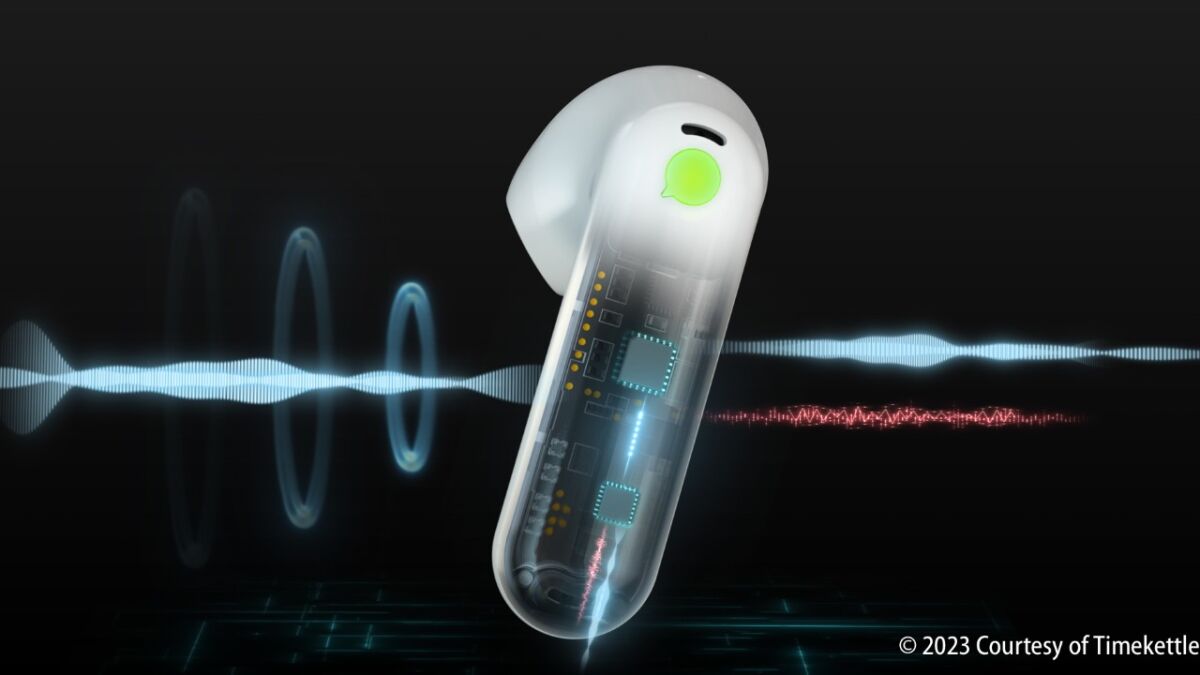 Dual microphones with noise reduction allow the WT2 Edge to accurately distinguish between ambient noise and speech. It is capable of simultaneous bi-directional, real-time translation, breaking a major technological barrier. When used online, it supports up to "40 languages and 93 dialects" (with optional language packs), and it can also translate offline with nine of the most common languages. "With 15 servers deployed worldwide, translation speed can be as rapid as .5 seconds."
To learn more about the Timekettle WT2 Edge and the other Timekettle translation products, visit bit.ly/3krM2KE
To explore a wide variety of content dating back to 2002, with the most photos and the latest text, visit "AutoMatters & More" at https://automatters.net. Search by title or topic in the Search Bar in the middle of the Home Page, or click on the blue 'years' boxes and browse.
Copyright © 2023 by Jan Wagner – AutoMatters & More #780
Get the Del Mar Times in your inbox
Top stories from Carmel Valley, Del Mar and Solana Beach every Friday for free.
You may occasionally receive promotional content from the Del Mar Times.