AutoMatters & More: Comic-Con International presents WonderCon 2023
This has been quite the couple of weeks. My coverage of WonderCon was followed the next weekend by the Goodguys Del Mar Nationals on Saturday and the NHRA Winternationals at In-N-Out Burger Pomona Dragway on Sunday.
This week I am excited to share with you WonderCon (March 24-26, 2023). Held annually, WonderCon is presented by Comic-Con International — the same organization that presents San Diego Comic-Con, "the largest comic book and popular arts convention in the world, according to Guinness World Records." To see coverage of several years of that event in "AutoMatters & More," enter San Diego Comic-Con in the Search bar in the middle of the AutoMatters.net Home Page.
WonderCon originated in 1987, in Oakland, California. It moved from there to the San Francisco Bay, and then — with the exception of one year at the Los Angeles Convention Center (in 2016)— to its current home at the Anaheim Convention Center, near Disneyland.
First and foremost, WonderCon is three days of fun. Inside and outside the Anaheim Convention Center, and on the street leading to the nearby Toy Story Parking Lot at Disneyland Park, many attendees wear costumes similar to those worn by characters in comic books, movies and TV shows. Individually and in groups, they are perfectly happy to stop and pose for photos. Near the large fountain in front of the convention center, which is a popular gathering place for attendees, I came upon one such person costumed as Spider Man. He carried with him a long, white piece of rope that he helpfully used to simulate casting his spider's web to the lens of my camera, which I photographed. Acting in character in this way is part of what is referred to as cosplay. A great display of cosplay is held at the WonderCon "Masquerade," where costumed individuals and small groups of attendees compete for awards. Accompanied by recorded sound tracks, some walk out on stage and show their costumes briefly, like you might see in a fashion show, while others perform short skits to entertain the audience.
Some of the presenters included "NBC Universal, Warner Bros., Discovery, Fox, BANDAI NAMCO, AMC Networks and Paramount.
WonderCon had hundreds of panels (overlapping in their times, so you had to choose between them), in which panelists, in rooms large and small, discussed a wide range of popular culture topics, including the history, art, technology, writing, production, music, special effects, storytelling, business, social media, collectibles, costumes, games, makeup, design and much more with regards to movies, T.V. dramas, cartoons, books, cosplay and comics. Some panels were about specific TV shows, in which cast members sat on the panels, and clips from upcoming episodes were shown. I watched a panel for NBC's "Quantum Leap" T.V. series. One recurring panel which I learn from every time is called "Full Time Creative Work On A Part Time Schedule," which followed another panel called "The Importance of Online Branding and Professionalism."
In the large "ARTISTS' ALLEY," numerous artists, actors, celebrities and others sat at tables signing autographs and chatting with their fans.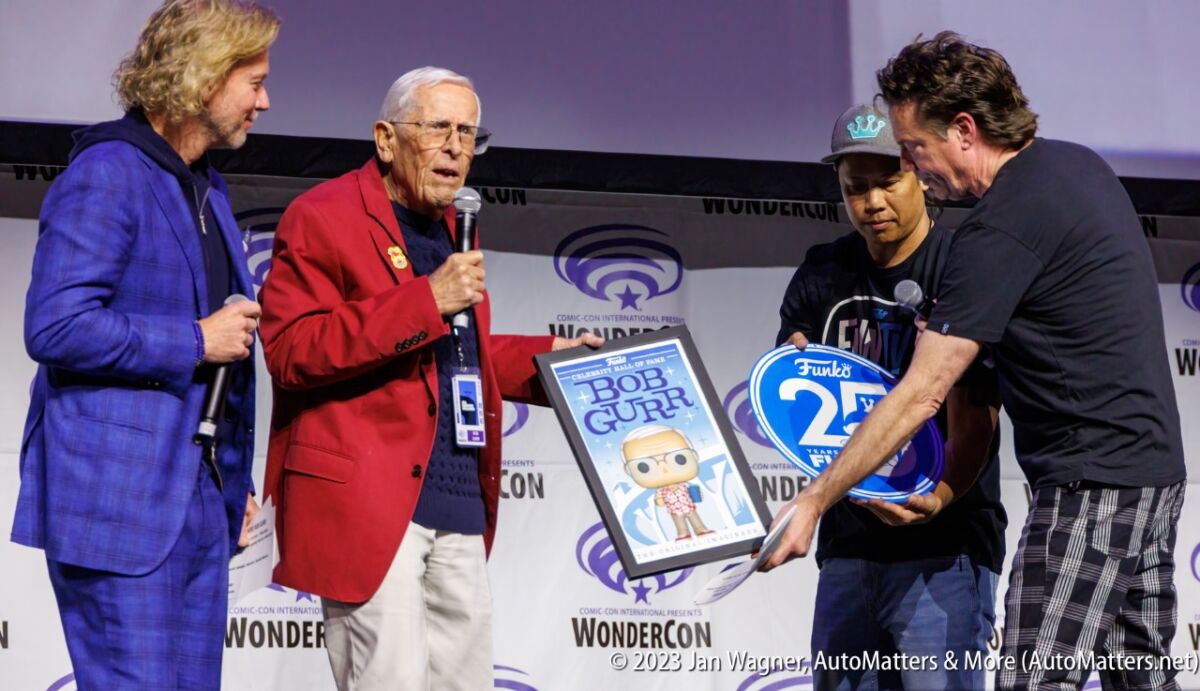 Hundreds of vendors were selling all sorts of products and services, including: comic books, games, cosplay accessories, clothing, art, memorabilia, books and magazines, and much more. Funko had an especially large and wildly popular space in the exhibit hall, selling their Funko Pops and other collectible merchandise by the shopping bagful to eager customers who had to wait in long lines just to get in to shop. In conjunction with this, their 25th anniversary, Funko presented a well-attended program event called "Funko: Pop Talk Live." Highlights included a tribute to Disney legend Bob Gurr, and concluded with the distribution of the Special Edition "Arena Freddy" to each and every one of the hundreds (perhaps thousands) of fans in attendance there.
One area of the exhibits floors was occupied by Star Wars cosplay, complete with functional R2 astromechs. There was even a panel about how to build your own!
While people of all ages attend and enjoy WonderCon, according to the organizers' "recent data, 53% of WonderCon attendees are under the age of 30 years."
To explore a wide variety of content dating back to 2002, with the most photos and the latest text, visit "AutoMatters & More" at https://automatters.net. Search by title or topic in the Search Bar in the middle of the Home Page, or click on the blue 'years' boxes and browse.
Copyright © 2023 by Jan Wagner – AutoMatters & More #784r1
Get the Del Mar Times in your inbox
Top stories from Carmel Valley, Del Mar and Solana Beach every Friday for free.
You may occasionally receive promotional content from the Del Mar Times.