New City Councilmember Barbara Bry says she's 'all in'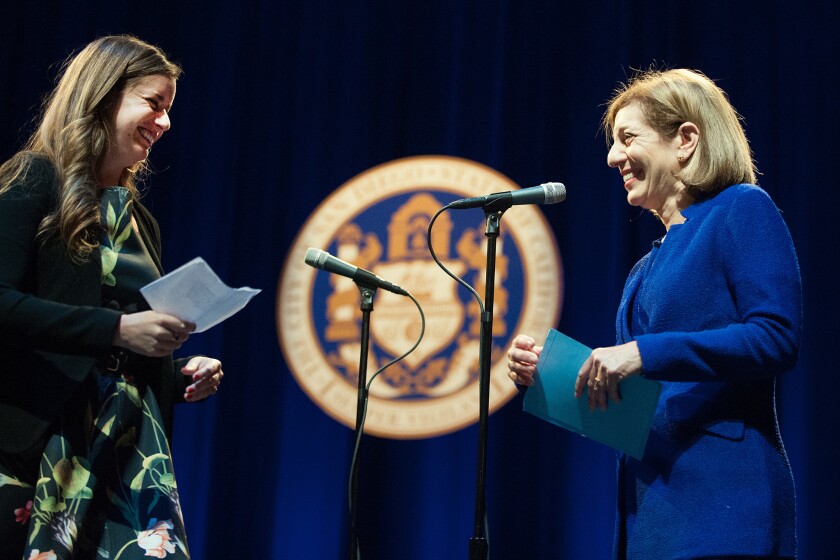 New District 1 Councilmember Barbara Bry was sworn in at the Inauguration Ceremony for the 71st city council, the mayor and city attorney on Dec. 12 at Balboa Theater. She was administered the oath of office by her daughter Rachel Kruer, who capped it off with a "Congratulations, mom."
"It's an honor to be here before you today and to some extent, a surprise," said Bry, the first high-tech entrepreneur to be elected to city council. "I had never run for anything except maybe the bus."
Her family, including husband Neil and daughters Sarah and Rachel, encouraged her to run after hearing her complain about the street in front of her office being torn up over and over again.
"I thought I can't find the cure for cancer but fixing the streets is something that a city should be able to get right," Bry said, thanking the residents who voted to put her into the position to smooth roadways, strengthen the police force, improve emergency response times and preserve the district's natural resources like bays, beaches, canyons and parks.
"District 1 is the heart of our city's innovation economy and the whole city benefits from these companies," Bry said, noting they create good-paying jobs and a strong tax base as well as develop great scientific advances. "As a high-tech entrepreneur I want to work to ensure that our city stays in the lead and I want the gains from these industries to benefit all San Diegans."
Bry will be starting day one with a full staff, ready to move forward with her plans for improving District 1 neighborhoods. Her staff includes Jamie Fox as chief of staff, who was recently chief of staff for District 3 Councilmember Todd Gloria.
She said she has hired an excellent team with diverse skills and a wide range of experiences – she expects her staff to respond rapidly to constituent needs and implementing innovative policy plans.
Bry said she plans to be out in the community with her team attending meetings, holding office hours, meeting with residents at community coffees and canvassing neighborhoods to learn about priorities of District 1 residents
"I can promise you that I will get out of bed every day focused on the best way to keep our neighborhoods safe, clean and prosperous. This is what I campaigned on, and they are my guiding principles," Bry said.
Bry said her goals may sound ambitious and that when you tackle ambitious goals you can encounter push-back, frustration and roadblocks but you can also "redefine what is possible."
"That is my goal to redefine what is possible, to expand what is doable, to be inclusive and respectful and to make decisions that benefit both my district and the city we love," Bry said.
The Inauguration Ceremony was also a time to recognize and say goodbye to outgoing District 1 Councilmember and Council President Sherri Lightner.
"I've enjoyed working with all of you and I will really miss this place…at least sometimes," Lightner said. "I'm so proud of all we have accomplished together."
Lightner highlighted some achievements such as the charter amendments to improve city government functions, unanimous budget approvals over the last two years, passage of minimum wage and the plastic bag reduction ordinance and creation of the economic development department.
Local highlights included the passage of Prop C in 2010 which enabled the completion of Pacific Highlands Ranch, including the Village and Solana Ranch Park, the building of Solana Ranch Elementary and Pacific Trail Middle Schools and hundreds of inclusionary housing units, and the purchase of sites of the future library, rec center and community park. The Rides and Smiles senior transportation program got its start in Carmel Valley and her office funded the painting of the Carmel Valley Library as well as more library hours.
"It's been such an action-packed eight years filled with so many hard-earned successes for our District 1 communities and the entire city. It would not have been possible without the support and assistance from all of our dedicated District 1 community members," Lightner said. "Thank you so much for the opportunity to serve. I will be forever grateful to the people of District 1 for entrusting me with such an important and unforgettable role."
---