Carmel Valley Friday Night Lights offers flag football, community fun
Boys and girls, from kindergarten through eighth grade, have the opportunity to play the growing sport of flag football through the co-ed youth league Carmel Valley Friday Night Lights.
The Friday Night Lights league, founded in Orange County in 2006, is currently the largest flag football league in the country with over 20,000 kids playing nationally. About 7,000 boys and girls in San Diego play FNL each year, across seasons in the fall and spring.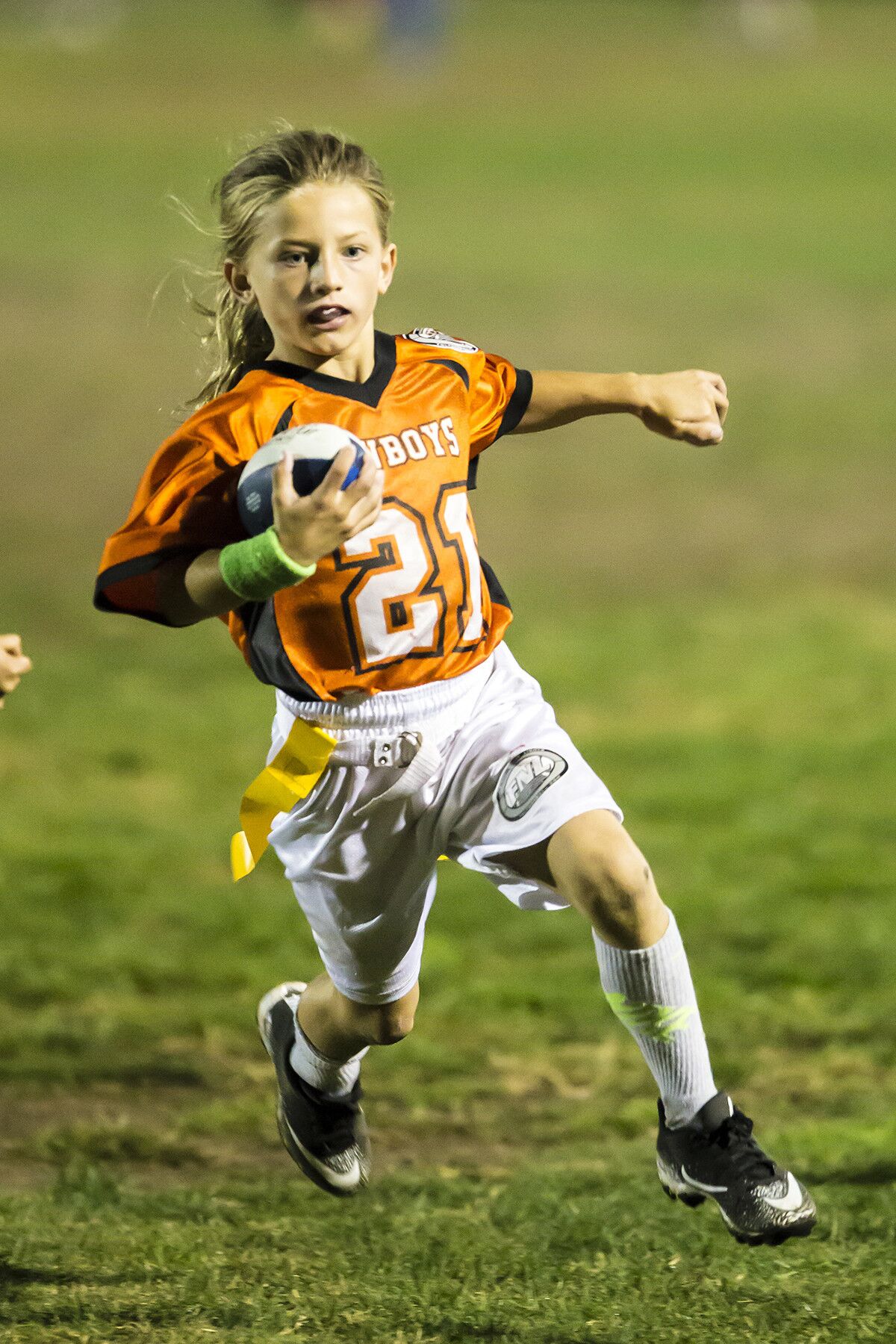 Commissioner Paul Publico started the North County Coast FNL in Carlsbad with Kelly and Thadd MacNeal in 2012. Along with "Coach Mac," Publico has run the North San Diego FNL based at the Rancho Bernardo Community Park and the Carmel Valley FNL based at Ocean Air Recreation Center, which both started in 2015.
In the first year, the Carmel Valley league had 450 kids sign up which Publico said "was beyond comprehension at the time, nobody that that would happen." He said the league must have filled a void for something that was missing as over the past two years, the Carmel Valley program has been "wildly successful," with over 3,000 kids participating. For this coming spring season, the league will be under new commissioner Ryan Gold.
"We want to keep the momentum going and Ryan is the perfect person to help take it to another level," Publico said.
Gold, a special education teacher at La Costa Canyon High School, came to FNL three years ago as a volunteer coach for his daughters' teams. He said he "immediately got hooked on the great product of FNL" and wanted to get more involved on the operations side.
"I wanted to get involved in any capacity that I could because my girls loved it and I loved it," Gold said. "Friday Night Lights is an opportunity for kids to get together and just have fun."
Publico said the league seems to draw many kids from a wide variety of activities and sports — it's not a huge commitment so kids are encouraged to play other sports. FNL allows just one practice a week and Friday night games are just 50 minutes long.
"Every single team has such a community around it," Gold said, noting that teams often include kids and families that know each other from places like school or soccer. "It's competitive but fun and all of the parents cheer for both sides whenever someone makes a great play."
There's an exciting environment under the lights, Publico said, when eight games are going at once at the park and local families are gathered together every Friday night.
"It's about getting the community together, it's a total social hour for the parents and the games are quick," Publico said. "It's fast, it's fun and community-oriented."
There are eight or nine kids per roster and everybody gets to play the same amount of non-contact football.
"Everybody is eligible to catch a pass, everyone can pull a flag, everyone can take a hand-off," Publico said.
"Everybody walks off the field with a smile," Gold said, noting the commissioners push the concept with coaches of "sharing the football" and making sure all players are engaged.
About 20 percent of the co-ed league is girls and Gold said there is a great buzz building around some powerful all-girl teams. His 4-year-old and 2-year-old girls are "itching" to play FNL and his two older daughters are extremely excited for the upcoming spring season.
While Friday Night Lights has grown tremendously in the past few years and there is lots of room to expand, Publico said the league's focus remains on making sure whatever they do is best for the kids and making sure they have a great environment on Friday nights.
Registration is now open for the spring season, visit cvfnl.com
---