Death by Tequila brings the tastes of Baja to Encinitas
Death by Tequila is now open on Highway 101, blending the coastal vibe of Encinitas with the fresh and global cuisine of Baja Mexico. Owners Chad and Jessica Mestler brought on "Top Chef" Angelo Sosa to help them create a menu that "reimagines" Mexican food—ceviche and crudo, Baja street tacos and "platos pequeños" pair up with craft cocktails, over 100 tequilas and 30 mezcals.
"Since it opened the reaction has been overwhelmingly positive and we've been slammed every night," said Chad of the month-old Death by Tequila (DxT). "It's been very well-received by the community."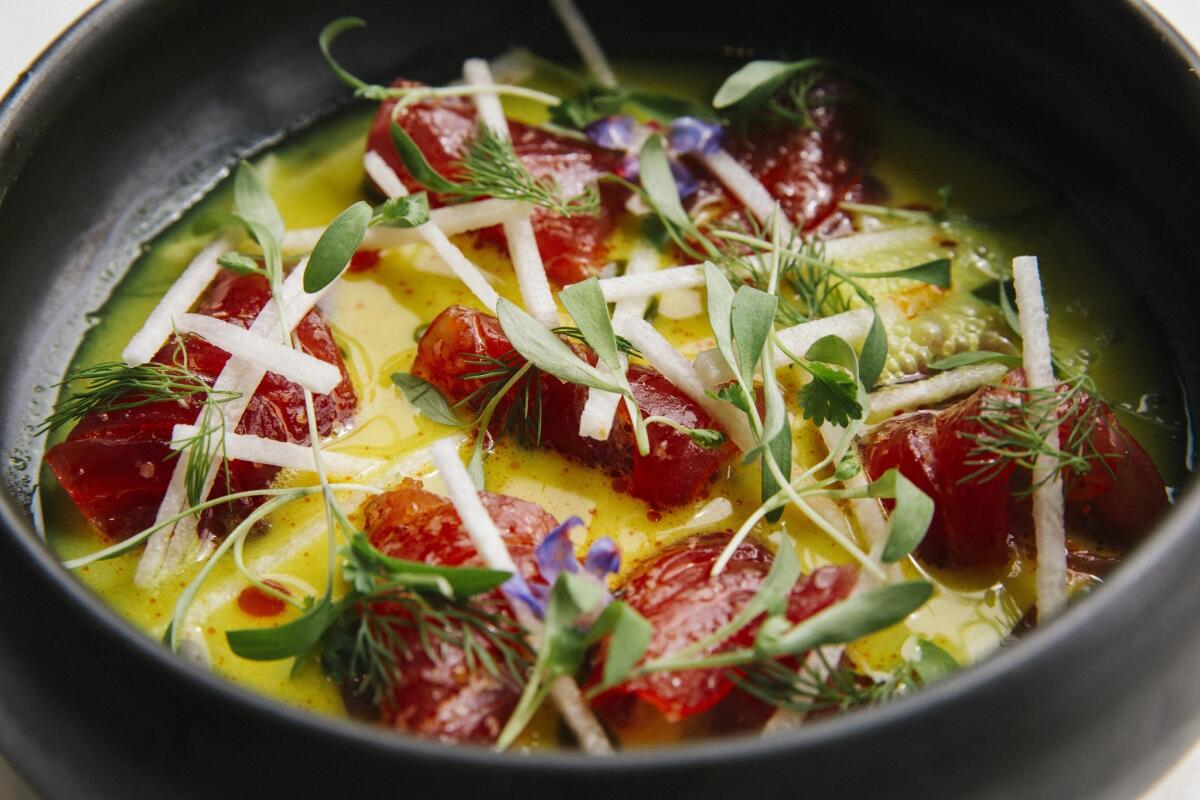 The couple is fresh to the restaurant industry—Chad comes from a real estate investment background and Jessica's experience is in marketing. Chad had acquired the space for its fixtures and had meant for it to be a buy and sell transaction but another idea began to take shape.
"It just kind of fell in our lap," said Chad of the idea to transform the former Italian restaurant into a Baja-inspired eatery. "It became a bit of a passion project from there."
The Mestlers' vision for the restaurant was inspired by the couple's surf trips to Baja—they love to experience the region's growing food and wine scene that is imaginative and fun and influenced by many different cultures.
"The food down there in Baja is special, it has the coastal vibe, it's fresh and light, colorful and flavorful and we wanted to bring that here to Encinitas," said Jessica. "It seemed like the perfect fit."
Chad says he feels a bit like he has created his own personal "clubhouse" as DxT combines everything he wants in a place where he goes out to eat or grab a drink with friends.
The Mestlers have worked hard to make Death by Tequila feel like a local establishment, utilizing local purveyors to help build the business from local artist Juan Marante's mural that spans across one wall to the plates made in Encinitas. Designer Cindy Courson blended the Baja and Encinitas surf cultures in her modern design for the space that includes tilework with natural fiber, lighting and chairs, rustic wood and lots of green succulents.
As the restaurant concept took shape, Jessica said it was fate when she met Chef Angelo Sosa at a Feeding San Diego event. The celebrity chef was the runner-up finisher on BRAVO's "Top Chef" and has appeared on "Top Chef All-Stars," "Knife Fight" and as a judge on "Chopped," as well as on "Beat Bobby Flay," "Iron Chef America" and the "Today" show.
A Culinary Institute of America graduate, Sosa has written two cookbooks: "Flavor Exposed: 100 Global Recipes from Sweet to Salty, Earthy to Spicy" and "Healthy Latin Eating."
Jessica said he was the perfect chef to create the menu they had in mind: delicious and fresh food that was not a "gut bomb," that pairs with the active Encinitas lifestyle as well as a good tequila.
Sosa's menu, created with Chef Ben McBrien, is driven by the farmers' market, starring vibrant and colorful produce from local farms. All of the dishes are meant to be shared plates—another one of Chad's visions as he loves picking off others' plates. With the small plate concept, the Mestlers want everyone at the table to be able to experience the diverse flavors and tastes.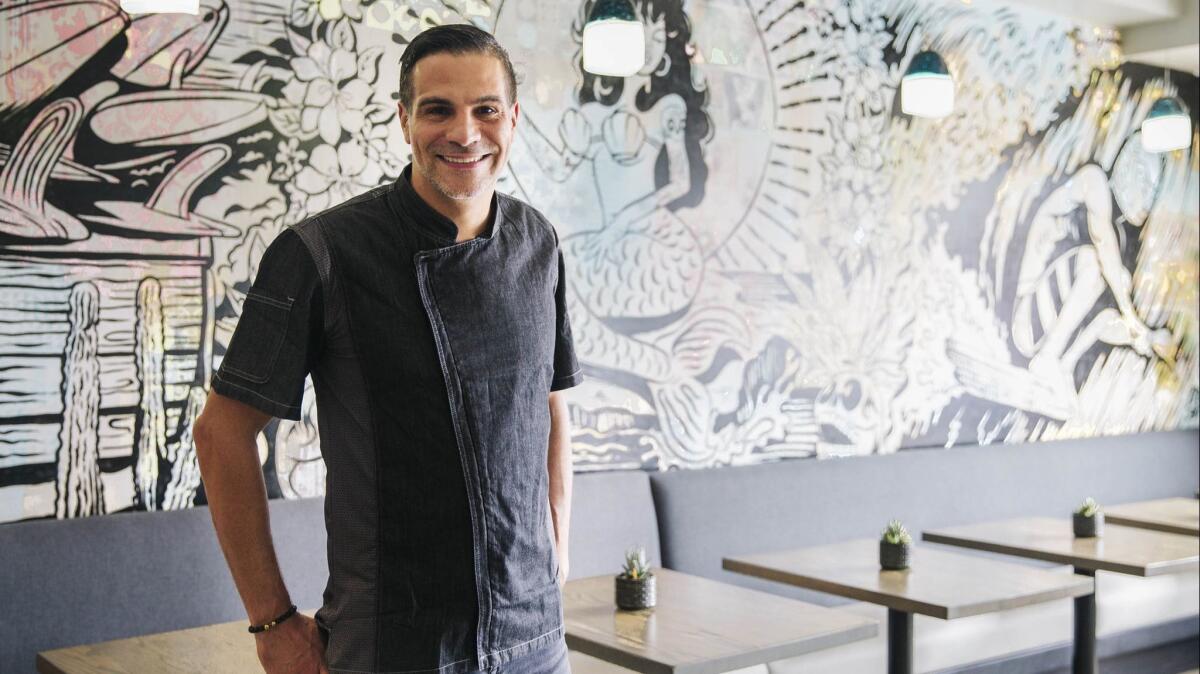 Chad said the Ahi Tuna Crudo has a "wow factor," best lapped up with a spoon to get to the coconut kaffir lime broth with jicama, chile oil, cilantro and dill. Jessica said the Elote Baja Street Tostados featuring a spin on Mexican street corn, is not to be missed, nor is the Spanish Octopus, served with house chorizo, Castelveltrano green olives and cherry tomatoes.
The carnitas are made from Duroc pork that is marinated in a red mole and pineapple skin for tenderness and then braised for several hours; and sides to sample include spicy mole potatoes, summer snap peas with lemon and fresno chile, and rice and beans spiced with turmeric and cinnamon.
The Tequila Flan dessert is a "showstopper," even for people who claim not to like flan—"Everyone who tries the flan has to sit back in their chair, it's that special," Chad said.
Although it wasn't intentional, every selection on the dinner menu is gluten-free— "We're very proud of that because it helps out a lot of people," Jessica said.
All of the drinks perfectly complement the kitchen, Jessica said. Death by Tequila serves up more than 100 tequila and 30 mezcal selections, Mexican craft beer that people don't expect to see in San Diego, wines from Valle de Guadalupe, and twists on classic Mexican cocktails like the Frothing in Puerto, made with Gracias a Dios mezcal, lemon, vanilla, pineapple and egg white served in a coupe glass. The drink is finished with a DxT logo that is airbrushed through a stencil with bitters.
"People love the margaritas," Jessica said, noting her favorite is the farm-fresh strawberry margarita, served with black lava salt rim.
For the first timers, entering the restaurant business has been an adventure with its share of ups and downs. It's hard work but it's been fun, Chad said, and it feels awesome to know that things have been done right, with the quality of food and the experience they've created.
"It's very rewarding," Jessica said. "We've met some amazing people and we feel proud of what we've developed here."
Death By Tequila is located at 569 South Coast Highway 101, Encinitas, and is open daily. The bar opens at 3 p.m. and the dining room opens at 5 p.m. More information is available at deathbytequila.com or call 760-782-2240.