Local teacher invents math learning tool Geometiles
There's nothing more exciting for Carmel Valley math teacher Yana Mohanty than when something clicks and a student makes a connection between classroom math and the real world. Mohanty has launched her own math educational tool, Geometiles, to ensure that those clicks and connections are happening more frequently and to build excitement for a subject that sometimes struggles with a bad reputation.
Geometiles are a colorful and versatile set of interlocking tiles in shapes such as triangles, squares, rectangles and hexagons meant to make math fun and accessible and boost students' confidence. The tool is accompanied by an online resource library developed by Mohanty filled with workbooks, instruction manuals, lesson plans, problems and brain teasers that meet Common Core State Standards.
The learning tools have already found their way into numerous schools across the country.
"My main goal is for kids to have a more positive feeling about math and geometry," Mohanty said, adding that she hopes that positive feeling will affect their attitude toward learning in other areas.
Mohanty earned her bachelor's degree in electrical engineering from UCLA and went on to get her master's degree in electrical engineering from University of Massachusetts at Amherst. Mohanty discovered she had a love and passion for math and got a Ph.D. in mathematics from UC San Diego in 2002.
She taught at UC San Diego and Palomar College, and since 2007 has been a volunteer instructor at San Diego Math Circle, challenging students grades five and up to develop a deeper understanding of how to solve problems.
Mohanty also co-founded the San Diego Math Teachers' Circle, coaching local teachers. In addition, she coaches the sixth grade Ocean Air Math Club, a dedicated and talented group of students that meets at 7:10 a.m. before school.
Throughout her years of math instruction, Mohanty's teaching style was always a more hands-on approach and Geometiles were born out of that desire to teach a subject in a more engaging way.
The original idea for the product took shape in 2009 but it looked very different than it does today. She had been asked to speak at a teaching conference and was looking for a way to illustrate geometric thinking, a way of analyzing and classifying objects in the world around us, such as floor tile patterns or wallpaper.
Her initial idea was two-dimensional puzzle pieces with different wallpaper-like patterns to assemble, which she made at home with plastic sheets and a heavy-duty craft-cutting machine.
The feedback she received was that people liked them but wished the pieces would stick together — so for her next prototype, she used a thicker plastic cut by a waterjet cutting company in San Marcos. The pieces would now stick together.
In 2013, she was teaching at Tech Trek, a nature and science camp for girls at UCSD, and brought the second generation prototypes for the girls to play with.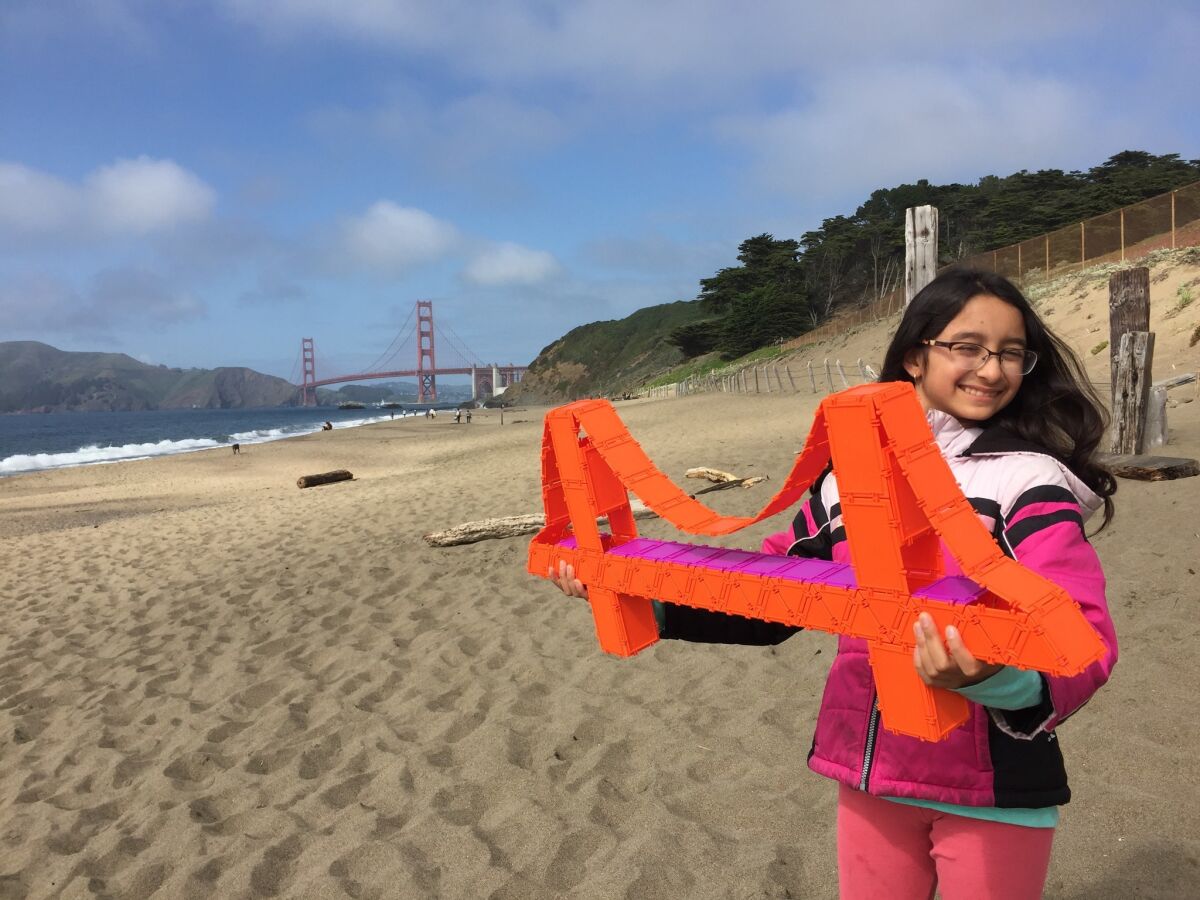 "I didn't ask them to but they made a two dimensional box by taping the pieces together," Mohanty said. "When they made that it was a turning point for me because it sent a very strong message that people wanted to make three-dimensional objects out of these things."
Mohanty hired Redpoint Engineering in Rancho Bernardo and owner K. H. Chong helped design the Geometiles and the newest version was printed on a 3D printer.
She had one set made and tested it in one of the Ocean Air second grade classrooms with the kids.
"The biggest feedback I received was: 'We want more,'" Mohanty said. "The kids just loved them and the energy was amazing, electric, I knew I had something."
Mohanty made an investment with an injection molding company in Orange County to mass produce the Geometiles, which also made the pieces much more durable. It took awhile to get the manufacturing process just right but she was able to launch her website a year ago, selling 32-piece sets, 92-piece sets and jumbo sets of 512 pieces.
Geometiles can be used to teach a variety of lessons from constructing two dimensional shapes, constructing polygons, learning about angles and ratios, teaching fractions and exploring the mathematical beauty and symmetry of Platonic and Archimedean solids.
"It's problem solving and it teaches perseverance and how to handle the experience of frustration," Mohanty said. "When something doesn't work and it's clear it doesn't work, you try something else. That process is a life skill lesson that children need to learn."
For middle school students, there are building ideas such as making a gemstone or a flower and high school students can use them to learn about volume.
They also create a nice challenge for curious adults looking to stay sharp with brain teasers like making a dodecahedron with four colors but no two faces can have the same colors.
"There's something for every level or just free play," Mohanty said.
In 2016, she took Geometiles to the National Council of Teachers of Mathematics conference, with 10,000 attendees from all over the country, and was very well received. The product was picked up by eNasco, an education supply catalog company, and several school districts purchased sets. She is also working on getting into the home schooling market.
At the California Mathematics Council-South's conference in Palm Springs, where she had 130 visitors to her booth, she showed off the product's flexibility by building a cactus out of Geometiles. For a conference in San Francisco, she constructed the Golden Gate Bridge.
"I've gotten a lot of attention and a lot of interest from all over the country. I'm really pleased with the diverse audience for this," Mohanty said, noting customers range from an art school in Chicago, a high school in Orange County, a district with lower performing students in the Central Valley that finds the product helpful for engagement, and a kindergarten classroom in Santee where Geometiles are used to help children improve their motor skills.
Teachers at one of the conferences impressed Mohanty by using Geometiles to build a hot air balloon.
"It's really fun to see what the teachers come up with," Mohanty said. "It has a life beyond me."
Learn more at Geometiles.com