Jet noise disturbs some Carmel Valley residents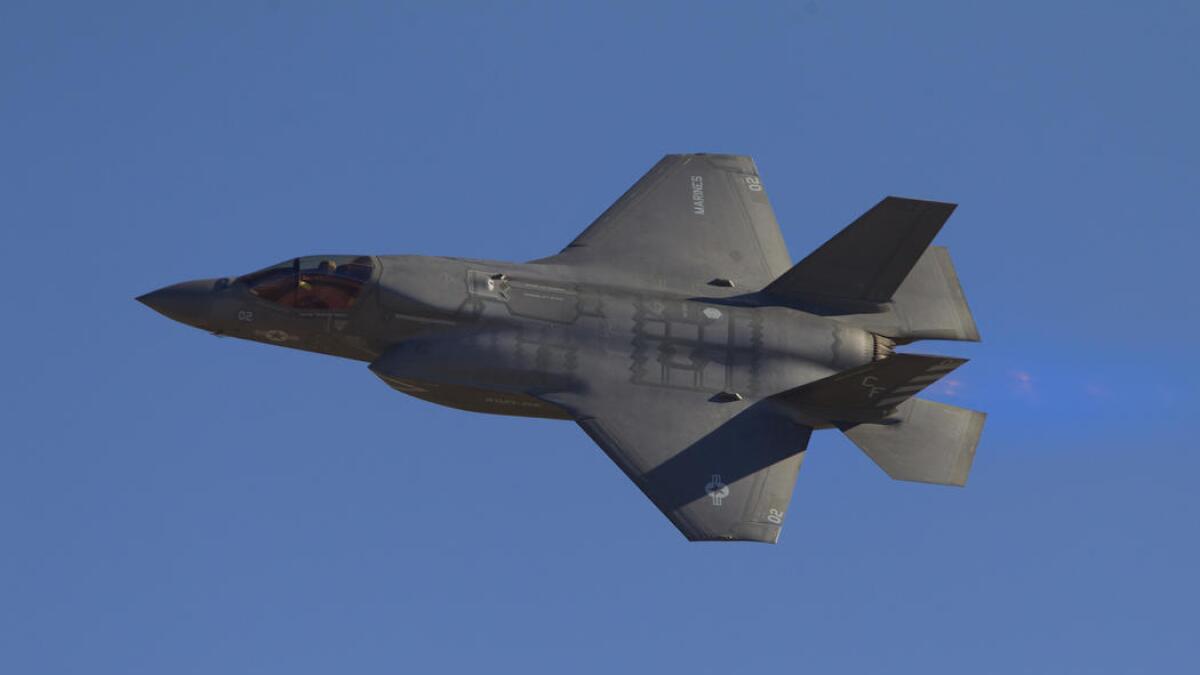 Recently some Carmel Valley residents have been making noise about the Marine Corps Air Station Miramar jets—while some call it "the sound of freedom," others lament that it is a "nuisance" that seems to have increased in frequency and volume over their homes.
Carmel Valley Community Planning Board Chair Frisco White invited representatives from MCAS Miramar to discuss the issue at the board's Aug. 23 meeting. As the previous item was being heard, a jet roared over the Carmel Valley Library, causing a presentation to take a moment and pause.
"Historically we wouldn't have flights over the library so let's talk about that flight," said planning board member Ken Farinsky.
Farinsky said the base's departures and arrivals flight paths are meant to be along the I-15 corridor and out over the ocean via the beach route, south of Carmel Valley. However, air traffic seems to be more routinely flying over the community.
"We have noticed an uptick on noise complaints," said Captain Matthew Gregory, director of communications for Miramar. "We do listen to community concerns and we try to adjust some things as best we can, however, we are very limited in what we can do because the FAA controls the aircraft once they get into the air."
Gregory said the Marine Corps hasn't changed the Federal Aviation Administration (FAA) flight patterns since they took over the base from the Navy in 1997. The flight paths for all aircraft are meant to get fighters in and out of the area as quickly as possible.
"San Diego has one of the most congested airspace in the country and we're very limited in the ways that we can get in and out of that base," Gregory said.
He said both of Miramar's flight paths are intentionally very wide in order to get aircraft safely through. While Carmel Valley is not inside the wide air spaces, the FAA can redirect aircraft outside the space, which can happen if there is, for example, a plane from Gillespie Field in the wrong path or a paraglider off course from the Torrey Pines Gliderport.
"Marine pilots have very specific instructions on where they should go and what they should do. When the FAA tells them to do something they're going to do it because ultimately safety is our number one priority. When the plane went down in UTC, that was a huge, huge tragedy," Gregory said, referencing the 2008 incident when a F/A-18 crashed into a University City neighborhood and killed four civilians on the ground. "We do not want to see something like that happen again…. It's really about safety, that's our biggest concern."
Gregory said when it comes to jet noise, there are many ebbs and flows, sometimes it can seem louder and sometimes it can seem more frequent—he said there are a couple of reasons for this.
He said one reason why residents might have seen or felt an uptick is due to a different aircraft on base. Every aircraft has a different pitch and while residents may be used to the lower pitch pattern of the F/A-18, they may not be used to the higher-pitched Air Force F-16 that has been flying in and out of Miramar for the last six months.
"Higher pitches have higher frequencies and they travel further distances, they're not necessarily louder but they do travel further so you'll hear an F-16 at a further distance than you will the F/A-18 which has a lower pitch," Gregory said.
Air temperature also plays a role, Gregory said—if air is warmer, the sound travels farther and faster meaning residents may hear a jet that is farther away in the summer months.
Another reason for the increased noise may simply be the increase in aircraft on the base, Gregory said.
"Iraq has come and gone. Afghanistan has wound down so a lot of those fighter squadrons that for decades were out doing operations elsewhere are home and they're training," Gregory said, noting that there may be more aircraft at the base now than there was five to 10 years ago.
In 2020, the base will have the F-35 which Gregory said has a five-decibel difference than the F-16. He said the single engine jet will sound very different with a higher pitch and while it will be noticeable, it won't be necessarily louder.
"As I've lived here two years, it seems like every single jet flies over my house," said board member Don Billings.
Billings said he has ringing in his ears from the noise, it's often impossible to have a phone conversation and that the jets are "extremely loud," routinely over 90 decibels over his Carmel Valley home.
He asked how it was possible when he lives outside the flight path included in the Air Installations Compatible Use Zones (AICUZ), the program devised to guide land use planning in proximity to air installations, flight corridors and military operating areas. He said Miramar should have a more formally adopted understanding with parameters on location and decibel levels.
"There isn't a clear cut way to say 'This is how we're going to operate 100 percent of the time' because we're always going to have variations within the airspace," said Kristin Camper, community liaison for MCAS Miramar.
While Billings requested that those variations be monitored, Camper said the Department of Defense does not do monitoring and it is not in general practice for military installations. She said as they did with the plan to bring F-35s to Miramar, they conduct studies of noise levels, accident potential and take public input.
"Standards are meaningless unless you operate within those standards," Billings said. "There's a perception in the community that the base operations don't have a great deal of respect for the community. I think any effort you can make to communicate transparently with the community would be very helpful because the perception is the Marines are routinely violating the flight corridors and the sound impact."
Gregory said he understands the concerns, he receives about five noise complaints a week (mostly from the UTC area), and he's lived under the flight paths but "It is a reality of where we live."
MCAS Miramar's geographic location in San Diego is vitally important due to its close proximity to both the open water and desert training areas—those distances over the ocean can't be replicated anywhere else over land.
"The southwestern region of the U.S. has 67 percent of the military airspace in the United States and 85 percent of the Marine Corp's live fire ranges, making Miramar a critical asset for the Marine Corps and entire Department of Defense," Camper said.
Vice Chair Barry Schultz said he did not want the Marines to walk away from the meeting thinking that the board disrespects the military or that the military disrespects the community.
"There are times when it's an annoyance but for the things that you guys do for this country? I'll suck it up," Schultz said.
Several board members concurred, including Vic Wintress, a former Naval aviator.
"I would like to say the military is very sensitive to the community. They operate by a very strict set of rules," Wintress said. "These guys are doing the best job that they absolutely can and they respond to us the best they can."
"We still want to be good neighbors," Gregory said. "I understand how annoying and loud it can be, but we are happy to listen."
To make a noise complaint, call MCAS Miramar Operations Duty Officer at (858) 577-4277/4279 or e-mail miramarmcas.odo@usmc.mil
While he encouraged everyone to attend the upcoming Miramar Air Show Sept. 28-30, Gregory did caution that there will be increased air and airfield operations from Sept. 23 through Oct. 1. This year's show will honor 100 years of women serving in the Marine Corps. For more information, visit miramarairshow.com