CIF champion Kira Loren to run for UCLA next year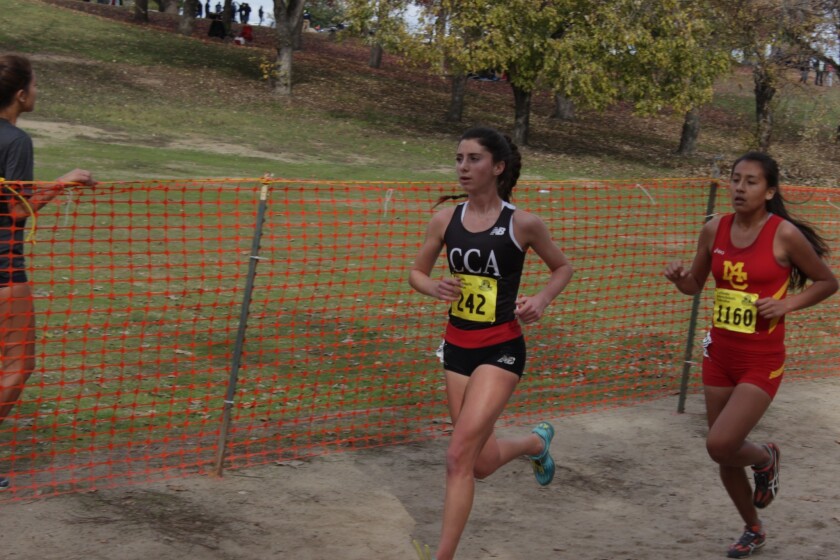 Canyon Crest Academy Raven runner Kira Loren won the CIF San Diego Section Division II cross country championship on Nov. 19. The first place finish was the highlight of Kira's high school running career, finishing the 2.75-mile course in 16.30.7.
"I couldn't believe it. I never thought I would be the CIF champion, it's so surreal," said Kira, who will run cross country and track next year for UCLA.
Kira and her CCA teammates Carlie Dorostkar, Naomi Smitham, Erin Beck, Claire Bernd, Zoe Ertuck and Corinne Chapkis took second at the CIF Sections and then went on to compete at the CIF State Cross Country Championships on a cold Saturday, Nov. 26 in Fresno.
The Ravens took ninth in the state and Kira finished in 18:13.2 on the three-mile course, placing 22nd in the state.
"Kira is one tough competitor," said Andrew Corman, who coaches CCA's cross country and track teams."As Kira finished up her only second season of cross country, she has done an amazing job setting a couple of school course records and helping the team achieve several team course records. Her hard work ethic, daily commitment to improvement, and leadership is extremely evident in her results this year."
As a sixth grader at Del Mar Heights Elementary School, Kira's PE teacher encouraged her to run and she took up cross country when she was a seventh grader at Earl Warren Middle School. While she ran track all four years at Canyon Crest, she didn't do cross country right away as she also played soccer and field hockey.
For her junior year at CCA, Kira decided to drop soccer and field hockey to focus on running, with encouragement from her track coaches Corman and Rob Lusitana.
"If it wasn't for them, I wouldn't be doing cross country. They really helped me find my passion," Kira said.
Last year, Kira's cross country season was hampered by an iliotibial (IT) band injury so her CIF San Diego and state competitions were disappointing. This year she was injury-free which she credits to working more strength training into her routine.
"I did strength every day and stayed persistent with it and it paid off," Kira said.
The CIF San Diego race was held at Morley Field on a course that she had done in an earlier meet. She knew what to expect of the course but was also in a strong field of runners from solid programs at Mt. Carmel and Rancho Bernardo High.
"There was 400 meters to go and I just felt I had so much more," Kira said. "I kicked super hard and I knew I had about 10 seconds between me and the next person."
The state meet was held on a cold day in Fresno and Kira said it took a bit to get warm. Her division was the fastest race of the day.
"I learned a lot from that race," Kira said of the strength and strategy of her competitors.
While she had hoped to place higher individually, Kira said the team was very excited about its ninth place finish. Last year the team finished 13th and Kira has high hopes for next year's squad as they have some very fast juniors and freshmen.
Kira is in the middle of a two-week break and then will begin working her way back into shape for track season. During cross country she typically logs 45 to 50 miles a week; track is about the same but with more speed sessions and targeted workouts.
In track she is a distance specialist in the 3,200 meters and the 1,600 meters. She said she loves both track and cross country equally as they incorporate different kinds of race strategies. Track is faster, flat and you know where to expect the turns; cross country courses have the unexpected challenges of hills, winding trails through canyons and a bigger field of competition around you.
"Track has smaller races (than cross country) so it's more intimidating," said Kira, whose goal this year in track is to make state again — last year she competed at the two-mile distance.
"We look forward to her continued improvement this year in the track and field season and her leadership as we transition into the Avocado West League. Kira has speed and this past year really developed her endurance, so the team will be looking to for her to score points in multiple events in dual meets," said Corman. "I am also excited as her resume is increasing so she should be able to get into some big races at Arcadia and Mt. Carmel this year to help prepare her for a return to the state track and field meet."
At UCLA next year, Kira's goals are to be an All American and bring home a Bruin NCAA championships. At UCLA, Kira will be reunited with former teammate Kelly Bernd, now a freshman and also former Torrey Pines High School track distance runner Jackie Garner, now a sophomore.
"I'm super excited," Kira said.
---