A net gain: Transition from tennis to volleyball pays off for Canyon Crest Academy's Lappe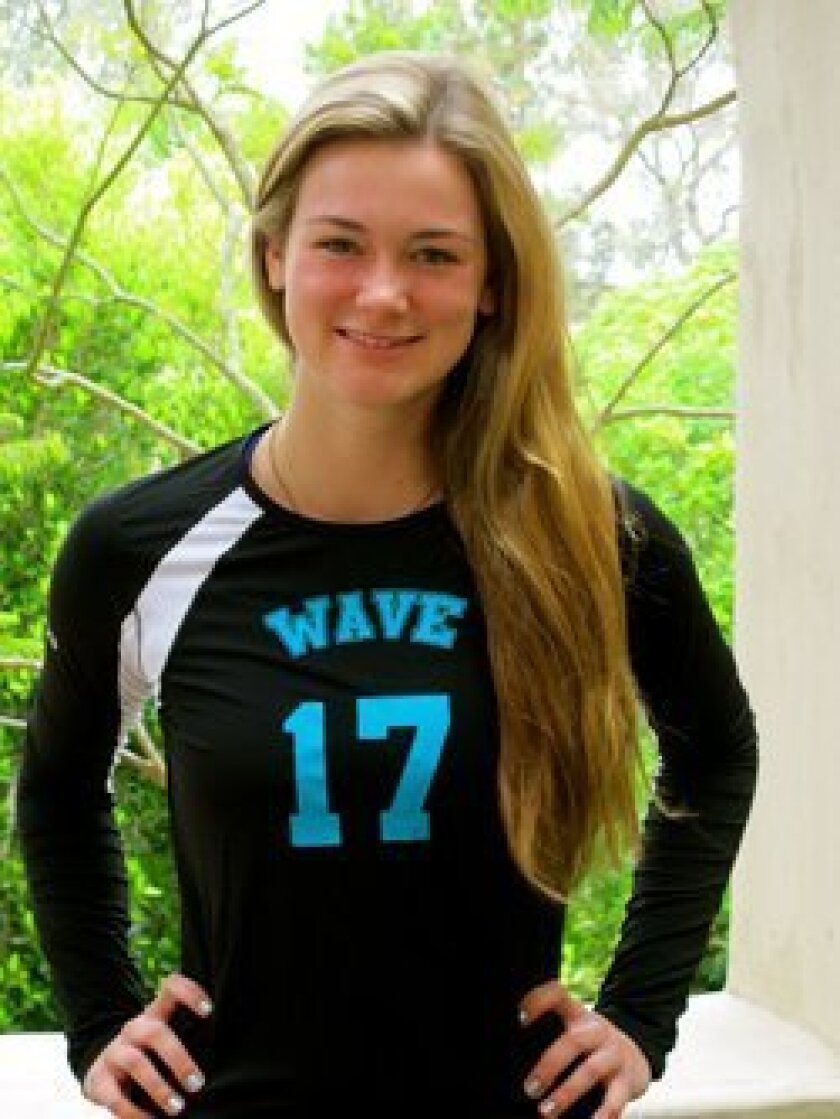 By Gideon Rubin
Caroline Lappe was a budding tennis star who'd already established her credentials on the club circuit before she even started high school.
But the next time you see her on a tennis court, she'll be playing for fun.
The soon-to-be Canyon Crest Academy sophomore opted out of tennis while she was in middle school. She is now focusing on volleyball, and has proven herself to be a quick study.
Lappe attended middle school at Francis Parker when she decided to forgo the individual-oriented game of tennis for a sport that she believed would foster more camaraderie.
"I just thought it would be a lot more fun to have a team instead of playing individually," Lappe said of her decision to switch to volleyball.
The early returns suggest she made a smart choice.
Lappe surprised everyone, including herself, last year making the varsity as a freshman.
She projects to be a starter on a team that's emerged as one of the area's most consistent programs.
The Ravens have won three straight Valley League championships and are two years removed from their best season, when they were San Diego Section Division III and Southern California regional runners up.
This year will be their inaugural entry into the intensely competitive Palomar League, which includes schools with larger enrollment.
Lappe, who plays opposite (or right side), acknowledged that making the varsity as a freshman was a surprise. She said she's thankful to coaches who took a chance on her. CCA coach Ariel Haas and his coaching staff are glad they took the risk.
"She's still new to the game but tennis translates really well to volleyball," CCA coach Ariel Haas said. "She's picked (volleyball) up really quickly and has improved significantly. She didn't play much in the beginning, but as the season went on she played more and more."
Lappe figures to take on a much bigger role in the coming years.
She's 6-foot, hits left-handed (an advantage hitting against players who are accustomed to seeing mostly righties) and is an excellent athlete.
Haas said Lappe projects to be a Division I college prospect, but acknowledged her inexperience makes it difficult to assess her upside.
"She's a 'potential' kid," Haas said. "I don't know how high her upside is because she's still new to the game, but she's picked it up quite quickly and she's developed really fast."
But her skill-set, combined with her aptitude and attitude, figure to intrigue college coaches, Haas said.
"She's athletic, she's tall and she's quite driven," Haas said.
Her progression on the club circuit has been impressive.
Lappe went from playing on the club Coast Volleyball No. 2 team last year to making the Wave Volleyball's elite No. 1 team that went on to compete in the junior nationals this summer. The Wave team finished 29th in the nation.
The transition from tennis to volleyball itself wasn't easy, and Haas acknowledged that CCA coaches forced the issue a bit putting Lappe on the varsity, where a more advanced game is faster, and where she faced opponents who were bigger, more athletic, and more experienced.
"She was in over her head last year with the speed of the game," Haas said. "She was forced to learn very quickly in practices and in games to keep up and she did. She's very determined to be a great player. She's constantly asking questions. She's very coachable as she's a good listener."
Lappe acknowledged that although the game of tennis is played as an individual, there was a team aspect to playing in tournaments where she established a sense of camaraderie with teammates.
But she said it's not the same as being involved in a sport that involves the precise orchestration of players who count on each other to know and accept their assigned roles.
"They're basically your family," she said of her experience playing on high school and club volleyball teams.
"(Teammates) are there for you when you have problems in volleyball and just in general. It's really nice to have someone to talk to and get good advice."
The hardest part of the transition, however, is adjusting from a game in which mistakes and unforced errors don't hurt anybody but yourself to the pressure of making mistakes that can impact everyone on your entire team.
"That was definitely the hardest adjustment, taking the blame and fixing the mistakes so I don't let the team down," Lappe said.
Lappe admits the decision was not an easy one. She'd already invested a lot of time developing her tennis skills, and her family had invested a lot of money on instructors.
She said it wasn't easy telling her father about her decision to change sports, but she said he was fully supportive of her.
And Lappe has no regrets.
"I just found volleyball to be a much more enjoyable experience," she said. "It's worked out a lot better than I expected. I came in really timid and nervous but everyone's been super supportive and that's made it a lot easier for me."
---