Accomplished auctioneer and San Diego Polo Club announcer more passionate than ever about using his skills to help others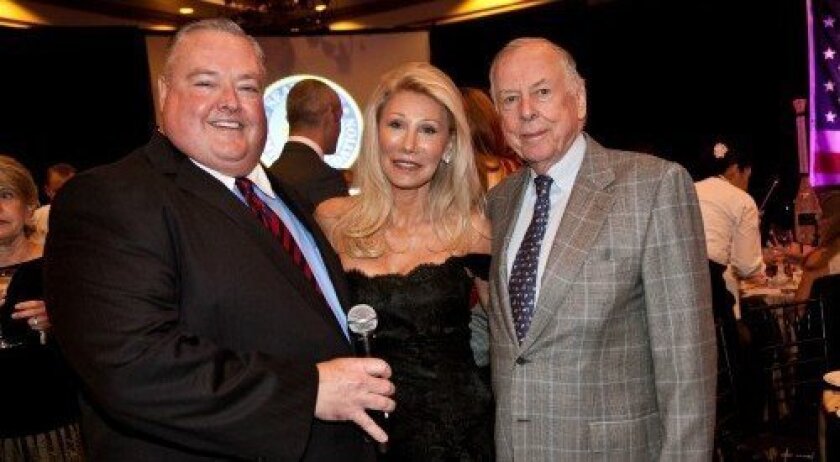 By Claire Harlin
Steve Lewandowski's job is to raise money, but his role is quite different than that of your usual charity coordinator. Instead of the direct mail and fundraising drive tactics many donors are privy to, he relies on his voice, personality and ability to engage an audience — and his unique talents have helped him raised millions for local causes for nearly 25 years.
Lewandowski is a local resident and small insurance business owner of many years in Del Mar, but if you recognize him, it's likely because he's been the master of ceremonies or head auctioneer at hundreds of San Diego fundraising events, and he's also served for decades as the head announcer at the San Diego Polo Club. He's grossed more than $1 million in several single live auctions and he's appeared on big networks like ESPN, Fox and Polo TV. His popularity has grown to the point that he has had to turn down events.
"My schedule is so full that I have to say 'no' sometimes," said Lewandowski, who specializes primarily in charity events, but does some voiceover work for TV and radio, as well as an occasional horse auction. He said he is already booking — and filling up — his 2014 calendar.
Lewandowski's first auction gig was for the Make-A-Wish Foundation, held in 1988 at the Coronado Marriott, and his career came full circle last month when he steered an auction for a Coronado School of the Arts event at that same location.
"After my first event, people who would see me would ask me to do others, and now I've done events all over the country," he said, adding that he's frequented Washington D.C., Boston, Miami and Los Angeles — and those L.A. events, he said, are particularly fun due to their often star-studded audiences.
But his favorite part of conducting auctions is knowing he's raising money for a cause, and the causes that Lewandowski — a third-generation serviceman — holds most near and dear are those honoring the military. Just last month, for example, he raised more than $850,000 at the Del Mar Country Club for an annual event benefitting the SEAL-Naval Special Warfare Family Foundation. Rancho Santa Fe philanthropist T. Boone Pickens was in attendance and spiced up the auction by matching winning bids.
"What's so great about all the events I do is catching good people at their best," said Lewandowski, who said he does about 35 auctions a year. "They're having fun and they're partying and they're at their very best and wanting to do their best."
But Lewandowski said he has also seen a number of crazy things happen at auctions over the course of his career — such as having attendees fall down or get out of hand.
"You want them to have some cocktails and get loose with the bidding, but there's a fine line," he said. "You don't want too much. I've had people get annihilated; They come up and take the microphone or take the auction item. It's all about knowing when to play into it and when not to."
He's done some events with as few as 30 people, as well as many with crowds that are 5,000 strong. He said he once did an event with four billionaires in attendance, and once there was at least a dozen private airplanes parked at Palomar Airport specifically for the event where he was auctioneering.
Lewandowski said he has seen dinners go for $30,000 and furniture go for up to $250,000. Once, a gentleman who already owned more than 100 cars bid on and won another car in one of Lewandowski's auctions.
"I heard he gave it away before the event was even over," he said.
While it may seem as though he's seen it all, auctioneering is only part of Lewandowski's multifaceted career. On June 9, he will serve as the announcer at the opening match of the San Diego Polo Club's 2013 season, and he will announce every Sunday until the season comes to a close. In addition, he travels around the world announcing at polo events, such as the 2008 World Cup of Polo held in Mexico City (which he said is the biggest amateur polo event in the world). He also announced at numerous arena polo tournaments in the 1990s in front of "big Hollywood crowds," he said, featuring players like Sylvester Stallone and William Devane.
While Lewandowski stays busy, he said he still makes time to use the power of his profession to help others. For example, he said he has read about people in need in the news, and took it upon himself to track them down and help them put together an auction. He said he did this recently for a family in the midwest who lost their home.
"If I see people are having a fundraiser, I've called up and said, 'I wanna help,'" said Lewandowski. "Sometimes they aren't sure how to organize, but they may be able to raise $20,000 for someone who had a stroke or for a sick little boy … I've raised $1 million at several events, but helping out people who need it, that feels as good as those million-dollar nights."
For more information, visit https://
poloannouncer.wordpress.com or https://stevespeakstoyou.wordpress.com
.
---