Accomplished Carmel Valley junior brings joy to cancer patients with creative paper daffodils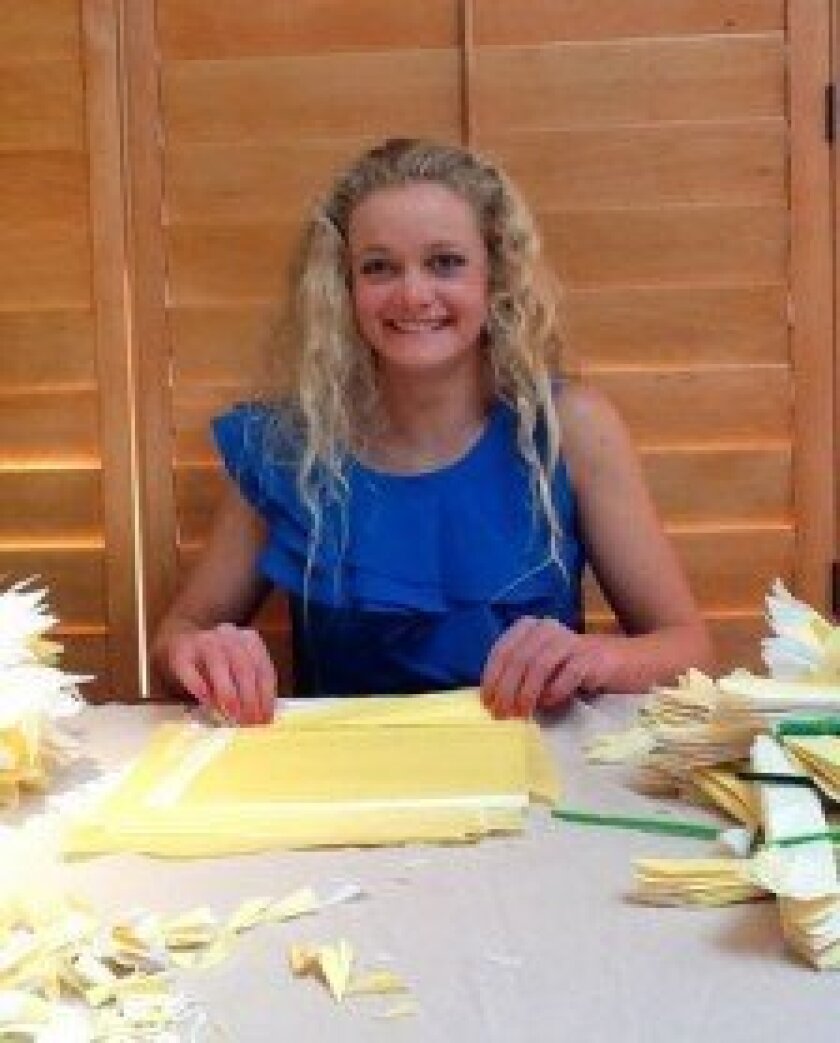 By Karen Billing
By a rough estimate, Cathedral Catholic High School (CCHS) junior
Mikaela Greeven has made close to 800 paper daffodils in the last three years to distribute to cancer patients who are unable to have real flowers in their hospital rooms.
Her tissue paper bundles of joy have spread hope and happiness to those who need it most.
Mikaela takes inspiration from one of her teachers Jan Davis, who told Mikaela that "in life, you get to do things, you don't have to do things."
She embraces that positive mindset of not taking anything for granted and using your potential and strength to your greatest ability.
"Blossom your ideas and your goodness to the hearts and souls of others," Mikaela said. "Lift people up and give them a sign that they're not alone. Make someone smile every day."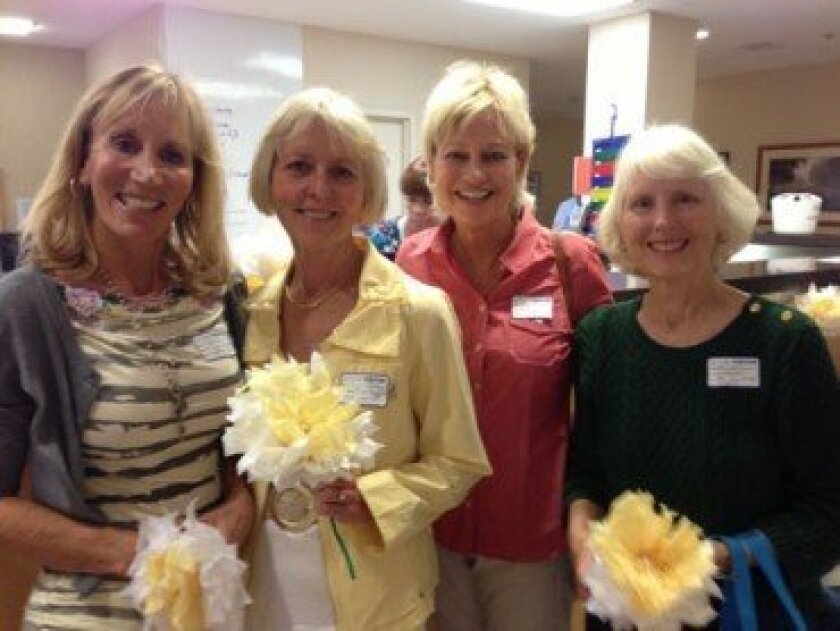 The daffodil project began when Mikaela was a freshman and Lynn Flanagan, a CCHS parent and 16-year cancer survivor, came to speak to her class about her support group Linked by Lynn.
Flanagan talked about the American Cancer Society's Gift of Hope Day and how she and a group of fellow survivors would pass out daffodils, a symbol of hope and renewal, to every patient undergoing radiation and chemotherapy at Scripps Clinic and Green Hospital.
She told the students that because of their weakened immune systems, the most ill patients are not allowed to receive real flowers.
"It came across to me that they're being forgotten," Mikaela said. "It sparked an idea for me, I wanted to do something for them."
Flanagan said Mikaela approached her after the presentation and told her she enjoyed crafts and making paper flowers and wondered if the patients might like to receive them.
Flanagan said she had no idea if this young high school student would follow through but was pleased to receive a delivery of five-dozen paper daffodils within the month.
In her beginning efforts, Mikaela attached a prayer to each flower. With her subsequent creations, she has also attached gloves to help warm patients because "they get really cold and have spikes in temperature when they are undergoing chemo," as well as a tube of chapstick to soothe dry lips.
The extra insight of what patients need comes from Mikaela's internship in the oncology unit at Palomar Medical Center. "It's hard [emotionally] ... working with cancer patients because I've seen several of them pass away and I get very attached to them," Mikaela said. "They're my heroes because they're trying to overcome the impossible and they want to live every day."
Mikaela also wrote a poem to go with her daffodils, encouraging strength in those fighting for their lives.
"Never give up," reads the poem. "I see strength in you. Take day by day and remember you are a blossom of life and light. I see you."
The words "most outstanding" and "most inspirational" have been attached to Mikaela's name frequently as she's received numerous scholarships and awards for academics as well as her service accomplishments. On the short list: she received the 2012 San Diego County Office of Education's Most Inspirational Student Award; the 2013 Palomar Medical Center Pathmaker Internship Outstanding Dedication Award for having the most intern hours; and the 2012 Cathedral Catholic Most Outstanding Sophomore Award.
She hesitates to list all of her activities partly because she's so humble and partly because there are so many.
Mikaela also plays soccer, water polo, is on the Cathedral Catholic swim team, runs cross country and is a junior lifeguard in Oceanside.
She's on the officer board for the National Honor Society school chapter and she's a member of the Interact Club (the high school Rotary club) and Science Olympiad.
She enjoys tutoring kids, "I love to see them flourish," and is not embarrassed to admit she loves school.
"I love to learn as much as I can, I love learning something every day," Mikaela said.
Getting recognized for her good works is something she doesn't like to talk about, she just wants to do the work.
"I like to be humble about it. I like being backstage," Mikaela said.
"For me it's the care that goes inside of what I do, the purpose of what I try to drive at."
"I want Lynn to get recognition, she's my inspiration for this whole thing. She's taken her struggles and used it to better prepare girls of youth to be able to conquer their fears…She's an amazing person to work with."
---