Accomplished gardening expert Pat Welsh to speak in Del Mar on March 25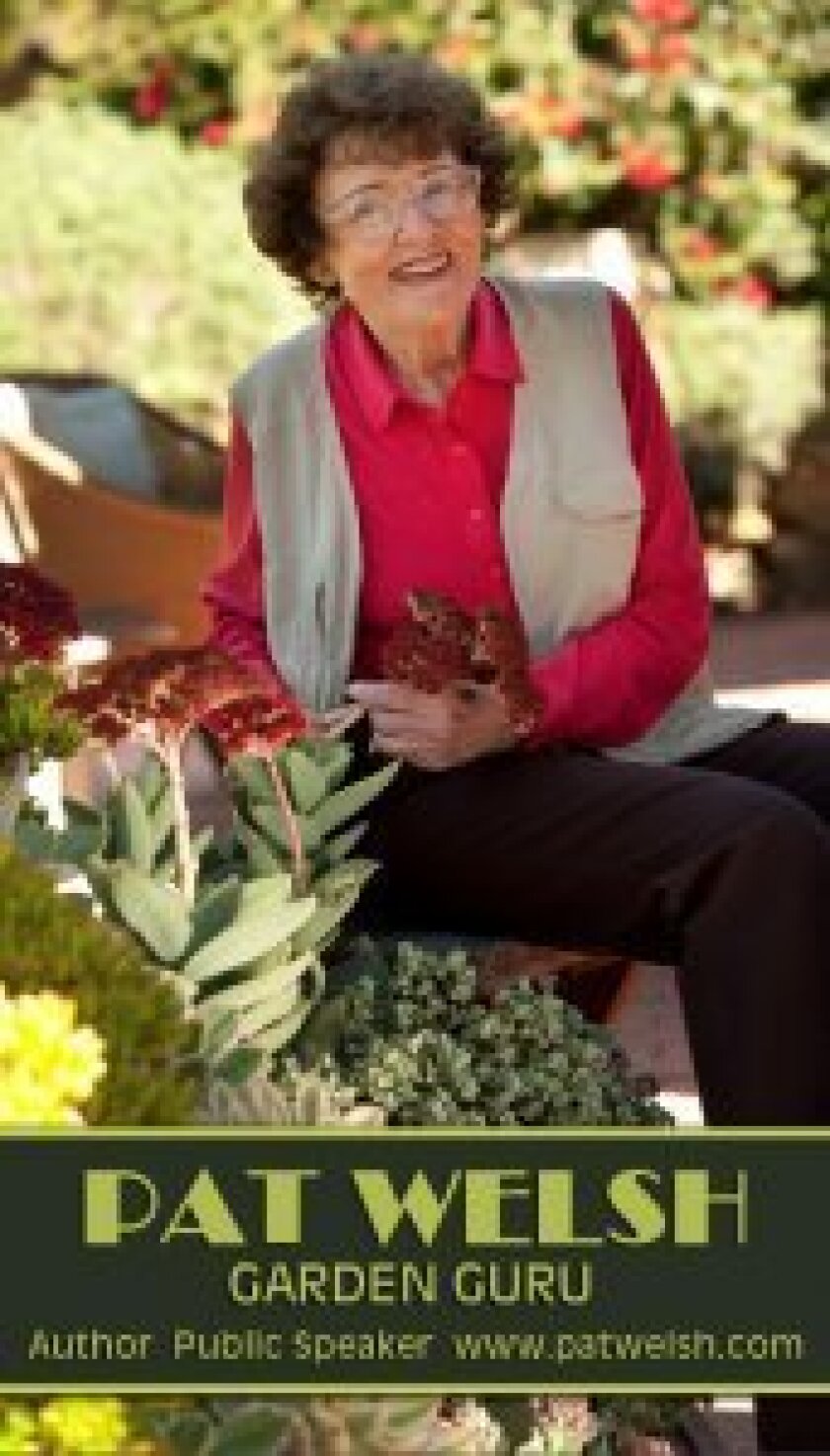 By Karen Vander Vorst
Emmy Award winner Pat Welsh, a Del Mar resident for 57 years, will speak on how to "Grow Great Organic Vegetables Year-Round," at the Del Mar Powerhouse, Monday, March 25, at 9:30 a.m. In her talk, Welsh will explain how to choose, plant, harvest, and grow popular vegetables, and to control pests and diseases without synthetic fertilizers or dangerous pesticides. Her slide presentation will demonstrate growing crops in raised beds or in the ground. She will fill you with tips, hints, garden timing, new techniques, and old-time secrets culled from a lifetime of growing edible crops.
The public is invited to attend this free presentation sponsored by the Del Mar Garden Club. Following her talk, Welsh will sign and personalize three of her published books.
Born in Halifax, Yorkshire, England, Welsh immigrated to the United States in 1939. Through the war years, her family lived on an organic farm in Bucks County, Penn. This experience and the wonderful gardens of her grandparents in England planted the gardening seeds in Welsh. She earned a B.A. in English Literature at Scripps College in Claremont, Calif., where she also studied painting, ceramics and design.
Welsh is the widow of Superior Court Judge Louis M. Welsh. She has two daughters, Francesca Filanc and Wendy Woolf, five grandchildren, and eight great-grandchildren. Her home in Del Mar was designed by her father-in-law John Lloyd Wright, son of Frank Lloyd Wright.
Welsh's career highlights include being the first Garden Editor of San Diego Home/Garden Lifestyles Magazine, from 1979 to 1983; host of the twice-weekly gardening segment, "The Resident Gardener," on the local evening news of KNSD-TV, from 1981 to 1987; host of videos for Better Homes & Gardens, HGTV, and infomercials since 1990. She is currently a public speaker and lecturer on gardening.
Also a lifelong painter and sculptor, in 2002 Welsh designed and built, with Betsy Schulz and 80 volunteers, the 92-foot-long, mixed-media mural in front of the Del Mar Public Library on Old 101 in Del Mar. Out of this tribute to beautiful Del Mar came the inspiration to write "The Magic Mural and How it Got Built: A Fable for All Ages (2005)."
Welsh's other books include: Pat Welsh's Southern California Gardening: A Month-By-Month Guide (1991, revised 2001); All My Edens: A Gardener's Memoir (1996); The American Horticultural Society Southwest Smart Garden™ Regional Guide (2004); and Pat Welsh's Southern California Organic Gardening (2010). All these books can be found on Amazon.com.
Recognized for the contributions she has made to the world of gardening and garden design, Welsh has received numerous awards, including: San Diego Emmy Award for Outstanding Individual Achievement, Performer/News, 1985; San Diego Press Club Award, 1986; three "Quill and Trowel" Awards from the Garden Writers Association; Cuyamaca College Botanical Society Horticulturist of the Year, 2001; San Diego Botanic Garden Lifetime Achievement Award, 1996; and Honorary San Diego County Master Gardener (2003).
The Del Mar Garden Club invites you to hear Pat Welsh speak on Monday, March 25, at the Del Mar Powerhouse at 9:30 a.m. You can also visit Welsh and join her blog on her website: www.patwelsh.com.
---