Adam Camacho returns to Solana Beach as Earl Warren Middle School principal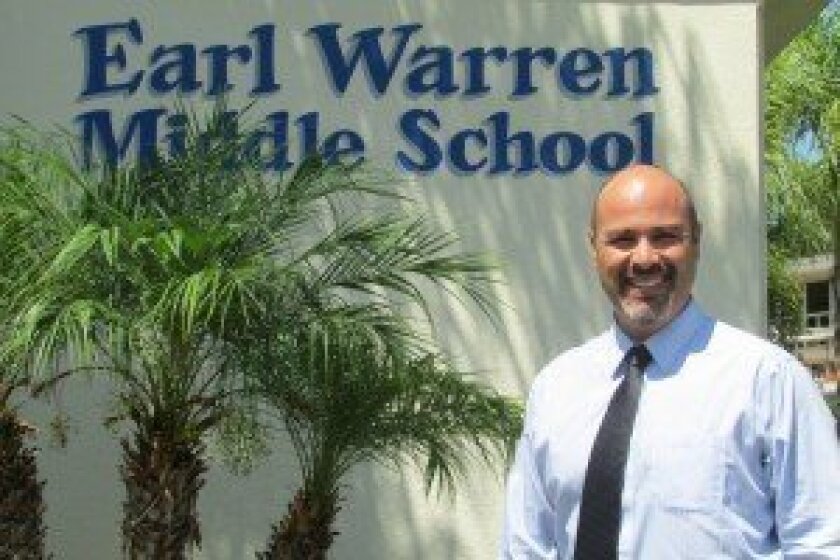 By Kristina Houck
A new principal greeted Earl Warren Middle School students when they went back to school Aug. 26.
Although Adam Camacho is a new face to his students, he is a familiar face to many of his staff. He previously worked as Earl Warren's counselor for four years before becoming Carmel Valley Middle School's assistant principal.
"I'm glad to be back home," Camacho said.
This is Camacho's 15th year in education and his fifth year in administration.
Camacho began his career with a degree in criminal justice administration serving in law enforcement and then earned his master's degree in counseling. He worked for San Diego County's Juvenile Probation Department for more than two years, or as he said, "long enough to figure it out."
"The experience helped me realize I was just, to be frank, on the wrong side of the equation," said Camacho, who also holds counseling and administrative services credentials. "I wanted to be on the preventative, proactive side, as opposed to the responsive side of working with juveniles. Education was a natural transition for me."
Camacho started with the San Dieguito Union High School District in 2000. He worked as a counselor at La Costa Canyon High School in Carlsbad before coming to Earl Warren in 2006. While at the Solana Beach middle school, Camacho realized middle school was a perfect fit.
"This age group is so impressionable, vulnerable. It's all about identity, wanting to please their peers," Camacho said. "I want kids to come here and have a great two years. Every year, we have 50 percent turnover. Our job, at the middle school age, is to prepare kids for the high school experience, both academically and socially. Our job is to create an environment where they can come and feel emotionally safe, secure, respected and valued, where they have every opportunity to take advantage of the wonderful curricular programs we have."
Camacho also discovered his desire to become an administrator within the district.
"I wanted to nurture student achievement and focus on the overall organization, nurturing the professionalism and talents of our teachers as well," said Camacho, who became the assistant principal of Carmel Valley Middle School in 2010.
Camacho said he believes his counseling background and administrative experience have prepared him well to lead Earl Warren, a position he began on July 1.
"I enjoy serving our learning community — the kids, the families," said Camacho, adding his mother worked for Head Start when he was growing up in Oceano, a community near Pismo Beach in San Luis Obispo County. The program provides comprehensive early childhood education, health, nutrition and parent involvement services to low-income children and their families.
"That commitment and passion for people — that servitude — that's what I'm grounded in. That's what I love about education."
As the new principal of a school that's celebrating its 60th anniversary, he has many exciting challenges ahead.
Camacho wants to reconnect with the community, help the school transition to the Common Core State Standards and bridge the district's initiatives to the site. The school is also undergoing a complete rebuild over the next two years.
"I'm very excited and honored to be a part of Earl Warren's wonderful, rich history," Camacho said. "I feel blessed to be back in the community. It's such a wonderful opportunity at a time where we're celebrating 60 years and going through a huge transition."
---