'An Evening of Fashion and Fantasy' highlights work of Del Mar designer Zandra Rhodes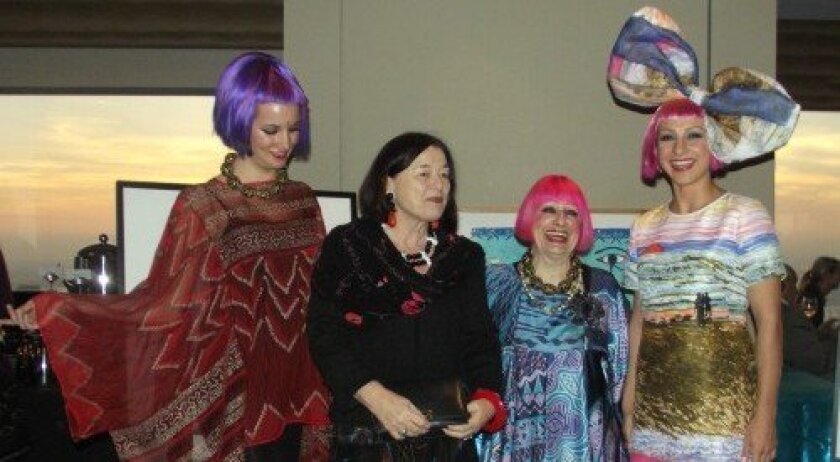 By Diane Y. Welch
An exhibition of flamboyant Egyptian-inspired prints add a splash of color to the walls of the historic University Club of San Diego, located on the top floor of the Symphony Hall building in downtown San Diego.
The archival prints — signed giclée sketches and drawings for the opera "Aida" — are the work of Del Mar-based British haute couture designer Zandra Rhodes, acclaimed for her color-infused, dramatic artistry. The exhibition is in partnership with La Jolla's Athenaeum Music and Arts Library, which first showcased the exhibition in 2010.
On March 14, Julie Walke, the University Club's arts committee chair, introduced Rhodes to a sold-out crowd at a special reception, "An Evening of Fashion and Fantasy," that featured prints of opera costume and set designs, accessories, books and more from Rhodes' vast collections.
Guests in attendance were treated to a rare presentation by Rhodes, who gave a humble history of her creative journey on the path to her current stature as a much-loved and collected award-winning designer whose former clients have included Princess Diana, Bianca Jagger, Freddie Mercury and many Hollywood celebrities.
From her early years at the Royal Academy of Arts in London, where her peer was David Hockney, Rhodes discovered textile design then created her own outfits crafted around her unique fabrics when she was stymied by a conservative apparel industry, she said. When a Rhodes original was modeled by actress Natalie Wood and photographed by the former U.S. Vogue editor Diana Vreeland, it catapulted Rhodes to fame and her unique style began to develop.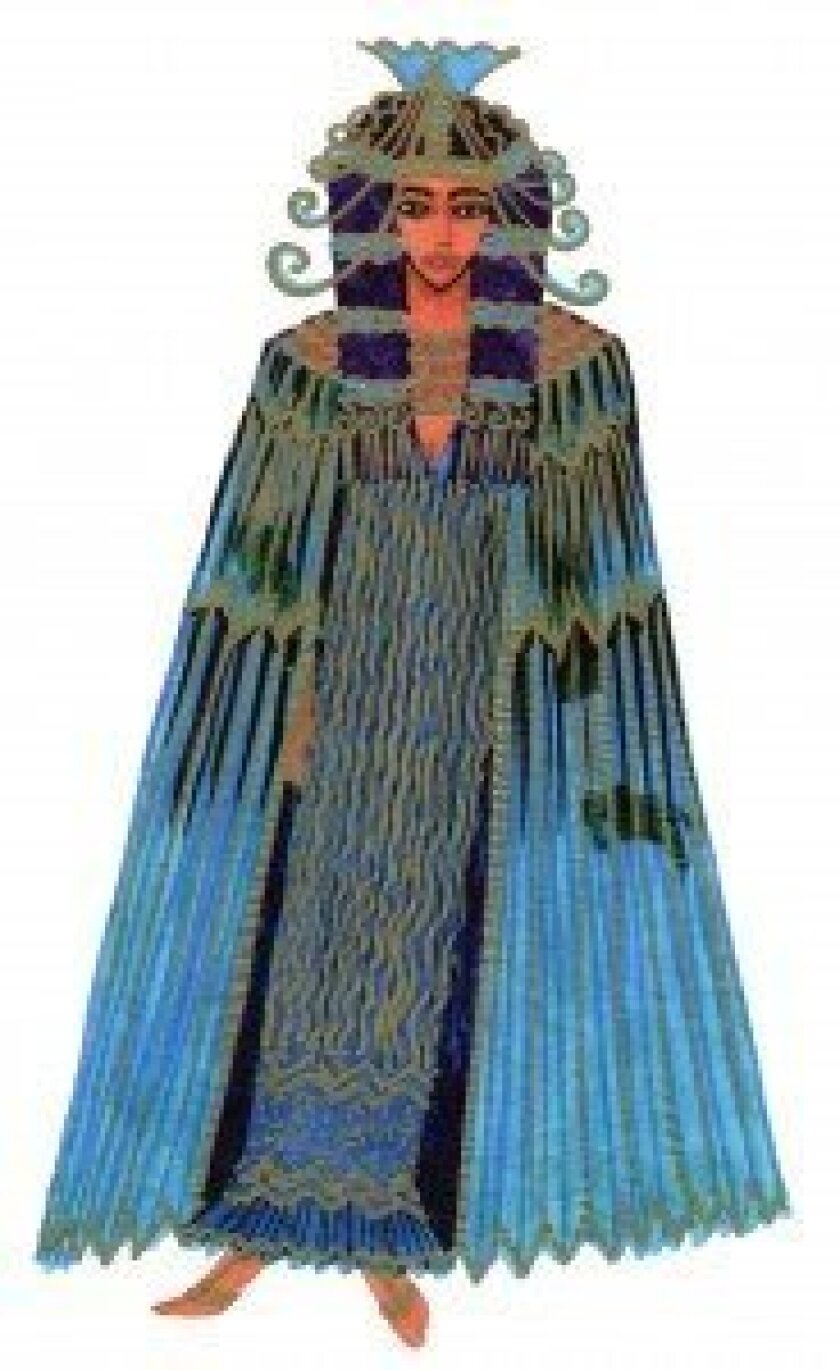 A trip to China in 1979 introduced Rhodes to lyrical images of dragons and water and her signature, "wiggle" was born. In her lecture, looking back over five decades, Rhodes showed dramatic images of her textiles and fashion, as well as an insider peek at her London-based print studio, where a 27-foot-long section is devoted solely to the screening of her three-color pigment textile designs.
Turning her attention to the exhibit of prints at the University Club, Rhodes explained that she used an earlier body of work based on a visit to Africa as inspiration for the costumes and sets of Verdi's "Aida." Her 1986 "Secrets of the Nile Collection" — infused with a color palette of turquoise, gold, orange and lapis lazuli blue — and the "spectacular jewelry and the pleated figure-hugging dresses of the pharaohs" were adapted to create her theatrical opera designs, said Rhodes.
Rhodes first worked for San Diego Opera when she created costumes and sets for Mozart's "The Magic Flute," followed by Bizet's "Pearl Fishers" which subsequently went on to tour San Francisco, New York, Washington and Montreal.
Internationally acclaimed, the brilliantly colored, heavily patterned sets and costumes for "Aida" will be seen this April in San Diego for the first time. Italian conductor Daniele Callegari will make his San Diego Opera debut with Andrew Sinclair directing. The show will run from April 20 through April 28. Visit https://
/
To see Rhodes' exhibition, call the University Club concierge at (619) 234 5200 to arrange a visit. Her artwork will be displayed through April 29. Visit
to learn more about Rhodes' vast body of work.
---