Architect talks about new San Diego Central Library at Del Mar Foundation event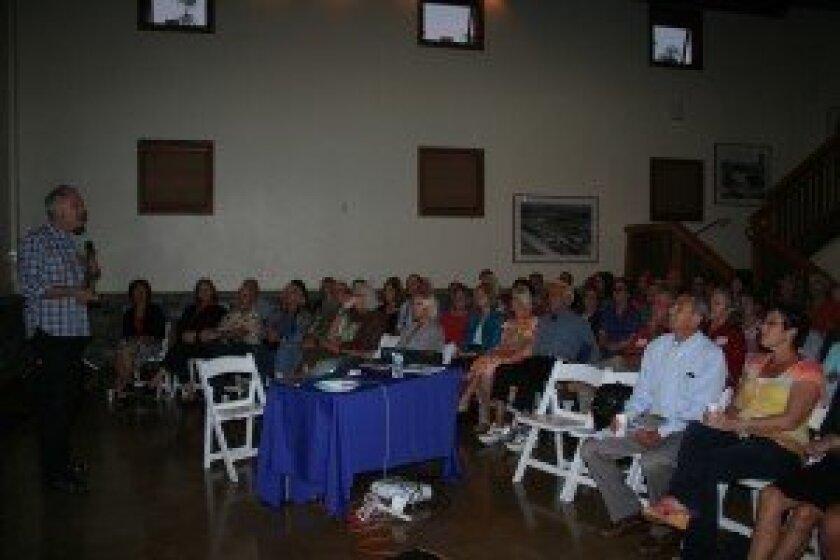 By Kristina Houck
To say the grand opening of San Diego's new Central Library on Sept. 30 was a long-awaited event would be an understatement.
The first study that concluded San Diego needed a new central library was done in 1971, and was followed by 45 other studies that reached the same conclusion.
When architect Rob Wellington Quigley started on the project 17 years ago, he had smooth skin and black hair, he said to a crowd gathered for Del Mar Foundation's DMF Talks Sept. 30 at the Del Mar Powerhouse.
"San Diego is a very thorough city," said Quigley, whose firm, Rob Wellington Quigley, FAIA, designed the project along with San Diego-based Tucker Sadler & Associates. New York-based Turner Construction built the structure.
Topped with a steel-and-mesh dome that is 143 feet in diameter, the nearly 500,000-square-foot library is more than twice the size of its predecessor, the old downtown library, which opened in 1954.
The $185-million nine-story facility includes a 350-seat auditorium, a three-story domed reading room, a career center, a 9,100-square-foot children's room, a teen center, a technology center, a multi-purpose room, a special-collections wing, an art gallery and a gift shop. It also features an outdoor garden courtyard and café, and two levels of parking with 250 spaces. E3 Civic High School, a 76,000-square-foot charter school, is located on the sixth and seventh floors.
Located at 330 Park Blvd. in downtown San Diego, the building is intended as the crown jewel of the city's 35-branch library system, Quigley said.
'This is a special moment — I call it a civic moment — for not just San Diego, but for the region," said Quigley, who noted the library already won the 2013 "Best in Show" by the Decorative Concrete Council, a specialty council of the American Society of Concrete Contractors. "This is your library, too. It's a regional asset, not a downtown asset."
Before Quigley drew one line, he said he hosted a series of community workshops. The public decided on a set of directives for the architects, one being, "Look to the future, but respect the past."
"It's a way for me to become educated abut the value system of the community, about the concerns and about the particular building," said Quigley, whose other projects include the New Children's Museum, UC San Diego's Student Services Center, Balboa Park Activity Center and the Solana Beach Transit Station. "It's about the users, not about the particular agenda of the architect."
The San Diego City Council approved construction of the library on June 28, 2010, and a groundbreaking ceremony was held in July 2010.
The first sketch of the building that was actually constructed was created in 2004, Quigley said.
"Those directives have guided this project all through the 17 years," said Quigley, who noted the public, for instance, wanted a reading room. "In fact, if we didn't have those, I think I would have lost the design at some point. This is the people's building."
---