Art viewers are on display in Canyon Crest Academy's 'Museum'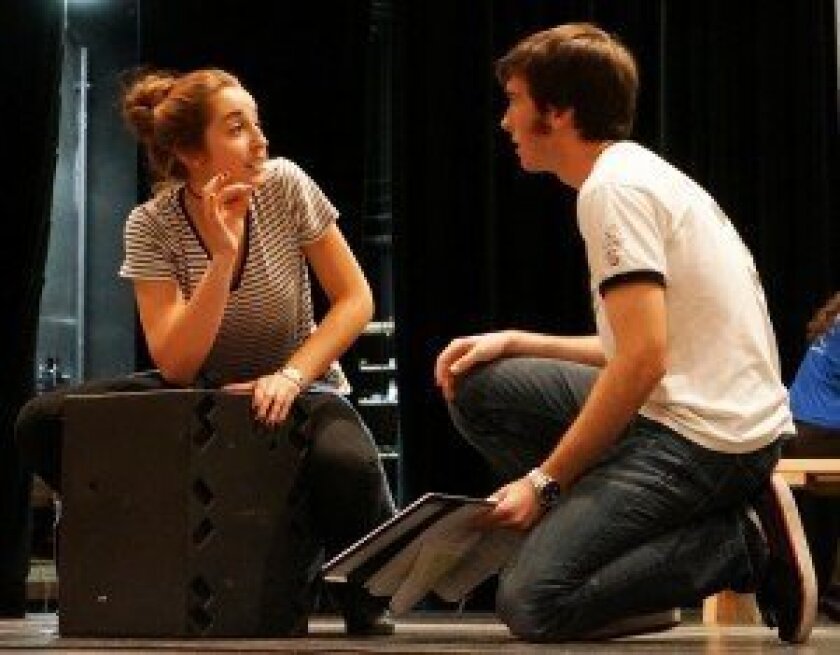 By Diane Y. Welch
If modern art has you baffled, the play "Museum" by Tina Howe, opening Nov. 7 at the Proscenium Theatre at Canyon Crest Academy in Carmel Valley, will make it crystal clear.
But rather than gaining clarity about fine art, it's the wacky characters viewing the art who are truly the exhibits. And the plot will make it hard not to laugh throughout the entire production, said cast member Brooke Patterson.
The comedic play takes place on the last day of a fictitious art show, "The Broken Silence," in a New York museum. Its title represents the snippets of chatter that the audience overhears as people pass through the exhibition and make comments.
This commentary introduces "humans that we know very little about," said Jason Maddy, the play's director, one of CCA's professional visiting artists. "They are much like people we pass on the street or at Starbucks, living their lives in the presence of art. And along the way, we get to laugh."
Howe's interpretation of this melting pot of characters, from the often-lofty aficionados who view and appreciate modern art, to the everyday person, beckons the audience to look at themselves, too.
During the exhibition's last day the audience meets a cross-section of society: art lovers, skeptics, students, lost souls, fellow artists, museum guards and more.
Brooke, a CCA senior, plays Tink Solheim, a young woman "deeply invested in one of the artists on exhibition (who) embarks on an existential mission to uncover the secrets in her artwork."
Howe uses well-crafted writing to portray a candid view of people in general, said Brooke. "This play is so smart and so honest ... an amazing example of a great, farcical piece of writing, and it's hard not to love each of the characters in the show."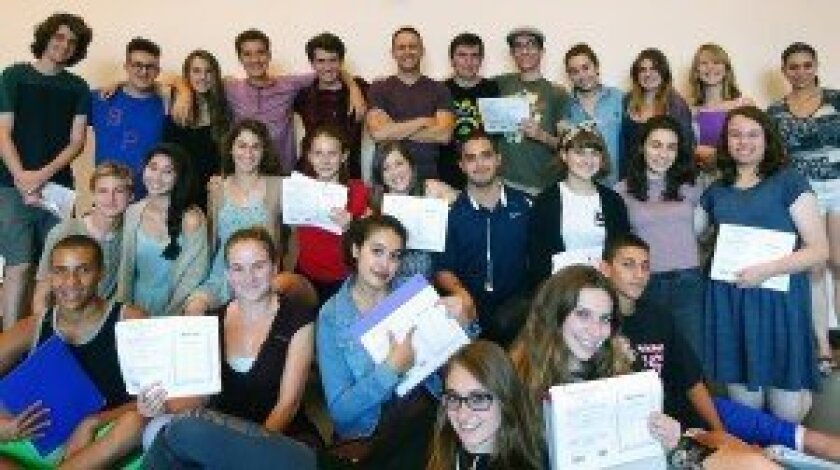 Twenty-seven cast members play 40 characters with brisk entrances and exits that require perfectly choreographed timing, yet each portrays a clear picture of their character.
Jacob Surovsky, a CCA junior, plays Bob Lamb, a patron of the modern arts who is "very full of himself." No character is considered a lead role, said Jacob. "The whole cast tells this story, like an ensemble."
To understand the show's concept, cast members researched museums and works of art by acclaimed artists. "We recently got to hear a speaker discuss a prominent modern artist's work and how his pieces are created and inspired," said Jacob, which offered an insight into the mind of a modern artist.
There is also a theme to CCA 's theater season this year, said Maddy, "about outsiders and their effect on society, whether positive or negative."
"Museum" is full of outsiders "who actually want to be a part of something or think they are a part of something, but really discover they are alone," he explained.
The show has so many different characters and opinions that each audience member will take away from the show whatever speaks to them the most, said Jacob.
"Much like modern art, this play isn't a fixed image, but a jumbling of ideas that the observer, not the creator, gets to decide the true meaning of," he added.
The way people are "is truly hilarious when you look at them from an outside perspective," said Brooke. "I really hope that people will walk away (from the show) being able to laugh at themselves and laugh at how humans behave."
For tickets, visit
https://www.cca-envision.org/events
Tickets range from $13 for adults to $6 for students. Showtimes for "Museum" performances are 7 p.m. on Nov. 7, 8, 14 and 15 and 4 p.m. on Nov. 13.
Canyon Crest Proscenium Theatre is at 5951 Village Center Loop Road, San Diego.
"Canyon Crest Academy delivers not only an outstanding education but has the unique Envision arts program supported by donation dollars. Envision utilizes working artists as instructors. These professional artists work with the visual and performing arts students to deliver an outstanding arts experience at a professional level. CCA's theater program has won numerous awards and recognition. Performances are known as above and beyond a 'high school theater show.' The Canyon Crest Academy Foundation is a parent-led 501(c)(3) organization providing fantastic opportunities across academics, athletics, and the arts, and creating an environment where students can thrive. The mission of CCA and CCAF is to 'enrich the experience of every student, every day.' Your tax-deductible donation to the CCA Foundation is vitally needed to continue our support of these programs. You can donate online at
."
---