AutoMatters: 1969 Reliant Scimitar GTE
By Jan. R. Wagner
Living in Southern California I am often surprised by the variety of interesting and unusual automobiles that I see on the road. Even more surprising is when I see a car that I do not recognize. This happened to me the other day, when I parked in a neighborhood shopping center.
The car's body style immediately appealed to me. Thanks to its hatchback design and compact size, it is both sporty and practical. It reminds me of both the Volvo 1800ES and the MGB GT, both of which are sportscars that I had seen when they were new in the early 1970s.
Intrigued, I looked closer to try to identify it. It is right hand drive, so I figured it is British. The center of a wheel bore the letters "TVR." That is a make of British sports car, but I'd never seen a TVR like this. So, I kept looking.
At the front I saw the words Reliant and Scimitar, along with an emblem that looked like a cutlass that pirates might have used. Now I was confused. I knew enough of both the Reliant and TVR names to know that these were two different makes of British cars. Something did not add up.
Fortunately, as I was walking away, someone rode up to the car on a bicycle. As he was putting his bike into the large hatch area, I approached him, complimented him on his car and asked if I could do a story about it in AutoMatters. He said yes so we agreed to meet for proper photos and an interview.
Later, at his home, I learned that this English car is indeed rare, especially here in California. It is a 1969 Reliant Scimitar GTE, denoting Grand Touring Estate (a word that those in England use to describe a station wagon). When new, it was a more upscale car than the MGB GT. There are only four of them in California, and this is the only one of those that is still running and on the road. It has a 6-cylinder engine, manual transmission with two overdrive gears, and a fiberglass body. Inside, the rear seatbacks fold flat.
Thanks to its age it can legally be registered and driven in California, but continued use of our unleaded, E10 fuel will eventually necessitate engine repairs.
I wondered about the availability of repair parts – especially in the US, where this car was never sold. The short answer is that many parts can still be imported from England, but that is expensive. Better yet, the Scimitar shares many of its parts with other makes and models, some of which were sold here. When one owns a rare car, they tend to buy parts that they know they will need someday. There were bins of these, stored neatly in the garage. Failing that, there are companies that specialize in finding and reselling vintage car parts. For example, a company in Malta still sells new, replacement door handles which were designed for the Ford Cortina Mark I but were also used on this car. People buy them to repair (or build replica) Lotus Cortinas. The company in Malta releases them for sale on eBay a few at a time, no doubt to keep prices high.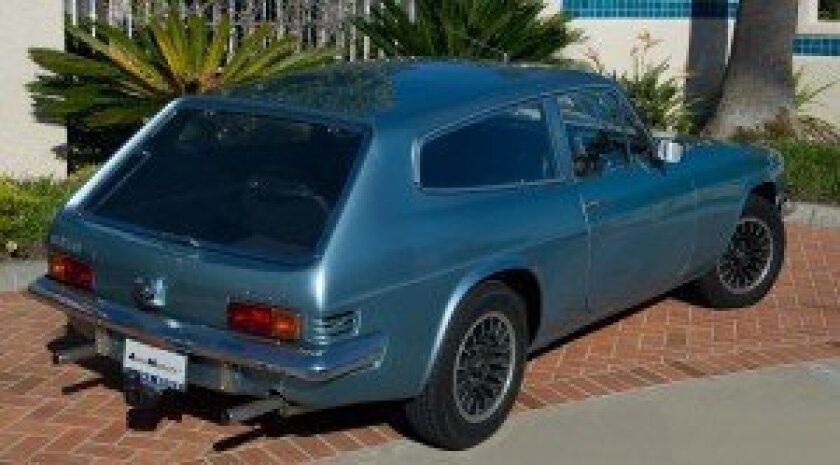 There is no room for a spare tire at the rear of the car, due to the location of the fuel tank and axle. However, since the engine sits far back in the engine compartment, the spare tire is stored at the front of the car. The tire must be stowed deflated, since it is a very tight fit. A pump inflates it for use.
I had a ride in the car. It was strange getting into the left-hand seat as a passenger. I've never driven a right hand drive car. I was told "you get used to it" and that in England there are signs at the ports warning tourists to "Drive on the Left."
The car's ride is firm, as one would expect of a sportscar. It had plenty of torque, producing good acceleration.
As always, I would like to hear from you with your comments and suggestions. Please write to
and visit the column archives at
.
Copyright © 2013 Jan R. Wagner – #269
Auto
Matters
---