AutoMatters: 2013 Coronado Speed Festival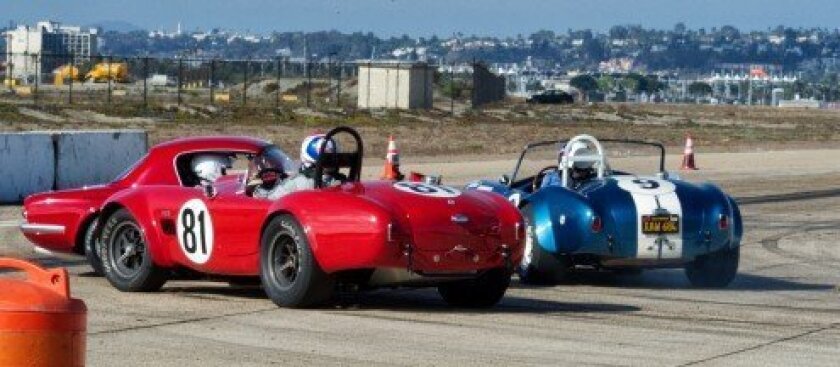 By Jan R. Wagner
The racing action was intense and there was much to see and do at the 2013 Coronado Speed Festival, part of Fleet Week San Diego.
Naval Air Station North Island is the "Birthplace of Naval Aviation." This base on Coronado, with the City of San Diego in the background, serves as home to over 20,000 active duty members of our military, as well as over 4,000 civilian employees. Its huge paved areas also serve as a wonderful venue for racing, a Military Asset Static Display, new car test drives (this year courtesy of VW and BMW), a guided tour of a Navy ship (the USS Ronald Reagan, a Nimitz-class nuclear-powered supercarrier) and more, but none of this could possibly happen without the incredible support and hard work of our military.
This is a huge logistical and security challenge and yet they do it exceptionally well, year after year.
As a small token of appreciation, on Friday some of the racers gave members of the military rides around the track.
The weekend's racing featured over 250 vintage racecars, as well as the SCCA Pro Racing Playboy Mazda MX-5 Cup and the Skip Barber MAZDASPEED Pro Challenge.
This year the featured marque was Porsche, commemorating the 50th anniversary of the iconic Porsche 911. Porsches, as well as many other makes, were well represented in the large Car Club Corral.
Always entertaining is the Pit Crew Challenge, where 16 teams of ten active duty military personnel compete against each another to see who can perform the quickest NASCAR-style pit stops, ending with a foot race as they push their stock cars across the finish line.
The vintage racecars were divided into classes. For example, Group One was for 1952 – 1959 Sports and Production Cars, with drum brakes. This year's list induded a Maserati, MG TD, Lotus 17, Elva Mk IIB and Chevrolet Speedster.
Group Two was for 1953 – 1966 Production Cars under 2000cc. The very long list included a Mercedes 300 SL, Alfa Romeo Giuletta Sprint, Morgan Plus 4, Triumph Spitfire, Austin Mini Cooper S and Chevrolet Corvette.
Other groups were Sports Racing and Formula Cars (including March, Lola, Chevron and Ralt); 1962 – 1966 Production Cars over 2500cc (including Mustang, Corvette and Cobra 'muscle cars'); FIA Manufacturer Cars (including Lola, Porsche, Chevrolet, Datsun, Ferrari and McLaren); and historic NASCAR stock cars.
When they were not on the track, the racecars were available for all to see and ask questions about in the pits.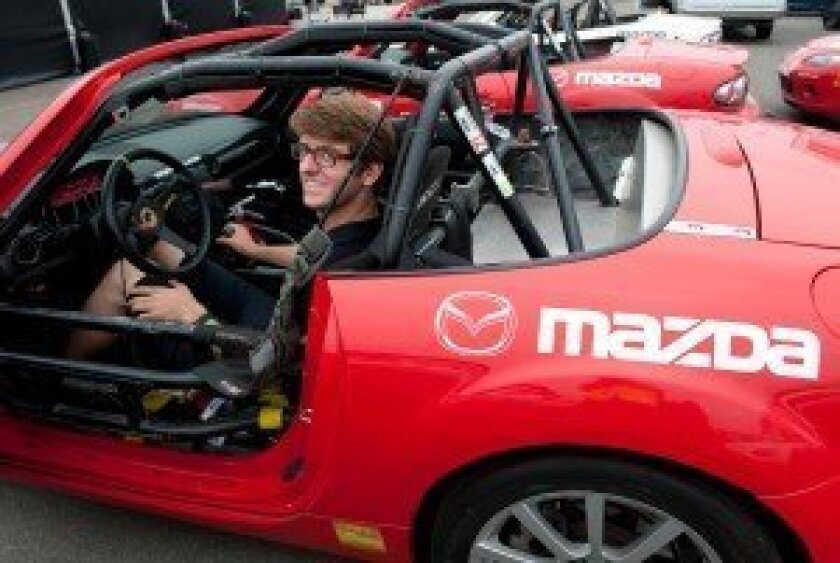 At six-foot-four and 19 years of age, Kenton Koch is a college freshman at Cal State Fullerton. As a racer, and with assistance from the MAZDASPEED Motorsports Development Ladder system, he is quickly moving up through the ranks. This year he races the red #63 Mazda MX-5 in the Skip Barber MAZDASPEED Pro Challenge.
He began by racing go-karts at the age of 8. He raced at the Club and Regional level, winning five Championships. Three years ago he moved up into a Skip Barber Formula car, followed by a Skip Barber Mazda MX-5 in 2012, winning 17 of 20 races. That performance earned him a fully funded ride in this year's Skip Barber series.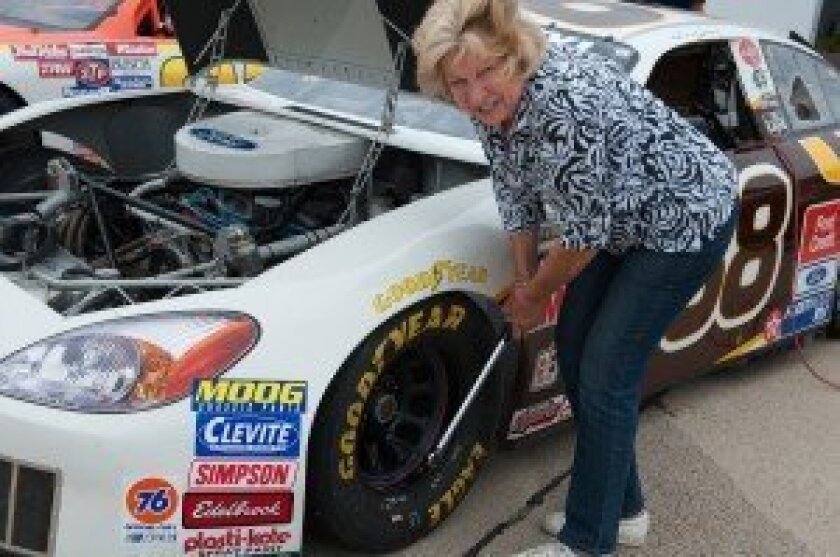 Kenton Koch on trackKenton Koch on trackAll of the Skip Barber MX-5s are set up to run laps run within half a second of each other. Winning requires more than just driving at the limit. Kenton uses his experience to race smart, keeping his car in one piece in order to finish. He has learned what to expect from his fellow competitors and takes advantage of their mistakes, goes fast in the fast parts and is not over-exhuberant with his passes. That strategy worked for him again in Coronado, where he won his class with an incredible 45.673 seconds margin of victory. After winning eight of the nine races in the series, he now holds a commanding 95-point lead.
If all continues to go well, next year Kenton will race in the SCCA Pro Racing Playboy Mazda MX-5 Cup series, paid for with sponsorship money from Mazda.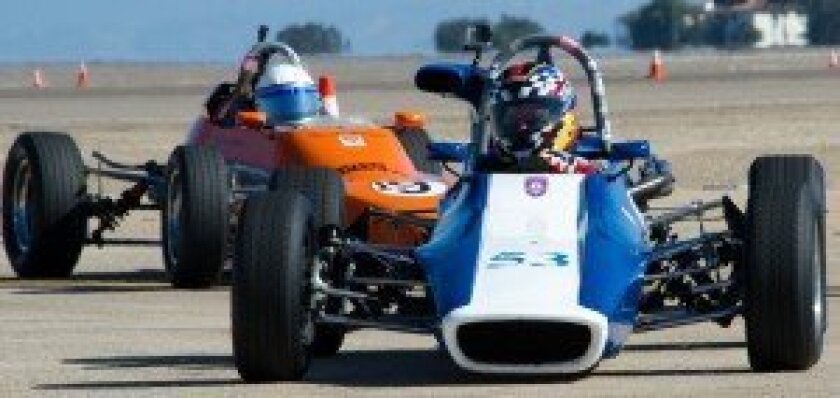 This is my 300th column. I sincerely appreciate your support and interest, without which reaching this milestone would not have been possible. Travelling near and far to cover events, editing photos, keeping up with the technological tools, writing columns and delivering them week in and week out, on deadline, can be challenging. I hope that you enjoy AutoMatters and I really would like to hear from you with your comments and suggestions. Write to me at AutoMatters@gmail.com.
Copyright © 2013 by Jan Wagner – #300 AutoMatters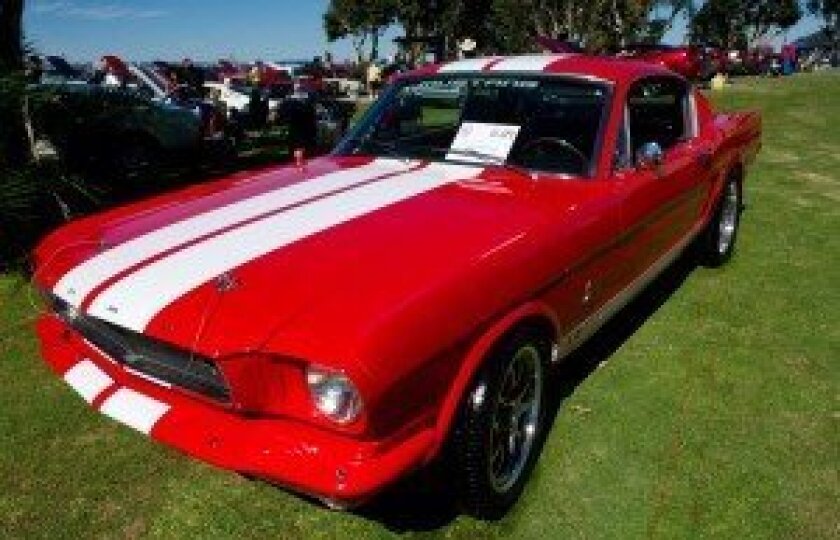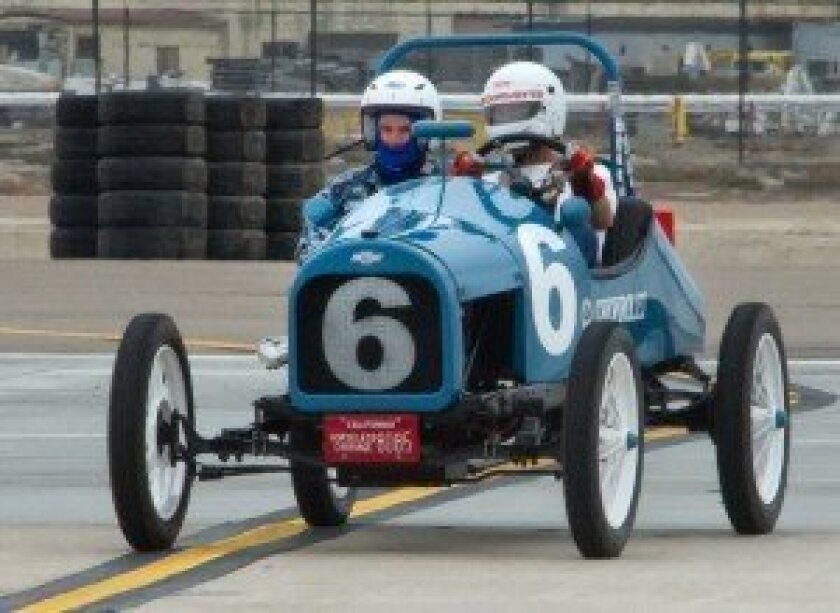 ---