AutoMatters: 2013 Motor Press Guild Track Days
By Jan Wagner
As automotive journalists we drive a variety of vehicles throughout the year and then review them for you. It is especially helpful when reviewing vehicles to compare them back-to-back, testing them in similar situations. With that in mind, many vehicle manufacturers participate in the annual Motor Press Guild track days. For two days, they deliver their latest and greatest cars, trucks and 4x4s to one exceptional testing location.
This year that was Willow Springs Raceway, just north of Palmdale, CA. It offers several paved racetracks, notably Big Willow and The Streets of Willow Springs, as well as challenging, off-road trails – all with significant elevation changes. Street drives are accomodated on the nearby public roads.
Other than a pretty stiff wind, the weather was Southern California perfect. In order for us to drive Big Willow (on the second day), a Danny McKeever's FAST LANE Driving Academy instructor rode with us on The Streets to determine if we were ready. I was.
Introducing us to one of the hot new cars of the year, a GM engineer summed up the behavior of the Corvette Stingray's automatic transmission. When Track Mode is selected and the car is "in the braking zone, it will blip all the way down, it will hang in whatever – second, third – gear that it needs to in the corner, never do mid-corner downshifts. It exactly emulates what I would do with a stick shift."
With no back seats and a trick suspension, the John Cooper Works GP MINI was my favorite for its awesome, stick-to-the-road grip and handling. There's something to be said for a car where you can really wring it out while staying within legal speeds. Its price is anything but mini – around $40,000!
The Audi A6 is powerful and handles well. Its ride height is adjustable. A neat Google Maps feature let me call up a map and follow exactly where I was on the track.
I experienced some difficulty making smooth gearshifts with the manual transmission in the Nissan Nismo 370-Z. The seating position feels a little too low relative to the height of the doors.
The Honda CR-Z Hybrid handles surprisingly well for an economical hybrid, although it is understandably a little down on power. It goes where you point it without doing anything scary.
On The Streets, the Jeep Grand Cherokee SRT had reassuring handling but some lag on acceleration.
The Mitsubishi Lancer Evolution is noteworthy for its seemingly instant and hard acceleration. It has tremendous grip, is comfortable and the standard manual transmission shifts well. Its fun factor is off the charts.
The little FIAT 500 Abarth produces plenty of power for its size and has a great exhaust sound that invites aggressive driving.
The Infinit Q50S Hybrid Sport (prototype) drives like a sports sedan while saving fuel.
On track day one, while our group was on The Streets, I spotted a Superformance GT40 at Big Willow. Its owner was doing some new car shakedown laps on Big Willow so I took the opportunity to take some pictures. This is a replica of the Ford GT40 sportscar that beat Ferrari at Le Mans in the mid-60s.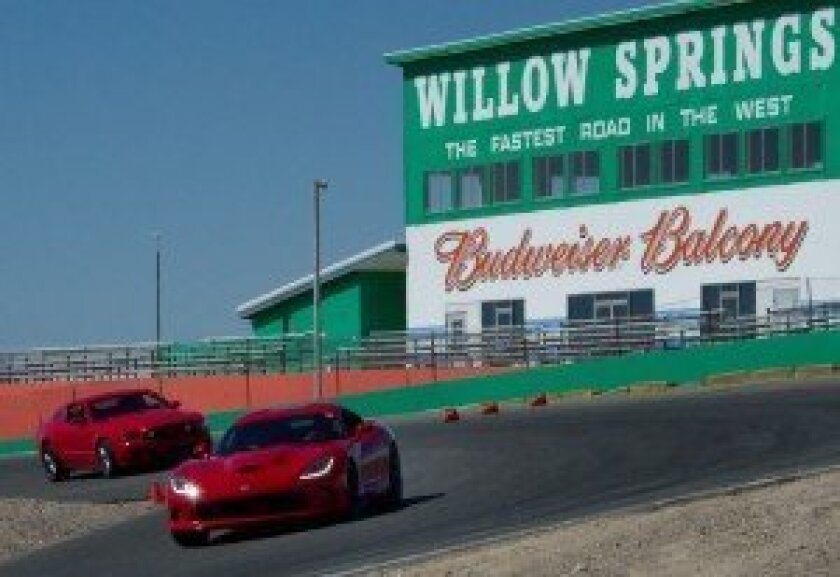 Based on the Ford F-150 truck, the SVT Raptor was designed primarily to be a high-speed, off-road desert truck, but it climbs tough trails like a mountain goat. At one point we were traversing a slope so steep, and we were at such an angle relative to the horizontal, that I was sure we would tip over on our side but we kept right on going. Its front-facing camera let us see what was on the ground ahead as we crested really steep hills and could only see blue sky through the windshield.
The all-new Jeep Cherokee, the replacement for the Jeep Liberty, easily negotiated the tough trails. With its relatively low center of gravity and its Dodge Dart/FIAT/Alfa Romeo-derived car chassis, this Jeep was a capable yet very comfortable off-roader.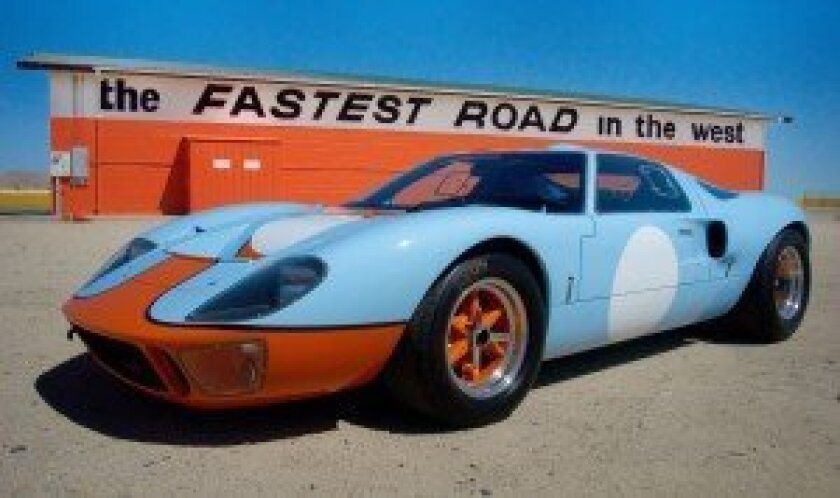 I finished off track days driving two muscle cars on Big Willow. The Mustang GT, with Track Pack, had good handling and an abundance of V-8 power, but smooth engagement of the clutch was a challenge.
The manual transmission of the Dodge Viper hardtop, on the other hand, had extremely positive shifting. With every shift the revs seemed to match perfectly, despite my having never driven one of these before.
As always, please write to me at
with your comments and suggestions.
Copyright © 2013 by Jan Wagner – #302r1
Auto
Matters
All-new trail rated Jeep CherokeeDodge Viper hardtopVW Beetle takes the checkers
---