AutoMatters: 2013 Scion FR-S - A Joy to DRIVE!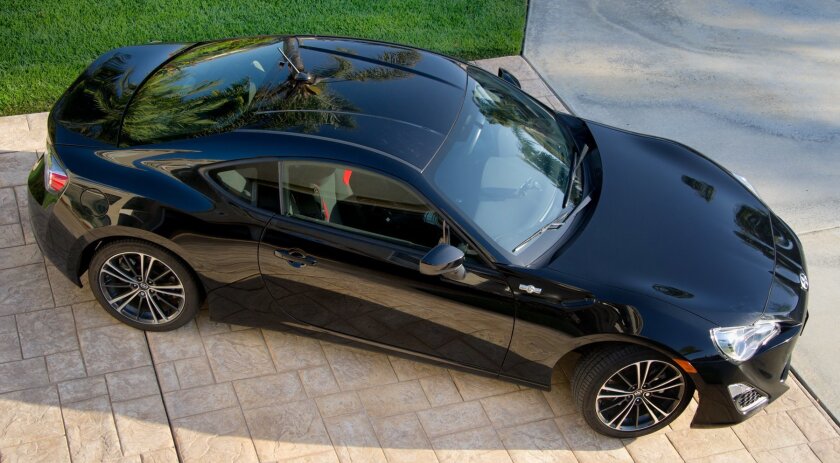 00962-20130308-09 2013 Scion FR-S & DisneylandBy Jan. R. Wagner
It has been a long time – too long, since I've driven a sportscar that I wanted to keep driving just for the sheer joy of driving it. Last night I experienced that feeling again when I was behind the wheel of the 2013 Scion FR-S.
After spending a long, full day driving around town running errands, it was 9 p.m. by the time I was nearly home, hungry for dinner and just about ready to call it a night. I was in my neighborhood and approaching a sharp, 90-degree turn.
One of the great things about the Scion FR-S is that much of its performance is available while driving it safely and at legal speeds, thus not attracting unwanted attention. So, pushing the performance envelope ever so slightly, I tapped the brake pedal, flicked the steering wheel lightly to the right and then quickly got back on the gas. The car's attitude remained flat throughout, with no unsettling drama. It was as if the FR-S was on rails.
I enjoyed the experience and was eager for more. So, as I listened to the crystal-clear, rhythmic music playing from the Scion's Pioneer audio system, I passed by the next turn, which would have taken me home. Instead, I drove onward towards Rancho Santa Fe, where I knew from years ago that I would find flowing, moderately quick and winding country roads. I put down my power window, cranked up the heater, turned off my tunes and, for the better part of the next hour, just drove.
After I had thoroughly satisfied my urge to drive I headed home, where I spent the next couple of hours in my garage, comfortably nestled in the well-bolstered driver's seat while listening to tunes from my iPhone's collection of favorites. By then it was after midnight. I skipped dinner and called it a night.
00962-20130308-09 2013 Scion FR-S & Disneyland & flowers with beesKey attributes of an ideal sportscar are nimble handling, strong braking, powerful acceleration, compact size, low weight, good visibility, body-hugging seating and rock-solid reliability. While it could probably use a little more power and wider tires, the FR-S is a very good sportscar. It precisely and predictably responds to the driver's inputs, making it quick and easy to recover from the inevitable surprises or mistakes. It is compact, to negotiate tight spaces with ease. The bolstered driver's seat is comfortable, yet form-fitting and very supportive, to prevent side-to-side movement and enable maximum control. The car is well equipped but not so much as to load it down with performance-robbing, excess weight.
All of this translates well to the everyday driving capabilities of the Scion FR-S, as I found when I drove on busy Los Angeles area freeways. Traffic flow there is unpredictable, occasionally necessitating brisk acceleration when entering freeways, sudden and unexpected stops when traffic gets backed up, and quick steering maneuvers to change lanes. All of these things were effortless in the Scion FR-S, which inspires confidence.
My only distractions on the LA freeways were the necessary acts of constantly clutching and shifting the manual transmission in the stop-and-go traffic. If that concerns you, I strongly recommend the superb, quick-shifting, automatic transmission. I drove an FR-S with that transmission a few months ago on a racetrack, during a Motor Press Guild track day on the road course at Auto Club Speedway in Fontana. Using that transmission enabled me to concentrate more fully on driving the correct lines while it provided aggressive shift points for powerful acceleration. It even blipped the throttle for perfect, rev-matched downshifts every time.
00962-20130308-09 2013 Scion FR-S & Disneyland & flowers with beesWrapped in a beautiful body, the 2013 Scion FR-S not only handles well, but is also a very capable, well-equipped and practical daily driver. Inside, it offers a couple of bucket seats wedged into the back for use in a pinch, or to securely hold stuff. The rear seatback folds down flat to give plenty of room for a Costco run or to hold a set of autocross tires and tools. Observed fuel economy was in the mid-20s. For specs visit: https://www.scion.com/cars/FR-S/.
The verdict? The Scion FR-S is a great sportscar and truly a joy to DRIVE!
As always, I would like to hear from you with your comments and suggestions. Please write to
.
Copyright © 2013 Jan R. Wagner – #271
Auto
Matters
---