AutoMatters: 2013 Volvo C30 Polestar Limited Edition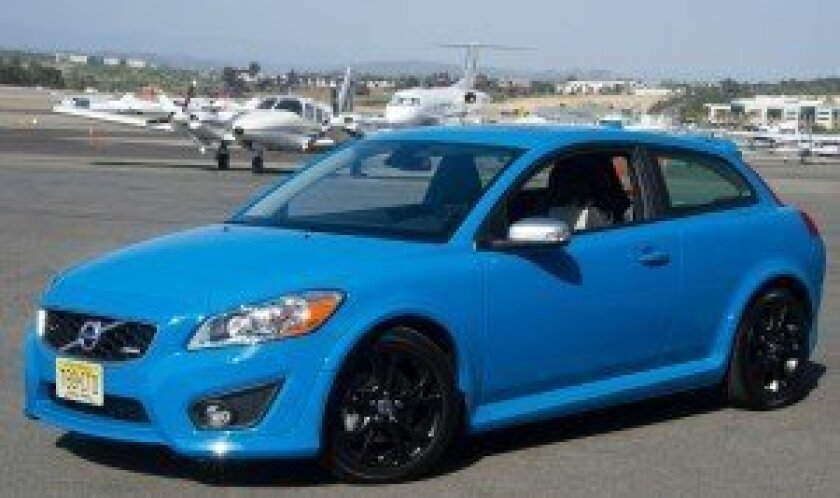 By Jan. R. Wagner
What do you get when you combine the safety and practicality of a Volvo, with the fun, excitement and styling of a limited edition sportscar? The answer is the Volvo C30 T5 M R-Design Polestar Limited Edition.
Way back in the early 70s Volvo introduced the final iteration of their P1800 sportscar. Whereas the earlier P1800s were two-door coupes, the 1800ES was a sport wagon. It was beautiful, comfortable (Volvos always had great seats) and practical, and a radical departure in terms of styling from the very boxy Volvo sedans and stations wagons of the day.
Now imagine combining all of the wonderful features and attributes of the 1800ES, including the essence of its groundbreaking styling, with automotive technology that is over 40 years more advanced. That's what Volvo has done with the 2013 Volvo C30 Polestar Limited Edition.
This car is an enthusiast's dream. One word will tell you why. That word is Polestar.
Polestar is, as they say, "Volvo's official performance partner." Unlike some automakers' performance cars, this one is not just a cosmetic upgrade of an existing model, although painted as it is in a wild shade of blue (Volvo calls it Rebel Blue), and with an R-Design body kit and black, 17-inch Styx alloy wheels, it certainly has looks that scream "try to catch me if you can!" Through Polestar, Volvo applies high tech solutions to significantly tweak the power of this car, boosting the already healthy output of the turbocharged engine by 23 horsepower and 37 lb.-ft. of torque to 250 hp and 273 lb.-ft.. The result is strong, very responsive acceleration. With all that power going to the front wheels I did experience some torque steer but it is quite controllable and a small price to pay for all that wonderful power.
Another great thing about this car is its razor-sharp handling. It is cat-like in its directional control. It makes you want to seek out and conquer tight, windy roads.
The net result of all this power and performance in what is a relatively small exterior package is a car that you can enjoy at legal speeds.
Okay, so they've nailed the performance stuff but other cars do that too. So what sets this car apart from them? The answer, simply put, is that at the end of the day it is a Volvo. Seat in the seats and you'll see what I mean. They are comfortable and supportive. Sit in a back seat. Surprise! You'll find loads of headroom, great visibility out the side windows and plenty of room of two real adults. Or, fold down those rear seatbacks (individually or together) and you'll extend the luggage compartment substantially.
Surprisingly, despite its power the Volvo C30 Polestar is also very economical in terms of fuel consumption. It is rated at 21 city and 29 highway, so you don't have to keep it locked away in the garage for occasional use. You can drive and enjoy this car every day, and not feel guilty about doing so.
The clutch pedal takes very little effort to operate and the manual transmission shifts easily.
This car feels solid on the road, which inspires confidence. It feels like what it is – a very well-equipped, luxurious European automobile. The AutoMatters review car (total suggested price, including destination charge: $35,545.) came with everything, including power front seats (heated and with memory for the driver's seat), power glass moonroof, pop-up in-dash navigation system and a simply glorious Volvo premium audio system.
The one thing that really struck me about this audio system is that I could hear subtle tonal differences in the music without having to crank up the volume. That is indicative of the high quality of this system. With the windows up, the cabin is especially quiet. You most certainly should enjoy the experience.
This car certainly gets attention, as my shopping run to Costco proved. No sooner than I had parked it, someone came up and complimented this Volvo on its good looks.
Volvo has only made 250 of these automobiles, as a numbered plate on the dash verifies. The C30 Polestar Limited Edition is truly a special car.
As always, I would like to hear from you with your comments and suggestions. Please write to
.
Copyright © 2013 Jan R. Wagner – #277
Auto
Matters
---