AutoMatters: 2014 International CES – First Look
By Jan Wagner
I just returned from a full week in Las Vegas at the 2014 International CES – otherwise known as the Consumer Electronics Show. I covered far too much to report in one column so more will follow in the weeks ahead.
CES is a huge, annual exhibition for the consumer electronics industry. Products include audio, video, photo gear, automotive electronics, cell phones, computers, 3-D printers, tablets and all their peripherals and accessories. Too large to be housed in just the Las Vegas Convention Center, this year the exhibit halls were also located in The Venetian, Mandalay Bay, the Las Vegas Hotel & Casino (LVH) and the Renaissance Las Vegas. Additionally, special events were held in other Las Vegas area hotels and venues.

Automotive electronics have an ever-larger presence each year with most of the major automakers in attendance. In additon to the latest and greatest in automotive audio, showgoers had the opportunity to see and ride in autonomous vehicles (they drive themselves!). We learned that fuel cell vehicles are likely to be available in the near future in California, thanks to a committment from the State to build out some needed infrastructure.
It is impossible to see everything at CES so I try to walk quickly through the many aisles, stopping every so often when something interesting or unusual catches my attention. Press conferences are held to showcase certain products and technologies. Events that include CES Unveiled, ShowsStoppers and Digital Experience! gather together a selection of products and automobiles for the Press to see in large banquet rooms.
Las Vegas is electric vehicle-friendly these days, as I discovered when I self-parked at The Venetian. There were several car chargers right next to the elevators and they were free to use.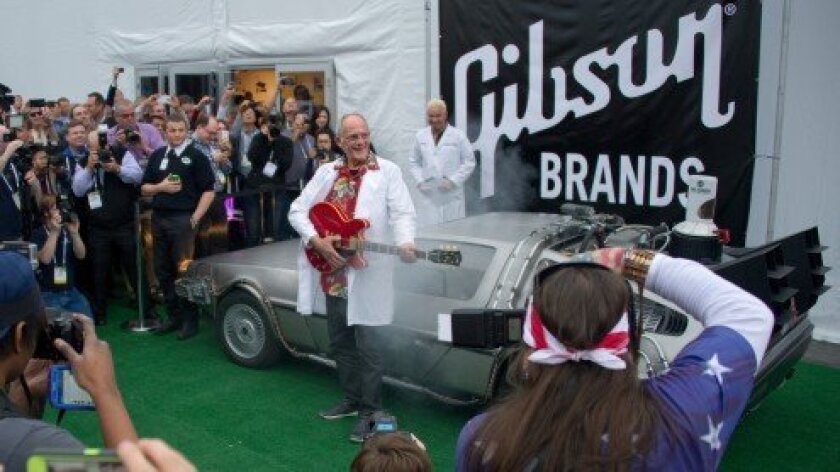 Outside the Gibson guitars tent at the Las Vegas Convention Center, "Doc" Emmet Brown (Christopher Lloyd) stopped by to pay us a visit in his DeLorean time machine, complete with smoke effects, from "Back to the Future." Afterwards we were able to sit in the car and have our picture taken.
I have already had the opportunity to review several items, with many more to follow. Much more than a Bluetooth hands-free device for your car, the Hear All Cell Phone Amplifier from SERENE innovations has several innovative features. It offers up to 100 times amplification but what I find particularly useful is its tone control. Finally the high frequencies can be amplified without boosting the bass at the same time. Designed to be used away from the car too, it offers settings for headset, speakerphone and t-coil mode, which allows users to hear in certain hearing aids without sound from the speaker.
Also from SERENE innovations is a device called the TV SoundBox. At long last, this wireless speaker is the answer to something that I've been searching for. I have a TV in the family room but I eat my meals in the breakfast nook. To be able to hear the TV I have to make it very loud – so loud that the sound becomes distorted. The base of the rechargable TV SoundBox connects to the headphone jack or audio outputs of my audio system, broadcasting the sound via Bluetooth to the receiver/speaker, whereever it happens to be. When I place it next to where I am eating, I can keep the volume low and yet hear the dialogue much better than when it is blaring from the family room. As with the Hear All, the TV SoundBox also has an effective tone control that allows users to amplify the high frequencies for crystal clear sound.
The Cell Phone Ringer/Flasher is a brand new product from SERENE innovations. On the box it says you'll "never miss a call or SMS again!" I can believe it. It has a volume-adjustable ringer (with a really loud setting) and colored, multi-pattern, flashing lights, to let you know when you have a cell phone call or SMS (text message). The convenient cradle has a USB port for charging a cell phone. An indicator light stays lit to let you know if you've missed a call.
For more information and to order, visit www.sereneinnovations.com or phone (866) 376-9271.
Watch for more of what's new from the International CES in future AutoMatters columns. I'll review more cool new products and share what is on the horizon from Toyota, BMW and other auto manufacturers.
As always, please write to AutoMatters@gmail.com with your comments and suggestions.
Copyright © 2014 by Jan Wagner – #315r1 AutoMatters
---