AutoMatters: Goodguys Spring 2013 Del Mar Nationals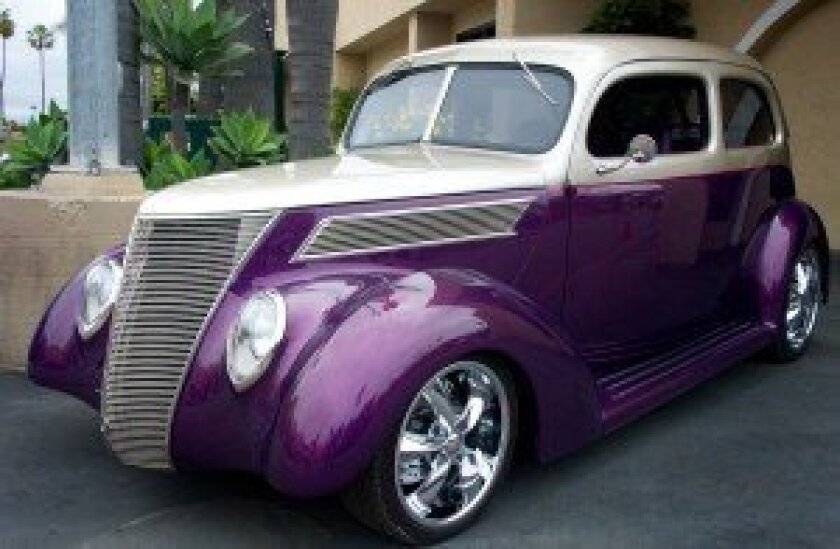 By Jan. R.Wagner
A beautiful spring weekend welcomed collector car enthusiasts to the Goodguys Rod & Custom Association's Del Mar Nationals. In keeping with tradition, entry in the three-day show was for vehicles from 1972 or earlier, but on "All American Sunday," all years of American made and/or powered cars and trucks were welcome.
Hundreds of hot rods, customs, classic cars, woodies, American muscle cars, custom trucks and more were on display throughout the Del Mar Fairgrounds, while a few at a time cruised slowly up and down the palm tree-lined boulevard between the exhibit halls.
Inside those halls were row upon row of beautiful custom creations. They represented a time when cars and trucks were much less complicated and their styling was oh-so distinctive, very different from the cars and trucks of today with their on-board electronic infotainment systems, high tech safety systems and aerodynamically slippery, although sometimes almost featureless, look alike bodies.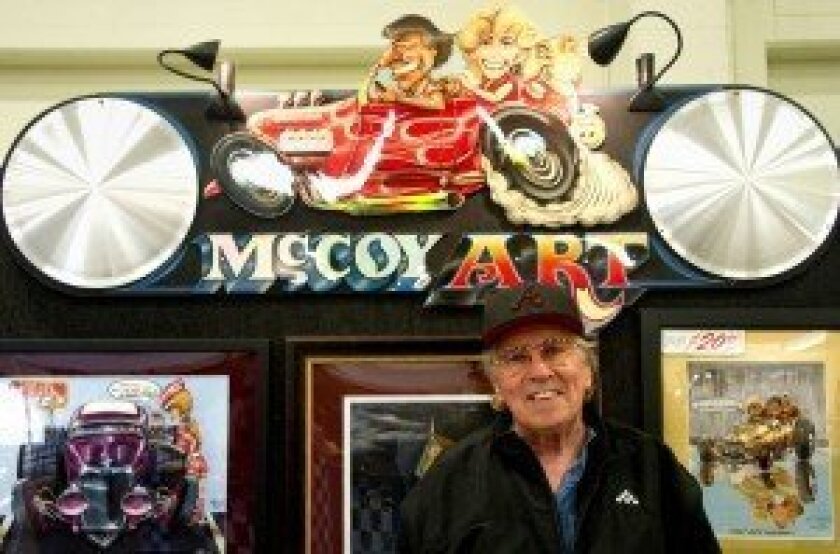 Vendors were selling a variety of cool car stuff, from parts, accessories and car care products, to fine art.
At one booth I found what looks like a really useful new product for cars and trucks. It's called "ArmorAll Custom Shield Coating" and it comes in black, white and clear. The description on the can says it all: "Spray-On, Peel-off Paint and Body Protection." A quick Google search will take you to an excellent video on You Tube and Facebook that shows you how it's done. Basically mask off the area and spray it on. It protects your paint and yet can be easily peeled off.
Every year I look forward to visiting artist Bob McCoy. A former daredevil rodeo cowboy and racecar driver, he now creates amazing works of art, often featuring stylized, colorful, whimsical representations of sprint cars. I encourage you to visit his website (
) and enjoy them yourself.
There was also a swap meet, live musical entertainment, the "Goodguys Nitro Thunderfest" (it's loud!), a free kids' model "Make N' Take," munchies and a Sunday awards show (of course) to wrap things up.
The vehicles are not just for show, but for go as well. To prove the point, the Goodguys show had an autocross, and what an autocross it was.
Imagine you're at the wheel of a nicely prepared classic car or truck. The light turns green and you're off with a roar, in a cloud of tire smoke. Now, carefully but quickly as you can, negotiate the tight, quick chicane: left, right and left – but do be careful, because each cone you hit will cost you a time penalty. Then floor it – but be sure to get off the gas soon and brake hard (without locking up and skidding!) for the tight left-hander or you might have an up-close and personal encounter with a concrete safety barrier (you won't be the first person in the meet to do that). Ahead of you, looking on intently from the grandstand, are fans – including yours truly taking pictures. More straights and tight turns follow as you near the finish straight – but wait, don't go there yet because you're not done. You've got one more lap to do before heading out to that last left-hander. Then give it gas and hang on, as your car slides sideways across the finish line and you take the checkers!
Were you quick enough to win? Did you clobber any cones and suffer a time penalty for doing so? Your raw time is displayed as the announcer lets everyone know how you did.
In Del Mar, the quickest lap time of the meet (53.243 seconds) was set by "Fast" Mary Pozzi in her hot '73 Camaro.
This year is the 30
th.
anniversary of the Goodguys shows. Back in 1983 the first one was held for a single day in Danville, CA. It was called the "Goodguys Get-Together." 600 show cars and thousands of spectators showed up. Now, over the course of a year, the many Goodguys shows across the country together boast "over 50,000 classic automobiles" ... "and well over 1,000,000 spectators." Wow!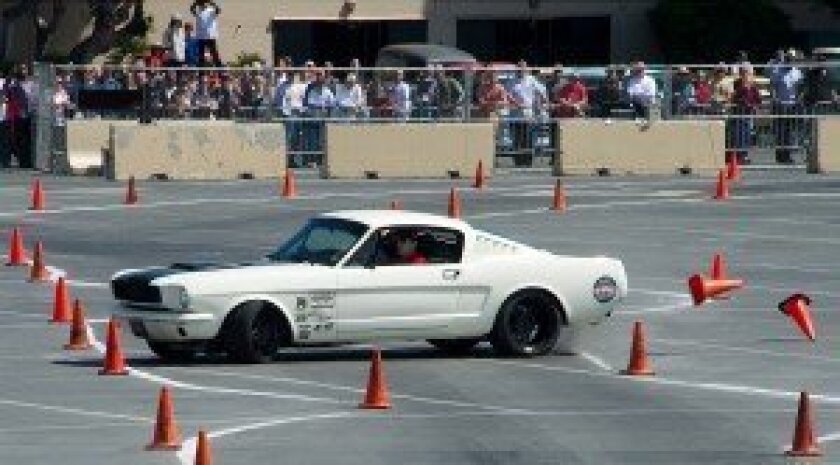 Goodguys will return to San Diego County from November 22 – 24 for the Fall Del Mar Nationals. For more information, including the schedule of events for the year, lots of cool photos and registration information, go to:
.
As always, I would like to hear from you with your comments and suggestions. Please write to
.
Copyright © 2013 Jan R. Wagner – #276
Auto
Matters
---